A Teacher's Guide to The Catalyst Conference
The Global Online Academy's Catalyst Conference is this week, April 27-30. Here's how you and your students can be involved.
Details
The Catalyst Conference is FREE and open to the public, not just GOA students and teachers. The website is: goaconference.org
The entire experience is online and happens asynchronously over the course of four days. There are no set times for events, no RSVPs  needed, and there are no special accounts needed to join. If you are online at any time between April 27-30 you or your students can participate.
The 300+ student advocacy projects have been created by students in the following GOA courses:

Comparative Politics
Medical Problem Solving
Gender Studies
Architecture
Energy
Music Theory & Digital Composition
Abnormal Psychology
Advocacy
Organic Chemistry
iOS App Development
Biology: Higher Level Honors (Non-GOA: participating on-campus course)
Critical Reading: Make the World a Better Place (Non-GOA)
GOA's keynote speaker is Sean Maguire from Plan International. This will be broadcasted live on April 27, 11am ET and a recording of his talk will be shared. Details here.
Student presentation content is typically appropriate for late middle school, high school, and adult audiences.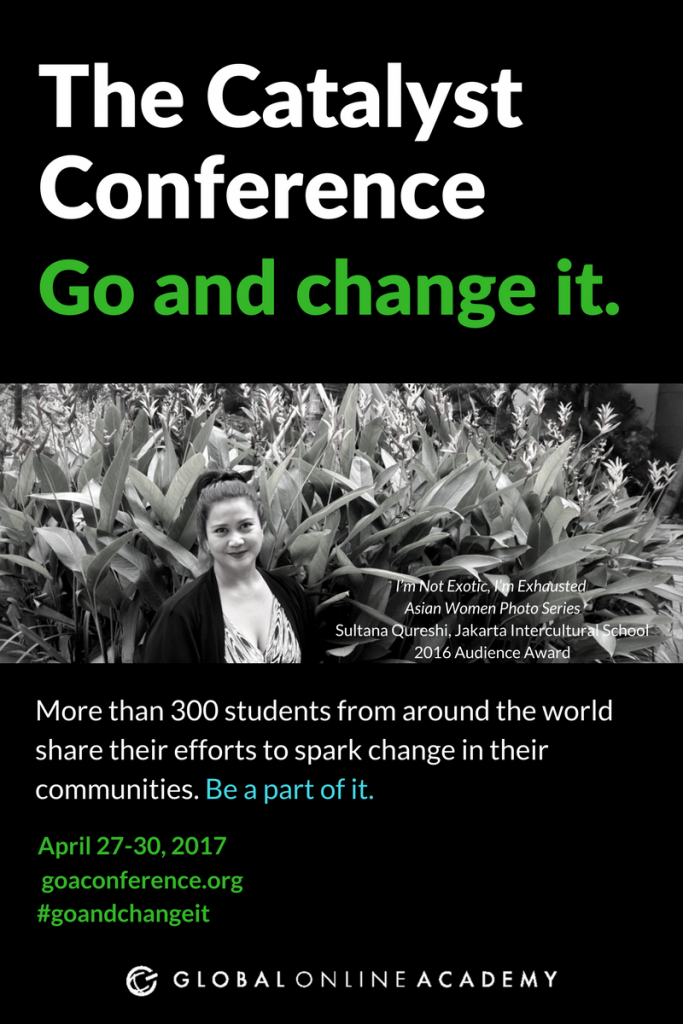 When we first designed the Catalyst Conference, we knew there were some typical conference elements that we wanted to preserve and others we wanted to reimagine.
For example, in our online conference we wanted to retain the feeling of choice: you enter a room (or in our case a page), and realize the content doesn't meet your needs or capture your attention, you are free to walk out (or click away).
On the other hand, being entirely online means freedom to reimagine what it means to attend and present at conference. From the start, we knew we wanted to leverage technology to expand conference attendance to a global audience, allow for engagement regardless of place or time zone, and put students and their interests at the center of everything.
Just as there's no single way to use Facebook or buy a sweater online, there's no single way to engage with the conference. Once on the conference site, you and your students are free to explore, connect, vote, and share.
For teachers who would like to offer their students a more structured approach, we suggest the following worksheet, perfect for in-class or independent guided exploration of the conference.
Getting Your Students Set Up:
1. The conference runs April 27-30, but the site will remain open afterwards. Have students visit the conference site and register: goaconference.org/register
2. Download and share this Student Worksheet with your class. We anticipate this to be about 45 minutes worth of engagement, either in class or as homework. The worksheet covers the four key ways to engage: explore, connect, vote, and share.
3. Finally, consider starting a conversation with your colleagues in a division, department, or other faculty group meeting by sharing this resource. Conversation starters include:

This post relates to the ongoing three-part series exploring GOA Catalyst Conference. Read Part I and Part II for more context on this event, its origins, and what we're learning. The final installation will reflect on the conference and explore how teachers can take what we've learned and build on it in their own classrooms.| goaconference.org | April 27-30 | #GOAndChangeIt
Global Online Academy (GOA) offers high quality online, blended and in person teaching and learning experiences for students and educators. Follow us on Twitter @GOALearning. To stay up to date on GOA opportunities, sign up for our newsletter here.