Five Norms and Five Rubrics for High-Quality Online Learning
Online learning is now a permanent part of school life.
The COVID-19 pandemic forced schools to move online quickly, with little preparation. As weeks and months passed, two things became clear: 1) an "emergency" approach to online learning was not sustainable or advisable and 2) schools needed clarity and guidance in defining and designing for high-quality online learning.
The issue of quality is an important one. After several months of doing their best in a crisis, schools now face higher expectations from students, their families, and teachers about how to design, deliver, and support online learning. Defining what online learning should look like in terms of core elements like relationships, rigor, assessment, and the roles of students and teachers is the first step in ensuring learners have the best, most meaningful experience possible.
To support schools in getting clear on how to define and assess high-quality online learning, GOA has created five norms and five rubrics. We created these resources to set a clear standard for assessing online learning experiences and to provide educators and school leaders concrete, actionable ideas and strategies. At the core, the norms and rubrics should drive 1) decisions about online curriculum and instruction 2) educator self-assessment and coaching conversations on online learning design and 3) thoughtful and intentional use of technology to support student learning outcomes. We have already created a program for educators based on these norms and rubrics, GOA's Online Learning Design Institute, and we will continue to flesh out these guidelines with new offerings and resources in the coming months.
Defining High-Quality Online Learning
Let's begin with GOA's definition of high-quality online learning: It is an intentional, learner-centered blend of synchronous and asynchronous learning that offers students the chance to connect with teacher and peers, to do their best work as defined by learning goals, and to be active participants in the learning process.
GOA's learner-centered approach comes from what we know from research and what we know from a decade of data and feedback: empowering students to do cognitively complex work that matters to them in a relationships-based environment is the key to learning and to engagement.
Five Norms for High-Quality Online Learning
Designing for online learning begins with understanding and adopting five norms. These norms should inform all of our work as educators whether we are planning, building, or facilitating online learning experiences. For some, this may require a shift in mindset about why and how we teach. For others, these may be a reflection or an extension of work they already do in person.
These norms highlight a key feature of online learning environments: fast-paced content coverage where students play a primarily passive role simply does not work online. Deep practice of core ideas supported by a trusting, caring community works far better.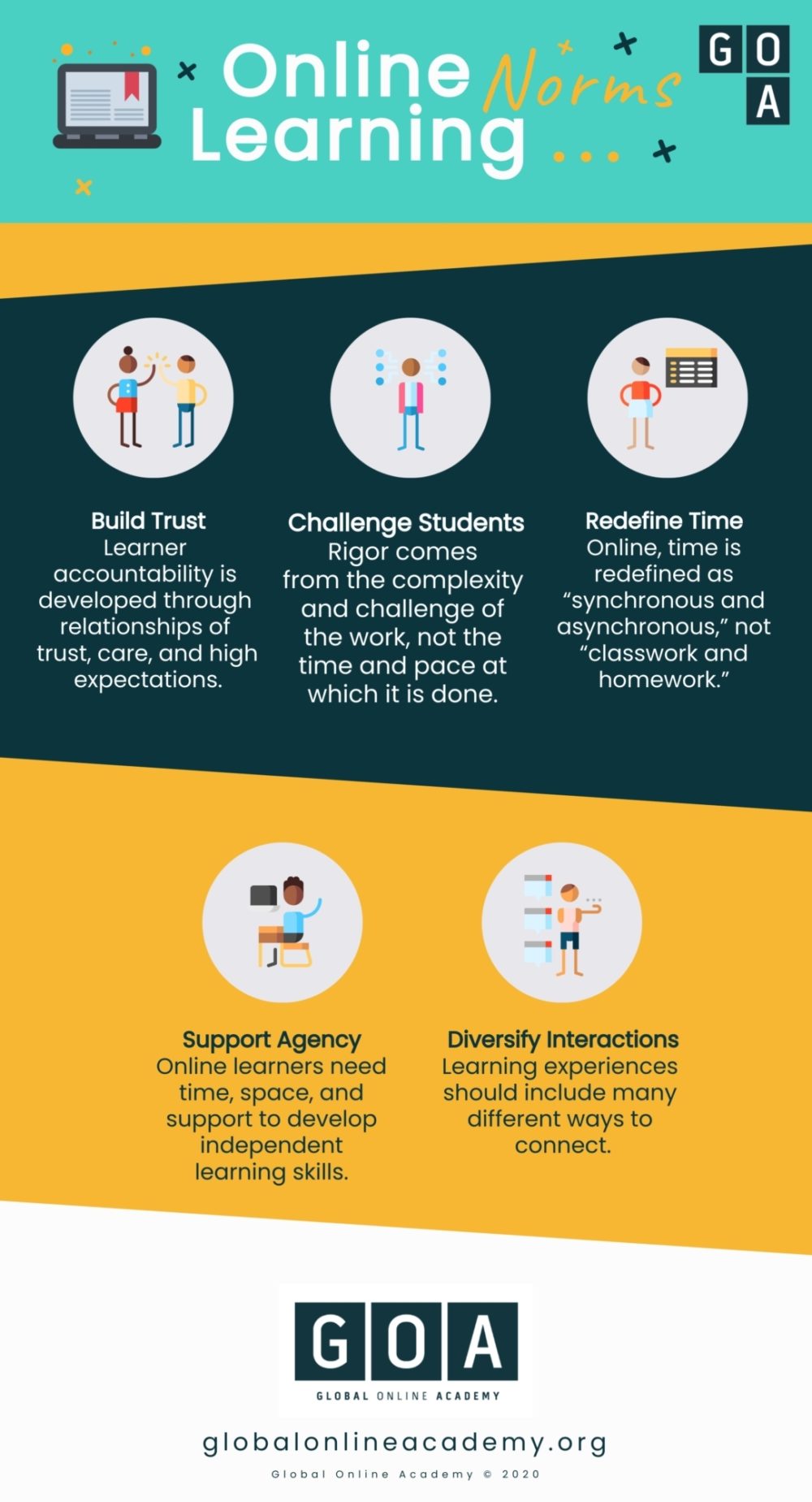 Five Educator Competencies for High-Quality Online Learning
How do we translate these norms into skills and strategies for teachers? GOA has articulated five competencies for high-quality online learning and aligned them to concrete outcomes.
These five competencies are:
Know your online infrastructure.
Use online tools to know, support, and empower students.
Design online assessments that lead to high-quality student work.
Design online learning experiences that students can navigate on their own.
Facilitate online learning experiences to support student engagement.
If you remove the word "online" from these competencies, you'll find that these skills translate well to in-person learning environments. This is not a coincidence. Online spaces are merely a platform, they are not pedagogy. What we know to be true about effective teaching remains true online: the particular tools and tactics may change, but the approach and strategies thrive in any learning environment. This point is especially critical now, as many schools consider hybrid or blended scenarios for the coming months.
To support educators designing for online learning, we've created five rubrics, each with five learning outcomes aligned to the competencies. These outcomes are design moves teachers can make to develop their own online learning skills as well as increase student engagement.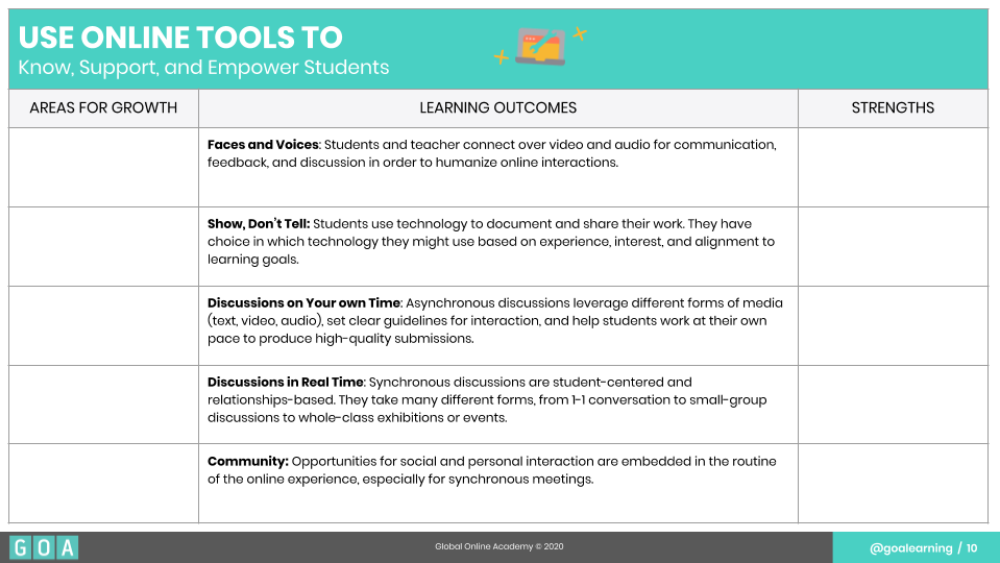 We've chosen a single-point rubric format because it supports ongoing communication, reflection, and narrative feedback. In GOA's Online Learning Design Institute, educators use the rubrics to decide which strategies are most important to their work and their students. The Bootcamp's design challenges are aligned to the rubric's learning outcomes, GOA coaches use the rubrics in conversations with participants, and participants refer to them in their reflections and presentations of learning. They equip all of us with common language to use when discussing online learning.
Most importantly, these norms and rubrics are a way to align school communities around a core set of values, skills, and outcomes for online learning. In schools where students work with multiple educators, learn in multiple classes, or are moving between online and in-person spaces, consistency and clarity are essential.
The way we design spaces, experiences, and expectations reflects our beliefs about learning. Those of us who have worked in brick and mortar schools for years might take this for granted, yet our physical spaces, our schedules, and our rituals and routines all reflect choices we make as a community. The design of online spaces and experiences is no different. How does what we present to students online show them who we are and what we care about?
Ready to use these resources at your school? We've made GOA's Norms and Rubrics for Online Learning available as a free download.
These norms and rubrics form the foundation of our Online Learning Design Institute, a five-day intensive program for educators. For more information on online learning, explore our COVID-19 landing page and our educator courses.