How Pursuing Activism Helps Students and Teachers Think Beyond the Classroom
Mila Tewell is a GOA Learning Design Coach and created and teaches the GOA student course Climate Change and Global Inequality. She teaches history and economics at The Dalton School in New York City.

The most powerful activism is the most personal.
Both research and current events suggest that today's teenagers have deep investment in social justice and the skills and tools to advocate for the issues they care about. How do we as as educators help students tap into that personal connection?
Helping students find and pursue their passions can open pathways to deep learning, and it involves four deceptively simple steps.
Pose the right, open-ended questions
Listen actively
Encourage active listening among student collaborators
Respond flexibly as we help students find their unique engagement.
This is student-centered learning at its best, and it prompts the question: what is my role as the teacher here? Whether I'm doing this work with students online or in-person, I find myself reaching out and embracing new ideas, new approaches to problem solving, and new allies. Students pose the questions, students seek the answers, and students write the script. As they take the lead, I engage them in conversation: What does good advocacy look like? What issue intrigues you? Inspires you? I ask them questions about their questions, I suggest ways they can seek answers, and I often challenge their findings. But they are the directors, and I am one of many allies who nurtures their passion.
Every year, my GOA students participant in the Catalyst Conference, which challenges student participants to find that personal connection and, as the saying goes, "lean in" to their passions by leveraging what they've learned in our class to design projects that spark change in their communities. This intersection between social justice and class content offers the perfect recipe for deep learning: active, relevant, and relationships-based.
Through this work I've found three essential ways I can support my students to learn from and communicate with a community far beyond my classroom.
Encourage Students to Find Allies
The nurturing of activism can come in any number of forms and from any number of those allies. For Buckingham Browne and Nichols student Ben, the spark for his project came from his BB&N environmental studies teacher, Matt Turnbull. After showing the documentary Gasland in class, Turnbull encouraged a rethinking of energy sourcing priorities. Gasland's powerful indictment of fracking and its potential damage to the environment was a wake up call to Ben, who dove deep into research on the pros and cons of natural gas as a "bridge" energy source. He wanted to hear from his fellow students at BB&N and used a great resource, the school's "What happening?" survey app, which permits students to field regular surveys of classmates on a range of topics; from this he received close to 200 responses, providing him clear insights to the student body's awareness of and concern for this issue. He interviewed Turnbull and then, to give balance, a natural gas consultant. He offered a well-informed education, urging engagement of his audiences to address a real world problem. The conversations he had were presented in podcast form, giving voice to his inspiring teacher and many others in this critical debate. Here is Ben's project.
Emphasize a Local Focus and Network
While the Catalyst Conference calls for students to educate and stimulate activism with a global, online audience, we regularly remind them to bring a local focus to their work. It is often in their own backyards, in their home schools, that students find inspiration, a receptive audience, and new partners to extend their activism. The encouragement they receive here from their teachers, their school administrators, and their fellow students at home underscores the power of our classrooms, and of the personal partnerships we forge both intentionally and serendipitously as we move from "imagining" to a shared culture of activism.
Rianna at Kent Denver met the "imagining to activism" challenge confidently, finding strong support from allies at her home school. She reached out to her school administrators about their plans to bring clean energy to the school. Associate Head Jerry Walker assured her that, if she could show student support for solar installation, the school's board would move on this plan. After surveying the student body, Rianna presented her findings – that 9 of 10 students at KD view climate change as critical to our global survival – and argued forcefully that "We should prioritize the use of solar, as it can serve as a permanent solution to Kent Denver's carbon footprint." Walker responded: "We will see solar implemented in each of the buildings on campus by 2019." And so was born KD's Climate Change Club, where students will come together to address immediate local environmental concerns with real time actions. As Rianna reflected "This started as a GOA project, but now it's Kent Denver that is taking it on." Here is Rianna's presentation.

Give Them an Authentic Audience
Offering our GOA students a forum to tell their stories celebrates activism, and bringing those stories back to home schools multiplies the celebration and gives even greater immediacy to this work. GOA Positive Psychology student Bailey of Noble & Greenough School created her presentation on "Teenage Stress." Teacher/ally Jenny Carlson-Pietraszek commented, "Bailey – Thanks so much for raising this important issue and doing so with solid research, clear writing, and good action steps! Have you considered ways to share this work more widely within your own school community?" And so Bailey did, creating a Nobles student assembly on Teen Stress, sharing her personal story and growing knowledge of this emerging field of psychology, and continuing to extend her activist reach and depth. Here is Bailey's presentation.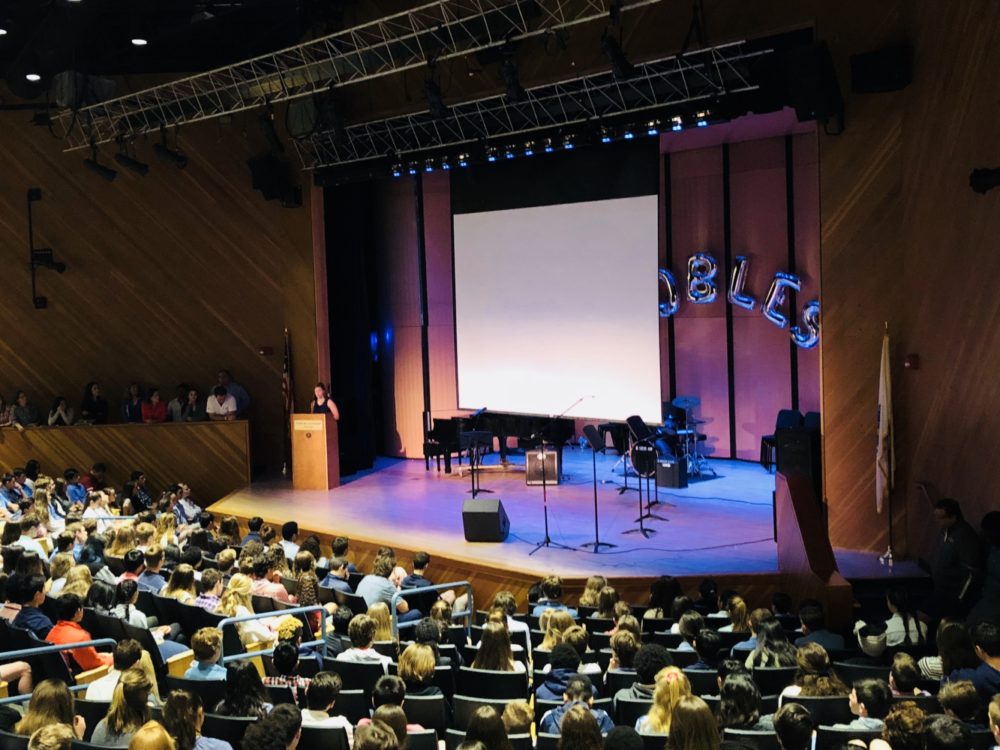 Students and teachers talk everyday about how to make the world a better place. In this work, I think of and refer to my students as my colleagues. When the getting from imagining to action stumps us, our job as teachers (or "colleagues") is to encourage our students to seek support outside our siloed classrooms. No surprise to find that allies are everywhere, ready to lend a hand and encourage young people as they discover their passions.