Making Room for Questions, Play, Creativity, and Community: Setting a Tone for Student Driven Learning
I'm a sucker for a good Wonder Wall.
I pop into my son's elementary classroom and admire their list: Are gerbils and hamsters the same thing? Can plants grow in sand? How big is a googol? At home, we keep one in our kitchen. Much like our own family, it verges on the absurd (Is the Loch Ness monster real? Can we teach the dog to read? How much Playdough is safe to eat?), but it also reflects what we value. It reflects a community of askers and tryers and creators and mistake makers.
My high school English students have no idea that the Question Wall in our upper school room is stolen from those spaces. We rely on that bank of whys. It's been conversation fodder, a diary, comic relief, and hopefully–a catalyst for learning. Stephanie Harvey and Smokey Daniels advocate for question lists in their book, Comprehension and Collaboration: Inquiry Circles in Action. Harvey says that educators need to model curiosity–every single day. "They come into kindergarten bursting with questions." In my 9th grade English space, we attempt to keep that same enthusiasm brewing: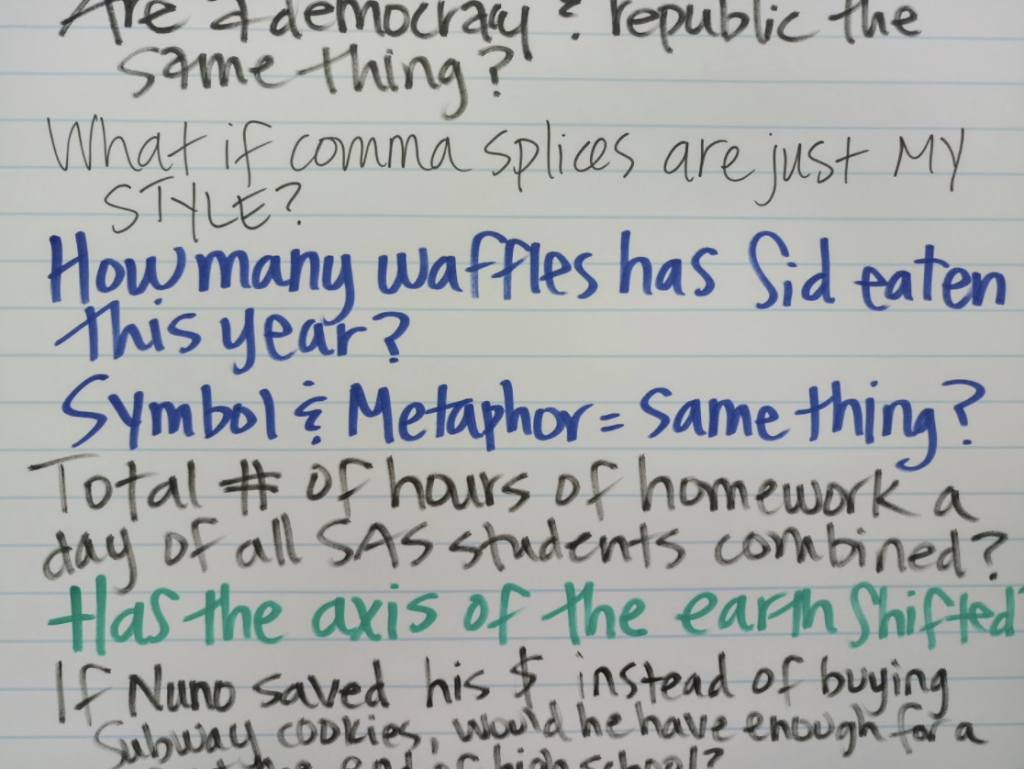 I think about Wonder Walls the same way I think about advisories and creative play and daily activators: They set a tone. They establish ground rules that lead to powerful thinking later. They tell a group of learners, "Play is welcome here." "Ideas honored." "Get outside the box." "Inquire." But perhaps the most important message they send is about student voice. "Who you are matters." "Your wonderings drive our next steps." "Your questions change what we do."
Play Builds Communities
I believe that student driven learning happens in creative spaces. I believe student driven learning happens when caring communities are established. I believe that has to be intentional.
If I want my writers to take risks with words, to revise intentionally, and to mine their lives for stories and interests, I have to first provide us time and space to make mistakes in front of each other. If I want my writers to not balk when I push them towards outcomes that stretch their writing skills and extend them into new learning territories, I have to give us a language for collectively trying. I have to take time out for community, for questions, and for play.
Lynda Barry's book Syllabus, a handwritten and illustrated rendering of her university course lessons, inspires. She sets a timer for one minute and asks her adult students to draw Batman. Not a lot of us can sketch Gotham's protector in 60 seconds in any way that resembles more than a pointy boomerang. Drawing carries baggage and insecurities for a lot of us, and that moment of shared fear and wobbly lines does something more than open the door for humility: it bonds. It builds empathy. It allows us to be our not-so-best selves in front of each other. It gives us a framework for talking about mistakes and for the process of iterating ideas. Later, when we dive into the harder work of learning (problem solving, collaborating, creating), we have a point of reference. I do this activity with my high schoolers, and it's magic. They groan collectively at the start, and they share in nervous laughter at the end. That laughter is good for our learning souls and student voices.
Creativity Builds Communities
At the launch of a visual stories unit, my creative nonfiction students shared photos of knolling. What felt silly at the start turned into so much more. The contents of their backpacks told stories. We found metaphors within those objects. We found personalities. We found connections. Dorothy Parker wrote, "Creativity is a wild mind and a disciplined eye."
We trained our eyes to see what clusters of objects might mean about us and our worlds: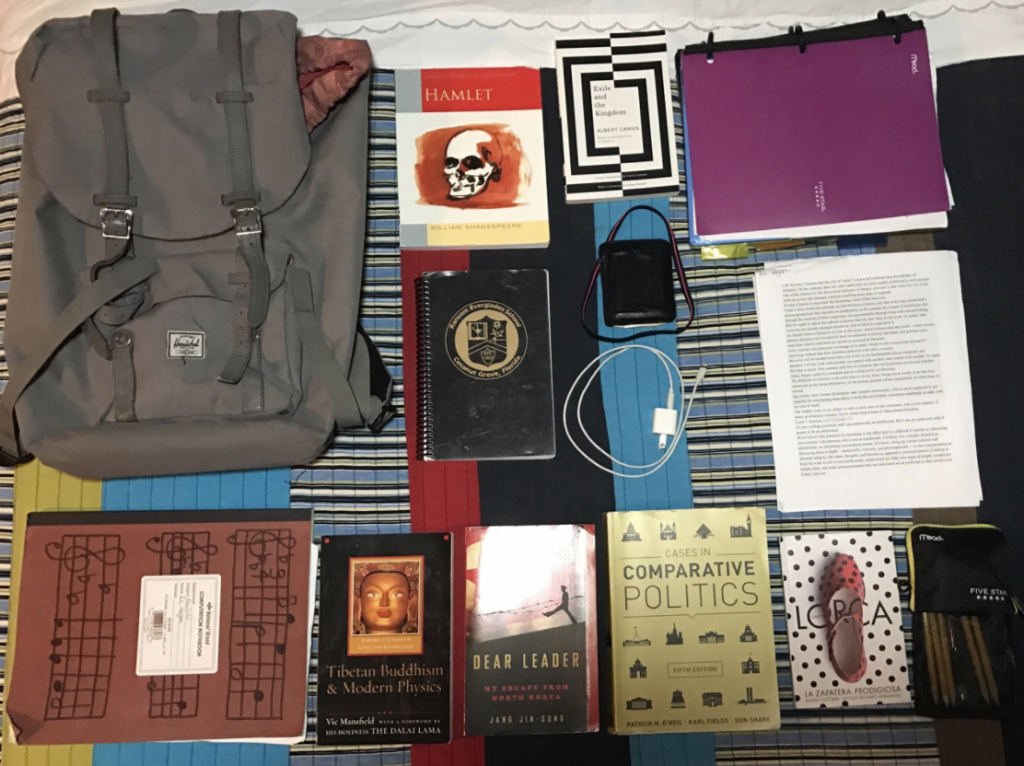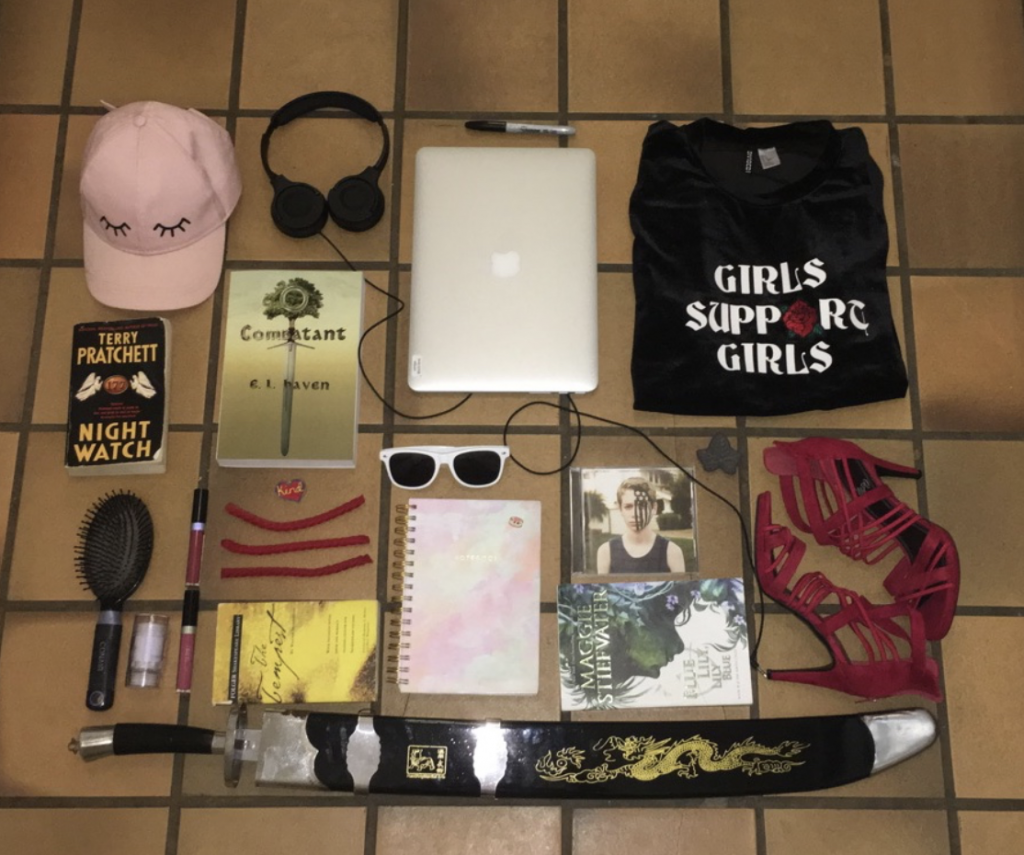 I hope those minutes scanning the ordinary items our community carries made us more willing to share words in writing circles and helped us see the narratives in each of our lives. I hope our play reinforced each participant's value.
Communities Build Voices
But there's something else this creative play and those Wonder Walls do. A lot of meaningful conversations on student driven learning talk about starting learning with a "why?" . I believe that. Why take a risk? Why should we care? Why are we doing this? But I'd add an equally important starter. I think student driven learning also starts with Who. Who are we? Who are we learning with? Who are we learning for? Spending time on both the whys and whos of our classrooms through creative play and community building creates vibrant, empathetic, curious spaces where students can think deeply about the transferrable, relevant skills that matter beyond our walls. The whos and the whys force me to focus on being less and my students being more. They make me quieter and my students louder. I'm a sucker for good questions. Especially when it's my students asking them.
Call to Action
If you're an introvert like me, and you live in fear of get-to-know-you games and forced conversation starters, please know that creative play and community building can indeed be anxiety-free. These activators, habits, and resources offer thoughtful activities that pass the test of even the most awkward of educators (me). What one step can you make today towards creating a community that empowers students to share lives–and hopefully direct their own learning?
Here are a few other ideas and resources for fostering student driven learning:
Becky Green is a teacher and a GOA Learning Design Coach. She is also the author of The Conference Companion: Sketchnotes, doodles, and Creative Play for Teaching and Learning. Follow Becky @onegreenbee.
Global Online Academy (GOA) reimagines learning to empower students and teachers to thrive in a globally networked society. Professional learning opportunities are open to any educator. To sign up or to learn more, see our Professional Learning Opportunities for Educators or email hello@GlobalOnlineAcademy.org with the subject title "Professional Learning." Follow us on Twitter @GOALearning. To stay up to date on GOA learning opportunities, sign up for our newsletter here.