Seven Takeaways from GOA's Designing for Online Learning Course
In February 2020, as our member schools in Asia began to close in response to COVID-19, GOA developed an online course aimed at empowering teachers to create high quality online learning experiences for their students. Drawing upon its decade-long experience, GOA articulated a framework built on the principles of student agency, wayfinding, relationship building, and assessment design. The Designing for Online Learning course provided educators with a step-by-step approach to making the transition to online learning less daunting.

What began as a response to the needs of a few schools became an effort to support educators worldwide. Over the course of three offerings in March 2020, Designing for Online Learning connected 11,729 educators from 1200 schools and learning organizations in 90 countries.
What follows is a list of the major takeaways from the conversations and ideas share by educators in that course.
1. Don't lose sight of your core values.
The magnitude of the COVID-19 crisis is unprecedented. It's important to recognize that we're experiencing a turning point in global history. At times like this, aim first to support each other as human beings. An education is a critical human experience, but the types of learning we engage in will take on a different shape. Brandon Boyle, a professor at University of North Carolina at Chapel Hill, recently created a revised syllabus for his students to show how priorities will need to change and give way to building empathy and human connection above any academic lesson.
2. Recall what was important in your first year of teaching.
That statement may have caused your blood pressure to rise, but as you move into online learning, it's important to embrace the mindset of a first-year teacher. Remember when every day presented a steep learning curve? You had to adopt a growth mindset, learn from mistakes, laugh at yourself, and lean on your fellow teachers for support. Teaching online also presents a steep learning curve, but we already possess the habits of mind and skillset that will allow us to learn and to adapt.
Communication and connection were key to helping you make the most of your first year of teaching. Online learning is no different. Clear and consistent systems of communication empower learners. Frontload goals, learning outcomes, and expectations, and provide students with a pacing guide with concrete checkpoints. Decide how you will connect synchronously and asynchronously and communicate that to your students. Return to this idea from Reshan Richards and Stephen Valentine: "The job of an online teacher is the job of an offline teacher is the job of a teacher. Connect to people and help them to feel connected to you and to the dimension of the world you are leading them to experience."
3. Design for equity.
Schools are encountering several challenges with regards to digital equity. Some students may not have access to a reliable internet connection, while others may find that they have to share devices with members of their household. Others still may find that their time is limited as they have to adopt new caretaking responsibilities. Elementary and lower school students may not necessarily have a family member or guardian who can act as a homeschool teacher due to employment obligations. Additionally, factors around ability, access, and learning differences also need to be taken into consideration.
Educators must recognize the unique contexts of our students and to design learning experiences accordingly. Some schools have taken to surveying families on their tech needs, while others are printing and mailing paper packets to account for digital equity concerns. For individual teachers who are utilizing online learning experiences, it merits considering how much of an online course should be synchronous and how much should be asynchronous.
4. Prioritize student support, not accountability.
In online learning, relationships are central, and it's important to adopt a stance of student support, rather than compliance and accountability. Just because your students are digital natives, it doesn't mean that they'll be able expertly adapt to online learning. They may be unsure of how to navigate an online space or tool, or they may fall behind in their work. The question should not be "What are the consequences for a student who doesn't do the work?" Instead, the question should be "What interventions can I take to help get a student back on track?" GOA Associate Director of Students and Schools Emily Hamlin provides six key takeaways on proactive and reactive support.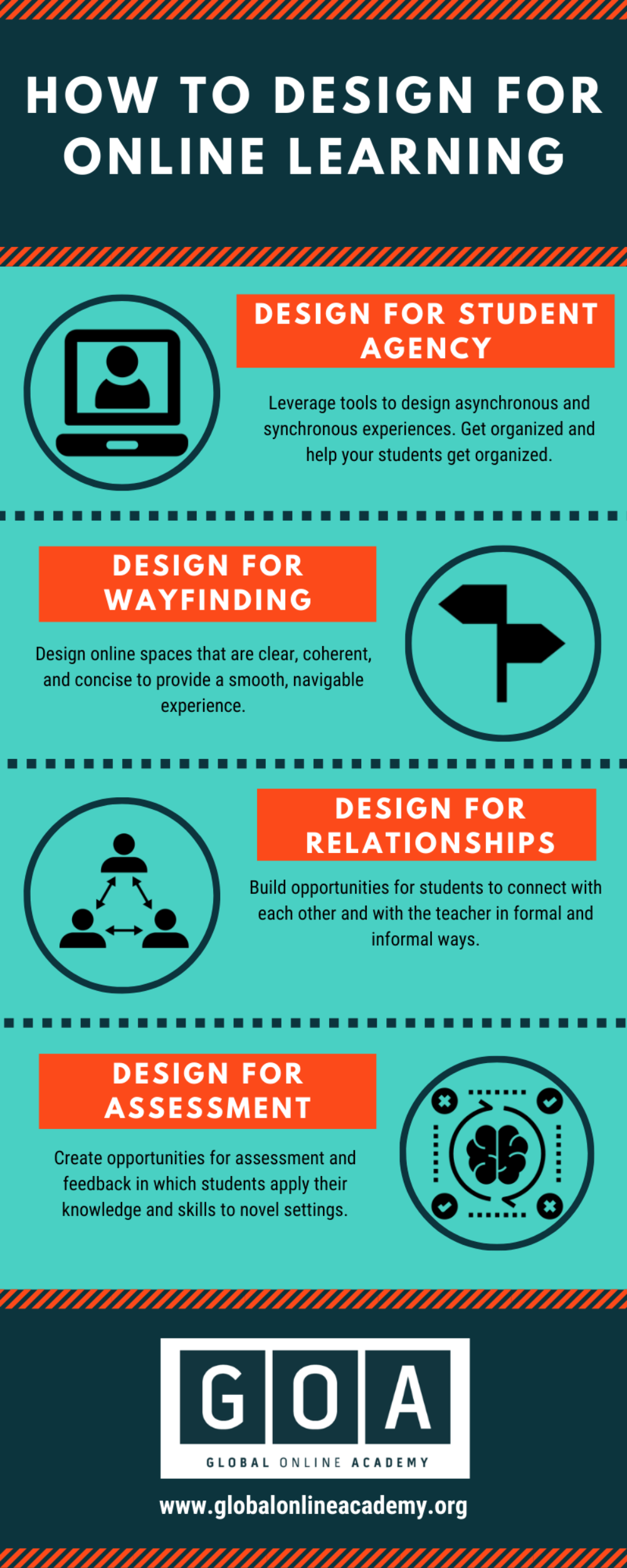 5. Reach first for the tools and platforms your school already uses.
In recent weeks, there has been a surge of edtech tool lists flooding the inboxes of educators. However, the risk is that these lists can overwhelm educators, robbing them of the mental energy and time needed to actually teach in online settings. To ease the burden of cognitive load on both educators and students, lean into the tools and platforms your school already uses. This helps to keep students from having to juggle multiple platforms and expend energy switching from one to the other.
Your school likely already has the tools and platforms in play to do the things that you need. Most schools are only using a fraction of the capacity of their learning management systems. If your school has a tech office, it's useful to reach out to them to see how you can best leverage the systems currently in place.
6. Let the pedagogy dictate the tool. Don't let the tool dictate the pedagogy.
At the same time, you very well may need a new technological solution that your school doesn't currently offer. In the spirit of innovation, it's worth trying out a new tool every couple of weeks.
Be sure that there's a strong instructional need that is driving you to adopt a particular tool. Additionally, remember that less is more when it comes to creating a coherent, navigable online experience for students. Perhaps what you need is a digital whiteboard, but you don't necessarily need multiples of the same tool. Once you find a tool that serves your pedagogical need, stick with it.
7. Design for sustainability.
Although the hope is that educators will be able to return to their brick and mortar communities soon, the reality might play out differently. In planning for the long term, consider how you can build systems that support the sustainability of online learning experiences. Think about how you can solicit feedback from students regarding the balance of synchronous and asynchronous experiences. Within the context of your classroom, try to automate certain processes, such as formative assessment and feedback. The key is to think through what structures can be replicated and duplicated.
Looking ahead
Keep in mind these words from Chris Emdin, "In the midst of unprecedented chaos and a disruption to our sense of normal, we have to remember that learning has never required a school building." Indeed, the possibilities of learning are such that they can happen anywhere, anytime. At some point, you'll return to your brick and mortar classrooms. What will you bring back with you from your online teaching and learning experience? Share your thoughts with us on Twitter using #goalearning and tagging @GOAlearning.
Are you interested in deepening your understanding of online learning? Check out GOA's slate of professional learning courses for educators and our four-week programs. If you desire specific programming for school-based teams, please check out our partnerships page and fill out a short inquiry form and we will respond to you soon.