Six NAIS Sessions We Can't Wait to Attend
We're looking forward to attending the National Association of Independent School's annual conference in Philadelphia this month. Each year, we highlight the sessions we're excited to attend and share them with our community. You can find our list below.
Attending the conference and want to connect? GOA's leadership team will be there. Reach out to Michael Nachbar, Bonnie Lathram, Jason Cummings, or Eric Hudson. We'd love to learn about what you're working on.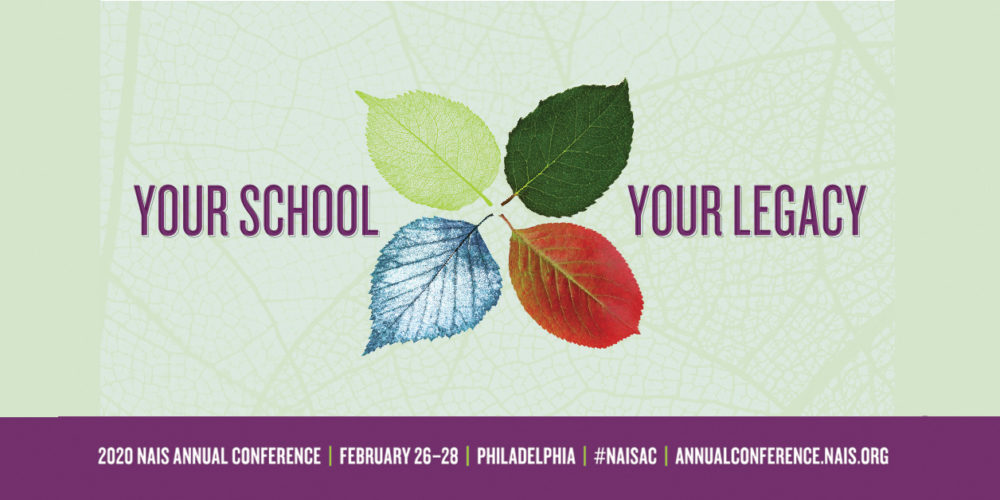 Six NAIS Sessions We Can't Wait to Attend
Leadership for Human Schools
Thursday, February 27, 8-9am
Matthew Byrnes and Christopher Pannone, Wooster School (CT)
Schools talk a lot about educating "the whole child," but when faced with the demands of our national culture of achievement, market competition, and the pressures of the college search process, they often favor the "academic child" when making decisions about how to spend precious time and resources. In this session, you will hear how one school has successfully embarked on the path of being a "human school," valuing the so-called "soft" skills—dispositions and knowledge having to do with emotions, relationships, and health—and spend some time thinking about how your school could as well.
Making Mastery Matter: Empowering Educators to Learn and Teach in New Ways
Thursday, February 27, 11am-12pm
Eric Hudson, Global Online Academy; Hannah Nelson, Watershed School (CO); Meghan Cureton, Mount Vernon Presbyterian School (GA); Stephen Dunn, The Nueva School (CA)
When it comes to school change, what does it look like to move from vision to action? This workshop features the voices of leaders guiding their communities toward mastery learning. By showcasing work completed by the presenters' schools, the workshop will introduce you to a variety of practical, effective strategies that empower educators to experiment with new approaches and reimagine the student learning experience. This rapid-fire round of presentations will conclude with a Q&A and a brief strategy design activity.
Disruptive Development: Coaching as a Tool for Culture Change
Thursday, February 27, 1:30-2:30pm
Teddi Bair and Stacia McFadden, The Lovett School (GA); Marsha Little, Carney, Sandoe & Associates
Instructional coaching, a practice grounded in improving student learning, is a powerful tool that can also be used to meet myriad needs beyond the classroom, from supporting equity work to helping teacher-leaders reflect on their own leadership practice. Lovett has used instructional coaching as a springboard to shift school culture around how both teachers and leaders grow, quickly moving from the seed of an idea to a full-fledged coaching program that has paid dividends well beyond what was anticipated. In this session, you will hear Lovett's story and have time to consider ideas to take back to your own school.
Leading Across Schools: Co-Creating a Competency Roadmap
Friday, February 28, 8-9am
Regan Galvan, Vistamar School (CA); Mike Peller, The White Mountain School (NH); Derek Kanarek, Catlin Gabel School (OR); Julia Griffin, The Mastery School of Hawken (OH); Zac Carr, The Nueva School (CA); Terry Yamamoto-Edwards, Punahou School (HI)
How might schools co-create roadmaps to evolve assessment practices that can be scaled and shared? In this session, you will examine how six school leaders joined forces to share best practices. You will learn how schools, in different stages of evolving assessment practices, are leading strategic change initiatives toward mastery-based teaching and learning. Initiatives range from creating competency-based courses and matching competency assessment with traditional letter grades to piloting the Mastery Transcript and even creating a new ungraded high school. The session concludes with a moderated panel exploring change leadership focused on mastery learning. You will leave with protocols for developing cross-school conversations on teaching and learning.
Listen Up: Using Student Voice to Improve Well-Being and Increase Engagement in Learning
Friday, February 28, 11am-12pm
Eric Chandler, Emerson Damiano, and Vanessa Chavez, Kent Denver School (CO); Jennifer Villeneuve and Jon Kleiman, Challenge Success, Stanford University
What are your students saying that you haven't heard (yet)? In this session, you will learn how to listen more deeply to students' experiences in order to make data-driven changes that increase well-being and academic engagement. This interactive workshop highlights one school's journey to elevate student voice and authentically include students in the change process. You will explore multiple methods for collecting student voice data and using it to engage all stakeholders to identify and implement meaningful changes to school culture and instructional practices. The session will be led by students and administrators from Kent Denver School and their partners from Stanford's Challenge Success.
The Educator as Learner: Teaching and Leading in a School That LEARNS
Friday, February 28, 1:30-2:30pm
Nicole Furlonge, The Klingenstein Center, Columbia University
How do adults learn best? How does this learning impact how they develop as teachers? How do schools need to change in order to support educator-learners more effectively? In this session, you will learn how to cultivate and actively design a school that LEARNS. This workshop shifts from professional development to a focus on professional learning.
Not attending the NAIS conference this year? Get involved with GOA in other ways: take an educator course, register for our new educator program, or join us in June for our Learning Design Summit.