2018 Learning Design Summit Program
Monday, July 23
4pm Islandwood Open for Arrivals
5pm Opening Reception and Dinner
Tuesday, July 24
7am Morning Mindfulness
7:30am Breakfast
8:30am Opening Session with Michael Nachbar, Executive Director, GOA and Keynote Speaker Maddy Hewitt, NESA
10am Advisories
10:30am GOA Faculty and Professional Learning Participants Opening Workshops
12 Lunch
1pm Workshops/Independent Design Time
4:30pm Whole Group Closing
5pm Break
6pm Dinner
Wednesday, July 25
7am Morning Mindfulness
7:30am Breakfast
8:30am Keynote Speaker: Stephen Valentine, Montclair Kimberly Academy
10am Advisories
10:30am Workshops/Independent Design Time
12 Lunch
1pm Workshops/Independent Design Time
4:30pm Advisories
5pm Break
6pm Dinner
Thursday, July 26
7am Morning Mindfulness
7:30am Breakfast
8:30am Keynote Speaker: Kevin Mattingly, Teachers College, Columbia University
10am Advisories
10:30am Workshops/Independent Design Time
12 Lunch
1pm Workshops/Independent Design Time
3:00pm Gallery Walk
4:30 Whole Group Conference Close
5pm Closing Reception
6pm Dinner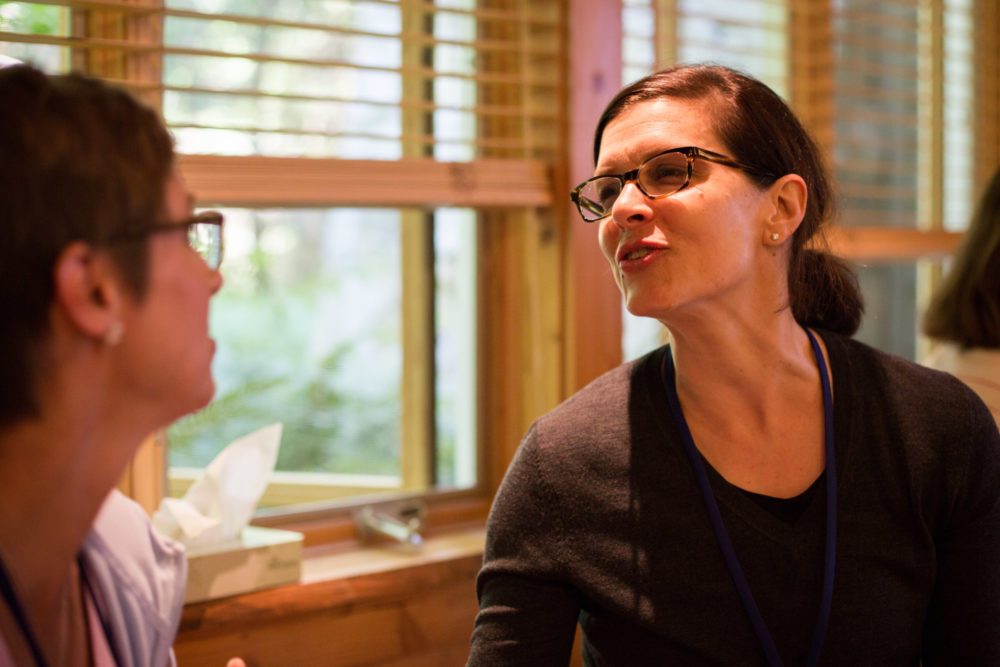 Community, and Audience, and Impact, Oh My! Using Online Environments to Enhance Human-Centered Learning (Eric Hudson, GOA)
Consider the hours — in and out of class— that your students get to learn with you in a given week. If you weren't bound by structures like schedule, space, and place, how might you use that time? What might the most authentic learning experiences in your course look like? How would students bridge the gap between what they're learning and the real world? Can you already anticipate the challenges you might face as you shepherd students through these experiences…and how might they be addressed? In this session we'll use examples of student work, feedback, and coursework to explore the role online tools and spaces can play in facilitating authentic assessment design and relationship building in and beyond the classroom.
Designing Assessment for Durable Learning (Jason Cummings, GOA)
We will explore together how we can leverage what we know about learning and the brain to design and implement assessments that drive student learning. This session will dive more deeply into the creation of course architectures and learning experiences that help students develop agency and autonomy through an emphasis on formative assessment, goal-setting, reflection and feedback on students' development of skills and content knowledge.
Designing Learner-Centered Experiences (Bonnie Lathram and Susan Fine, GOA)
The shift towards learner-centered design is playing out in classrooms and schools all over the world. We'll explore emerging best practices and discuss ways we can incorporate learner-centered design in our classrooms and schools. We'll dive deep into three elements of learner-centered design: student voice, choice, and pace. We will source examples and contribute to collective problem finding and solutions that emphasize learner-centered design and what this means for the role of the student and the teacher.
Stop Grading ASAP! Instead, Drive Learning and Build Community with a Feedback Plan (Susan Fine, GOA)
Imagine if you decided never to use the word or the practice of "grading" again; then you identified what's needed to shake grading from your educator life. What would such a shift require and especially for those of us living within a traditional grading system? This session focuses on designing feedback that moves learning by bringing pragmatism and intentionality to your approach. We'll look at varied types of formative feedback and what to use when and why. Further, we'll tackle how such an approach can yield requisite grades without compromising learning. If you're pausing and wondering how much this matters, consider Grant Wiggins' statement: "Decades of education research support the idea that by teaching less and providing more feedback, we can produce greater learning." The other enormous lesson we've learned at GOA: consistently useful feedback correlates with students' perception that their classes are vibrant learning communities. We'll talk about this, too.
Using Data to Drive Learning in Schools (Lucas Ames and Michael Nachbar, GOA)
Data has become a buzzword within education promising to transform how teachers work with students. Thanks to technological advancements, we have more student data than ever. Data alone, however, cannot drive learning. How do we move from passively reviewing data to proactively using it to drive student learning? What steps can we take as educators to transform metrics into actionable insights that are a routine part of how we operate?