What is a Flex Course?
Short, interactive online classes about the most important issues facing the world today.
Flex courses are opportunities for high school students to build modern learning skills and join a global conversation about relevant, real-world topics. Led by an experienced GOA facilitator, students explore playlists of resources, engage in discussions with peers around the world, and complete hands-on activities to apply their new knowledge. Teachers join their students in the flex course and are encouraged to further integrate flex course topics and skills into their classes, clubs, or advisory programs using GOA-provided resources and strategies.
Courses are highly interactive and designed for daily student engagement, at a time during the day that works for them. Flex courses range in length from four days to two weeks, with students averaging around 45 minutes a day of engagement. While most students come to GOA flex courses when their teachers sign up the whole class or grade level, we certainly welcome individual students who just want to learn more about the topic.

Flex courses are available exclusively to GOA members at no additional charge. GOA announces new flex course offerings and dates prior to the start of the school year; however, new courses are often added mid-year in response to current events. Please review the FAQs below for further information. More questions? Contact us.
Flex Course Calendar 2021
Flex courses are delivered via GOA's secure online platform and are open to all students. These courses are open to students from our member schools.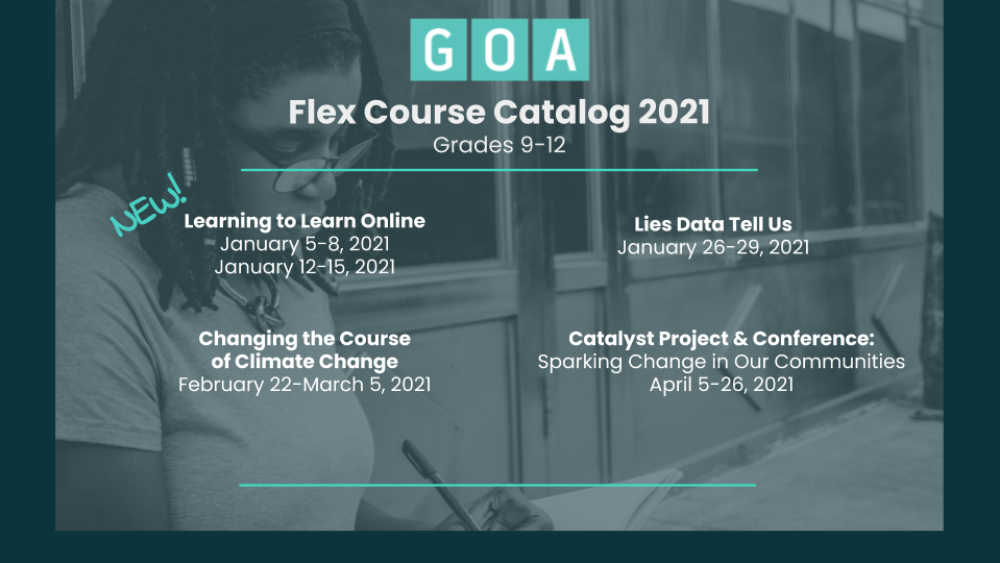 Learning to Learn Online: High School
January 5-8 or January 12-15, 2021
Register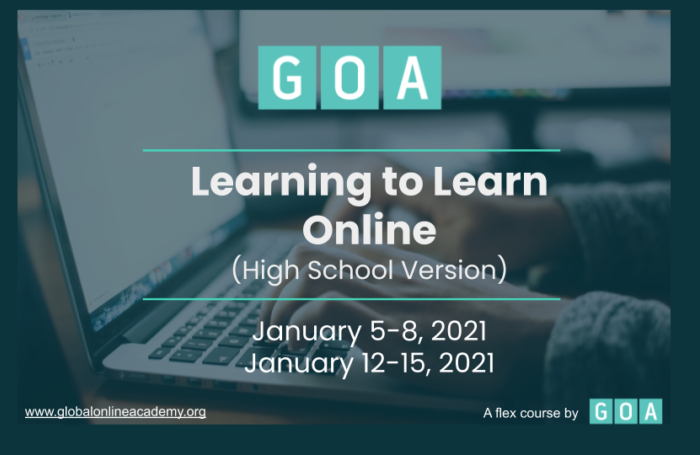 Do you want to become a more effective online learner? As schools responded to the pandemic by shifting learning online, you had to navigate new learning environments, routines, support, ways to collaborate, and mechanisms to demonstrate your learning. Whether your school is opening virtually, planning a hybrid online -on campus solution, or you are returning to school - this opportunity to skill-up and set yourself up for success will serve you no matter where you do your learning this year.
For almost a decade, Global Online Academy has been empowering students to build the skills they need to thrive and engage with the topics they care about the most. Learning to learn online is a skill that should be developed intentionally, rather than left to chance, through a process of behaviors and habits that help students focus on content and experiences, not the tools used to deliver them. Through self-observation, conversation, and personal reflection, students in this course will evaluate their previous approach to online learning and set goals for the year ahead. Each day of this four day course will cover a key skill related to learning environment, navigation and planning, getting help, and being an active learner. Students will join in a global conversation where they will learn about, share and apply each skill to their own setting. By the end of the course, students will have created a personal toolkit of resources, reminders, and their own online learning commitments to be used independently or shared with a teacher.
Affiliated teachers will be provided with guidelines on how to best prepare their students and themselves for the experience.
Who is this course for?
This course is appropriate for students in grades 9-12. The personalized nature of this course makes it perfect for any learner context including a class, a grade level, a study skills or advisory program. While the design of this course encourages teachers to bring a group of students and integrate course topics into their learning environment, individual students are also welcomed to enroll.
There is a middle school version of this course which will cover the same key skills in a much leaner online format which asks affiliated teachers to be more actively engaged in the delivery of the learning experience.

Have more questions?

GOA is hosting informational synchronous meetings for teachers who have registered or are considering registering their students. These optional sessions will include an overview the course and a facilitated Q&A. Learn more and register here.
Lies Data Tell Us
January 26-29, 2021
Register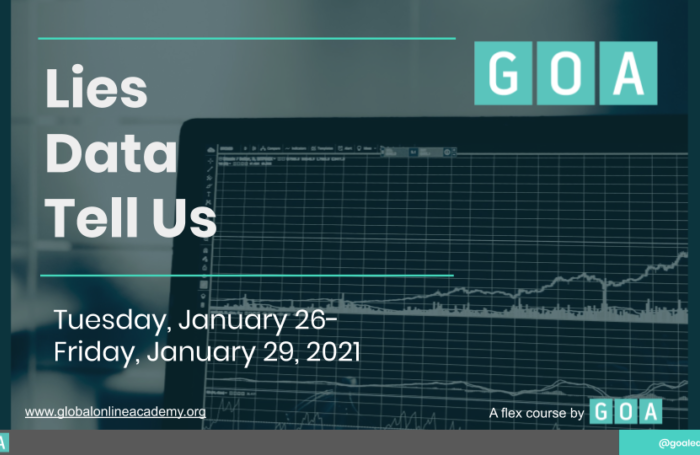 What is Truth? How do we perceive truth? Arguments about perspectives on truth concerning climate change, COVID-19, race, history, politics, and constitutional rights flare up continually in the United States, especially since the start of Donald Trump's administration and with the protests for racial equality. Questions and controversial statements have arisen: Whose truth? Fake news. Opinion vs. data. Fact denial. Science vs. ideology or faith. Can data visualization help us cut through rhetoric, ideology and pre-existing biases? Can it serve a tool for representing information and perspectives in a concrete way that benefits our work as social scientists, artists, content creators and social media consumers? In this course we will explore methods of leveraging visualization to challenge abstraction in our daily lives.
Data visualization is a necessary component when understanding large amounts of information. With foundations rooted in medicine, politics and psychology nowadays almost every field uses visualizations to explore information and inform decisions. This course shows you how to understand your data, learn how data should and shouldn't be visualized, and teaches you how to recognize misleading visualizations. Together we will learn briefly about the history of data visualization as well as examine relevant datasets in divisive topics such as climate change, voting and race related crime statistics. Whether you're a programmer who wants to dive into the hot field of big data, an artist who loves the cross section between art and math, or simply a consumer of information who wants a better filter against media bias this is the course for you.
Who is this course for?
This course is appropriate for students in grades 9-12. The use of pathways in the course design will allow classes from a wide variety of disciplines to connect meaningfully to the program, including Social Studies, Statistics, Computer Science, and Economics.
Changing the Course of Climate Change
February 22-March 5, 2021
Register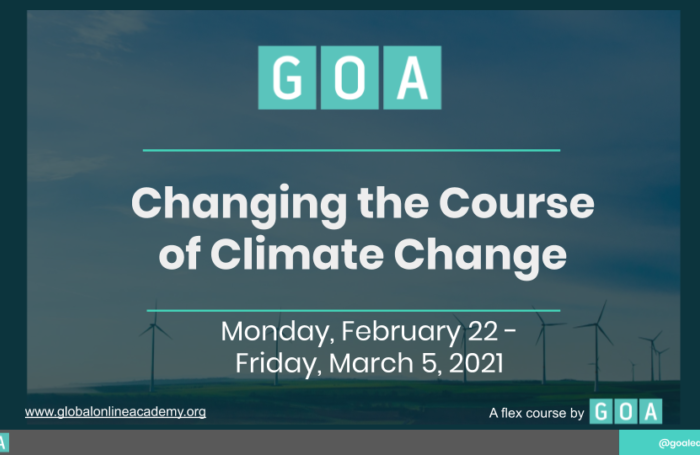 Have you experienced climate change? Are there rising temperatures, or extreme weather conditions in your hometown? Have there been droughts or floods that leave environmental and human devastation in their wake? Or is climate change still a distant, largely theoretical threat to you?

Dramatic changes to our climate, the warming of the globe and consequent widespread damage to our environment are recorded and reported daily. The latest UN report issued in October 2018 from the Intergovernmental Panel on Climate Change gives humanity about a decade to make substantive changes to avert future climate disasters. The risks of inaction are already evident, reported in the news daily, in floods, wildfires, droughts, and increasingly violent storm surges.

What can we do, as citizens, through our global, national, regional or local governments? And as individuals in our daily acts of energy consumption and our support for sustainable markets? In this two week course, you will explore your own opportunities to change the course of climate change, through awareness building, political action, community and individual initiatives. There is a growing network of scientists, social activists, business leaders, educators, students and concerned citizens at every level calling for action now, and we need to connect to all of our allies as we engage this battle. We will explore actions large and small and engage in a global conversation, sharing local stories of how we have experienced or anticipate climate change, and how together we can begin to reverse the course of climate change, to save ourselves and our planet.
Who is this course for?
This course is appropriate for students in grades 9-12. The use of pathways in the course design will allow classes from a variety of disciplines to connect meaningfully to the program, including environmental sciences, global studies, government, economics, and clubs focused on policy and/or environmental sustainability.
The Catalyst Project and Conference
April 5-26, 2021
Register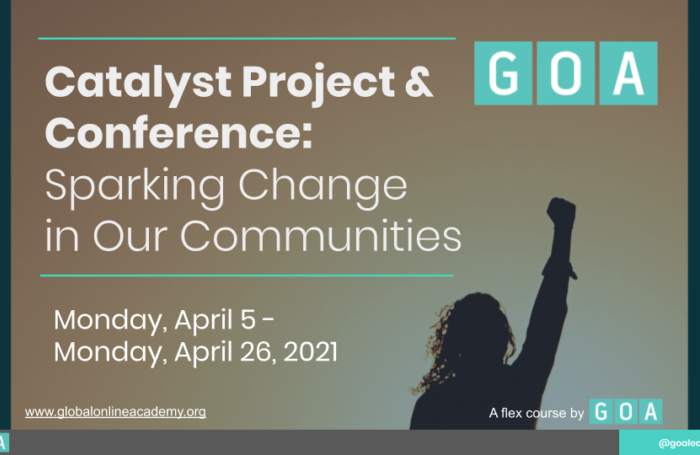 You can make an impact.
This April, GOA is bringing the annual Catalyst Project & Conference to schools! Now, you and your classmates will have the opportunity to take concepts learned in your course and shape and live out a real world project that aims at making an impact in your local community. Your teacher will begin by introducing your class to the specific guidelines of your project. In early April, you will join a global conversation with peers at other schools working to implement change in their own communities and craft presentations that share their process. The conference opens to the public on April 22 and you will share your work, explore, leave feedback on hundreds of other student projects and vote for your favorites.
The specific guidelines of your project will be developed by your teacher and will relate to the content in your class. GOA's student checklist will help you stay on track and ensure you've covered all the important details.
Your project, and the impact you attempt to make in your community is the heart of this endeavor. You'll identify a question you want to answer in response to a problem that needs solved, and through the lens of your course content, you'll follow a research-driven process to answer that question and solve that problem.
The conference is an opportunity to showcase your process and impact, engage with an authentic audience, learn from other participants, and gather feedback from a worldwide community. The conference will be asynchronous and remains open April 22-26, 2021. You'll be expected to sign on a few times each day to engage with other student presentations, as well as respond to people who have visited yours. The conference will be open to the public; use this opportunity to continue to spark change!
Important Dates
Project Process: Your teacher will guide you through selecting a topic/question and following a research and implementation process on the timeline that is best for your course. Some courses will weave this throughout the entire semester and others will set aside a specific window of time just for the Catalyst Project. All courses will want to introduce the project and conference by early March.
Conference Preparation: The Catalyst Project & Conference flex course begins April 5 and you will receive your course invitation. When it's time to develop your conference page to share your process and learnings, your teacher will email you your login credentials.
Conference Participation: Expect to check engage with the conference throughout April 22-26.

Previous Flex Courses
Check back for next year's dates.
US Elections in the World
October 19-30, 2020
Register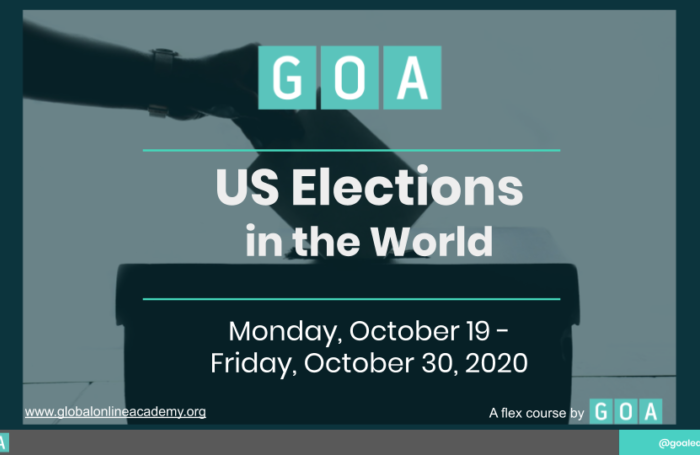 Have you ever wondered why a president can lose the popular vote and still win the election? Have you ever wondered how it can be that you don't know anyone who voted for one side or the other? Perhaps you're interested in learning more about the process of US elections or perhaps you're drawn to understanding the impact of the election's result. How does the outcome affect the world? Can the US election shift the direction of climate change, human rights issues, the economy and global security all over the world?
It might be easy to think of the American presidential election as a purely "American event" but we know that the selection of an American president has global implications and is important to the world community. In this two week course, students will explore the way the American president is elected and global issues surrounding the election. This flex course provides a guided environment for students to engage with curated resources, tackle essential questions in discussions with students around the globe, and develop their understanding of the issues by hearing from experts in the field. Participants will learn how the US president is elected; explore how the current global situation is impacting the US election; and examine how the results may impact human rights, global security and the environment around the world.
Who is this course for?
This course is appropriate for students in grades 9-12. The use of pathways in the course design will allow classes from a variety of disciplines to connect meaningfully to the program, including history, government, social studies, global studies, philosophy and journalism.
Write Where You Are
November 9-20, 2020
Register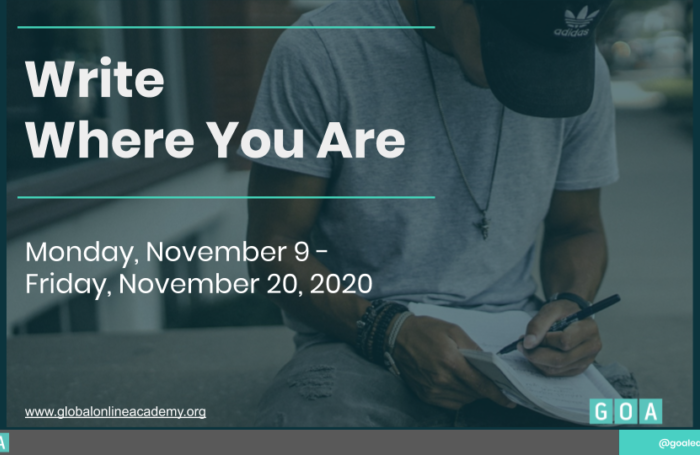 Why does place matter in the stories we tell? How are we shaped by the places where we live? What happens when stories of place are shared with readers from other locations?
Write Where You Are is a two-week experience in creative writing that focuses on the stories you have to tell about your places, yourselves, and your communities. This is an opportunity for students from around the world to collectively write, record, and share place-inspired drafts in a global gallery of words and media.
You'll look closely at where you are. And who you are. And your communities. You may conduct interviews, dabble in travel writing, or dig deep into personal narrative. You'll have a variety of pathways from which to choose, each offering creative inspiration and each focusing on how place can be the foundation for some of the most meaningful stories we have to tell. You'll be joined by inspiration from our guest speaker, the writer Sonya Huber, and a community of student writers from around the world working simultaneously to draft, explore, and share storytelling from varied locations and experiences.
All students in this course will gain an introductory understanding of the fundamentals of place-based writing, personal narrative structure, and creative techniques, such as writing with descriptive detail and a sense of voice. Everyone will participate in the same course introduction. Following that launching point, students and teachers will be invited to participate in four central writing activities that will be supplemented with media, interviews, and opportunities to go deeper into reading and writing. Participants can expect interactive discussions, creative explorations, and opportunities to draft short place-based essays that lead to a festival of audio-recordings.

Who is this course for?
This course is appropriate for students in grades 9-12. The use of pathways in the course design will allow classes from a variety of disciplines to connect meaningfully to the program, including English, language arts, social studies, global studies, and journalism.
Are flex courses open to students from non-member schools?
No, our flex courses are not open to students from non-member schools. Please view our summer course catalog for courses available to students from non-member schools.
How much does each flex course cost?
Students from member schools may attend at no additional cost.
Who are the lead facilitators for these courses? What is their role?
These courses are designed and facilitated by experienced GOA faculty members. Throughout the course, you and your students will hear from them through videos, emails, and other tools.
I am a teacher considering enrolling my class in a flex course. What is my role in the course?
Teachers who enroll their students are given the role of affiliated teacher in the flex courses. We encourage affiliated teachers to be actively involved in our flex courses with their students and to take advantage of the intended flexibility in the presentation of materials.
Affiliated teachers have access to the course, receive all course communications, will have access to resources and recommended strategies for extending course concepts, and will be asked to complete a feedback survey after the course concludes. The learning experience is led by a GOA facilitator who will present the content.
Will affiliated teachers have any guidance on how to incorporate the flex course into their classrooms?
Yes. Prior to the start of the course, affiliated teachers will receive guidance on how to prepare themselves and their students for the experience. During the course, the flex course facilitator will provide resources and teacher support.
What is the time commitment for most flex courses?
These courses vary in length, some are as short as four days, others are 2-3 weeks long. The shortest courses often require students to engage for about 45 minutes a day, and the longer courses suggest students budget 2-3 hours a week. Flex courses are designed to pair well with on-campus courses or activities, and the learning is most impactful when supplemented by affiliated teacher support. Individual students at GOA member schools are able to enroll in most flex courses.
The flex course timing does not work for my class schedule. May I access the content and use it at a time that works for me or my students?
To protect the intellectual property of our teachers and the intended collaborative and global atmosphere of our courses, we cannot provide special access to the flex course materials outside of the dates the course is intended to be open.
How much of the course is synchronous? Is it possible to engage with the flex course on my classes' schedule?
Flex courses are fully asynchronous to allow students and teachers flexibility. During the dates the flex course is open, students may engage daily in their on-campus classes or a few times a week after school, whatever works for them. Although it is possible to attend a flex course all at once, we recommend students log in a few times a week while the flex course is running so they can take advantage of opportunities to collaborate with peers from around the world.
Is there a limit to how many or how few students can sign up for a flex course at a time?
No, there is no limit to the number of students allowed in each flex course. These courses are designed for a large, global audience. Many affiliated teachers choose to enroll all of their students in a given class in our flex courses, and incorporate our courses into their regular class meetings. We also welcome individual students to take these flex courses on their own, as long as they have the support of affiliated teachers from their schools.
When will enrollment close for upcoming flex courses?
Enrollment closes the Thursday before the course begins.
Can I bulk enroll groups of students?
Yes! Please read this guide carefully, checking that you have maintained correct formatting for the headers and the drop down data. Please list a maximum of one parent and one affiliated teacher per student. The system will not interpret commas in the bulk upload sheet (a "comma-separated value" (CSV) file) as a list of similar items, so please do not include them. Please contact hello@globalonlineacademy.org if you encounter difficulties.
Are grades and feedback provided to students in flex courses?
No. GOA and flex course facilitators do not provide grades or feedback, although many affiliated teachers choose to assess their students' participation and engagement in our flex courses.
Do participants receive a certificate of completion?
No. GOA flex courses are focused on providing students access to high quality content, the opportunity to join a global conversation, and prompts to reflect on and apply learning in their own setting. While affiliated teachers often monitor their own students' participation using their own tools and approaches, flex courses are not designed for GOA to track or measure student engagement and therefore we cannot remark on individual student engagement.
How long will the flex course remain open after it ends?
Flex courses remain open for one week after they end.
May adults audit flex courses?
For the privacy of our students and to protect the intellectual property of our teachers, we cannot allow adults to audit our courses without having associated students with them. Previews of the course materials are available on request. Please email hello@globalonlineacademy.org for more information.