What is a Flex Course?
Short, interactive online classes about the most important issues facing the world today.
Flex courses are opportunities for high school students to join a global conversation about relevant, real-world topics. Designed and facilitated by experienced GOA teachers, flex courses are mostly asynchronous, highly interactive online experiences (two to three weeks) with no required meeting times. Students explore playlists of resources, engage in discussions, and complete hands-on activities to apply their new knowledge.
Designed for teachers and students to incorporate into existing classes, clubs, advisory programs, etc., flex courses ask participants to spend two to three hours per week in the course (in-class and/or as homework), leaving time to weave online learning into in-school coursework. Many teachers and advisors supplement GOA flex courses with materials and classroom activities of their own in order to best meet students' needs. While most students come to GOA flex courses when their teachers sign up the whole class, we certainly welcome individuals (including teachers!) who just want to learn more about the topic.

Flex Courses 2020-2021
Flex courses are delivered via GOA's secure online platform and are open to all students. These courses are open to students from our member schools. Course descriptions coming soon!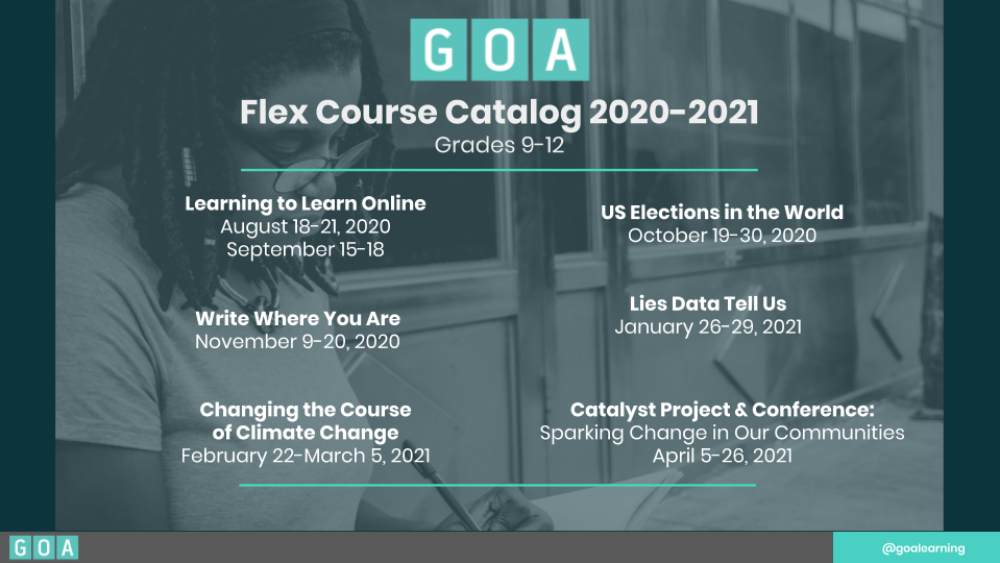 Are flex courses open to students from non-member schools?
No, our flex courses are not open to students from non-member schools. Please view our summer course catalog for courses available to students from non-member schools.
How much does each flex course cost?
Students from member schools may attend at no additional cost.
Who are the lead facilitators for these courses? What is their role?
These courses are designed and facilitated by experienced GOA faculty members. Throughout the course, you and your students will hear from them through videos, emails, and other tools.
Will a teacher facilitate the flex course content, or is it the task of the affiliated teacher to choose how to present this content?
Each flex course has a designated teacher (also called a lead facilitator) who will help present the content and will provide additional resources for affiliated teachers in the course. We encourage affiliated teachers to be actively involved in our flex courses with their students and to take advantage of the intended flexibility in the presentation of materials.
Will affiliated teachers have any guidance on how to incorporate the flex course into their classrooms?
The flex course teacher/ lead facilitator will provide materials and support throughout the course for affiliated teachers.
What is the time commitment for most flex courses?
These courses are typically 2-3 weeks long and are designed to combine well with on-campus courses or activities, although flex courses may also be taken on their own. Participants should expect to spend at least 2 hours per week engaging with each flex course, but there will be resources available for students looking for more.
The flex course timing does not work for my class schedule. May I access the content and use it at a time that works for me or my students?
To protect the intellectual property of our teachers and the intended collaborative and global atmosphere of our courses, we cannot provide special access to the flex course materials, outside of the dates the course is intended to be open.
How much of the course is synchronous? Is it possible to engage with the flex course on my classes' schedule?
Flex courses are fully asynchronous to allow students and teachers flexibility. During the dates the flex course is open, students may engage daily in their on-campus classes or a few times a week after school, whatever works for them. Although it is possible to attend a flex course all at once, we recommend students log in a few times a week while the flex course is running so they can take advantage of opportunities to collaborate with peers from around the world.
Is there a limit to how many or how few students can sign up for a flex course at a time?
There is no limit to the number of students allowed in each flex course. These courses are designed for a large, global audience. Many affiliated teachers choose to enroll all of their students in a given class in our flex courses, and incorporate our courses into their regular class meetings. We also welcome individual students to take these flex courses on their own, as long as they have the support of affiliated teachers from their schools.
When will enrollment close for upcoming flex courses?
Enrollment closes the Wednesday before the course begins.
Can I bulk enroll groups of students?
Yes! Please read this guide carefully, checking that you have maintained correct formatting for the headers and the drop down data. Please list a maximum of one parent and one affiliated teacher per student. The system will not interpret commas in the bulk upload sheet (a "comma-separated value" (CSV) file) as a list of similar items, so please do not include them. Please contact hello@globalonlineacademy.org if you encounter difficulties.
Are grades and feedback provided to students in flex courses?
GOA and flex course lead facilitators do not provide grades or feedback, although many affiliated teachers choose to assess their students' participation and engagement in our flex courses.
How long will the flex course remain open after it ends?
Flex courses remain open for one week after they end.
May adults audit flex courses?
For the privacy of our students and to protect the intellectual property of our teachers, we cannot allow adults to audit our courses without having associated students with them. Previews of the course materials are available on request. Please email hello@globalonlineacademy.org for more information.