Dates

November 2 - 6, 2020

Cost for members

Free

Cost for non-members

$150
Course Description
Homework is often contentious in schools. Research alternately defends and disputes the necessity of homework, frustrating educators and families alike. Yet, in the debate between the futility and utility of homework, one thing is clear: homework has to serve learning. In this one-week course, you'll explore the literature on the homework debate and engage in a design challenge that will drive you to consider when, where, and how learning should occur. Throughout the week, you will develop a homework strategy that incorporates research-backed approaches, illustrates an awareness and understanding of your students' backgrounds and needs, and articulates a distinct purpose. You'll leave this course with a new framework for designing homework and a new take on when and where learning can occur. Along the way, you'll have the opportunity to collaborate and connect with educators from around the world. Join us.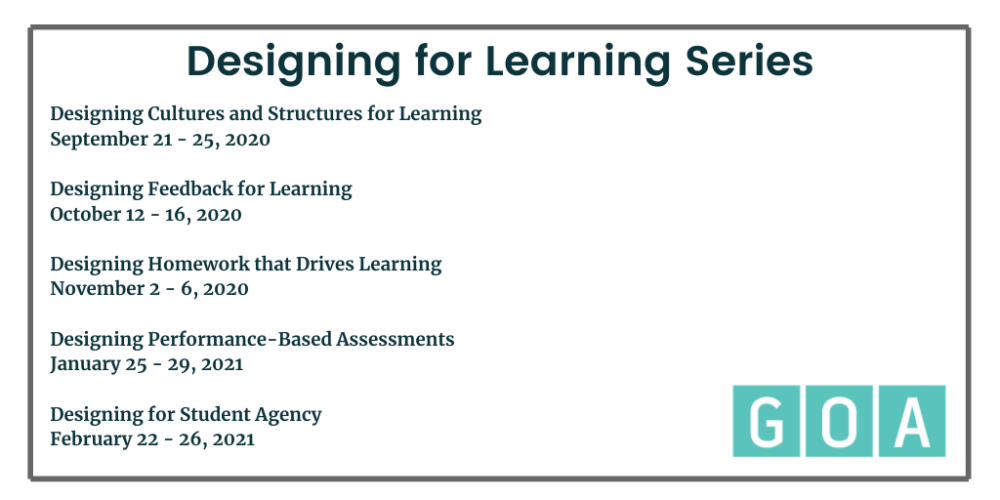 About the Designing for Learning Series
GOA's Designing for Learning series is a set of five online courses for educators to improve their teaching practice through a series of deep dives, discussions, and design challenges. All five courses can be taken in any order and will be offered in 2020 and 2021 during the academic year and summer to allow for maximum flexibility. All courses follow a Discover, Discuss, Design, and Decide framework with an intentional effort to design for equity. Each course features a design challenge that you can be a part of and make applicable to your own context.
Why join the Designing for Learning courses?
We invite you to join us as we design for learning. You will join an active networked professional learning community. You will be challenged to design new learning experiences in a collaborative environment. You will connect with and learn from a global community of colleagues. Remember, there are no prerequisites: you don't have to start the series at the beginning, because there is no beginning. You can pick and choose courses that are most relevant to you.
Why is GOA moving from "Rethinking" to "Designing?"
In the fall of 2017, GOA's professional learning team launched a new series of online educator courses titled the Rethinking School series. Thousands of educators participated in the five courses in the series: Rethinking School, Rethinking Assessment, Rethinking the Role of Content, Rethinking the Roles of Students and Teachers, and Rethinking Time and Space. Participants convened to rethink and reimagine systems and structures to promote learning in their own schools. The Rethinking School courses offered us the opportunity to imagine; now, we are rolling up our sleeves, digging even deeper, and designing what comes next.
How might we ensure that we are designing for equity in the Designing for Learning series?
We have been grappling with a question that many schools and educators are grappling with: How might we ensure that we are designing for equity in all that we do?
We believe there is a need in our schools - and society - to explicitly and intentionally focus on matters of diversity, equity, and inclusion. For too long, the data and stories of marginalization, erasure, and neglect have not improved - despite good intentions and hopeful efforts.
Our GOA Professional Learning team recognizes the platform and voice we hold in the field of professional learning and want to publicly model our process of responding to this need with urgency and intention. We challenge ourselves to equitably do rather than do equity. This means that in all that we design, moving forward, equity as a lens for all the work we do.
Throughout our attempts, we will be imperfect. We invite you to learn from and with us and hope that you will dedicate yourself to actively designing for equity in all that you do.
Additional info
Have questions? Check out our Frequently Asked Questions page to learn more specifically about how our courses work and what to expect.

To sign up for additional professional learning opportunities, check out all of our educator courses.

Follow along with us as we share insights, ideas, and updates about our "Designing for Learning" series on Twitter @GOALearning.