What is a Flex Course?
Short, interactive online classes about the most important issues facing the world today.
Flex courses are opportunities for middle and high school students (ages 13 and up) to join a global conversation about relevant, real-world topics. Designed and facilitated by experienced GOA teachers, flex courses are mostly asynchronous, highly interactive online experiences (two to three weeks) with no required meeting times. Students explore playlists of resources, engage in discussions, and complete hands-on activities to apply their new knowledge.
Designed for teachers and students to incorporate into existing classes, clubs, advisory programs, etc., flex courses ask participants to spend two to three hours per week in the course (in-class and/or as homework), leaving time to weave online learning into in-school coursework. Many teachers and advisors supplement GOA flex courses with materials and classroom activities of their own in order to best meet students' needs.

Flex courses are delivered via GOA's secure online platform and are open to all students. They are free for member schools and $25/participant for non-members.
Questions? Contact us.

2019 Flex Courses
We're offering three flex courses in 2019! See below for key details.
Jan. 22-Feb. 8 — Voice & Vision: A Flex Course Film Festival
Learn filmmaking. Explore identity.
Register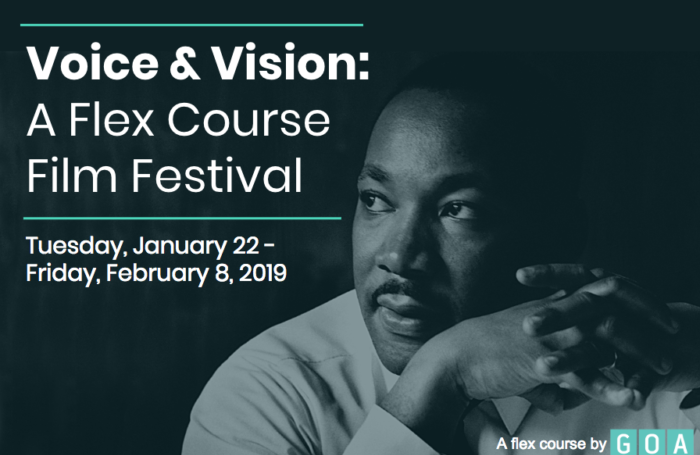 The medium of film expands our vision by allowing us to see into another's experience. Voice & Vision is a three-week film production challenge, contest, and film festival. This is an opportunity for students to amplify their creative voices by producing a 2-minute autobiographical story that projects a vision of our shared future. What potential exists for greater freedom, equality, safety, and peace in our own communities and across the world?
This course is designed for students with no experience making films as well as for those who are already budding filmmakers!

Course Details
Voice & Vision begins on January 22 and runs until February 8, beginning just after Martin Luther King Day and leading into Black History Month in the United States. In the first week, students will explore the various filmmaking prompts, choose one, and plan out their production. Prompts may include:
Make a film that tells a story about a facet of your identity that you wish were represented in more stories.
Intersectionality is a word used to describe the overlapping or intersecting nature of our social identities (race, class, religion etc.). Use film to tell a story about a character encountering an intersectional experience.
Draw inspiration from the words and ideas of one of history's great freedom fighters (Dr. King, Gandhi, Mother Teresa, Nelson Mandela, etc.). Use film to explore your own or your community's identity through those ideas.
What is your dream? Drill down on Dr. King's famous "I have a dream" speech. What is your dream for your community and for our shared humanity?
Week Two will focus on the basics of filming, editing, critique, revision, and submission to the festival. The third and final week will be the chance to watch the breadth of entries across GOA's global network. A panel of jurors will select winners, and audiences will even get to vote on their favorite films.
Feb. 25-March 8 — True or False? Navigating the News
Hone your ability to detect false stories.
Register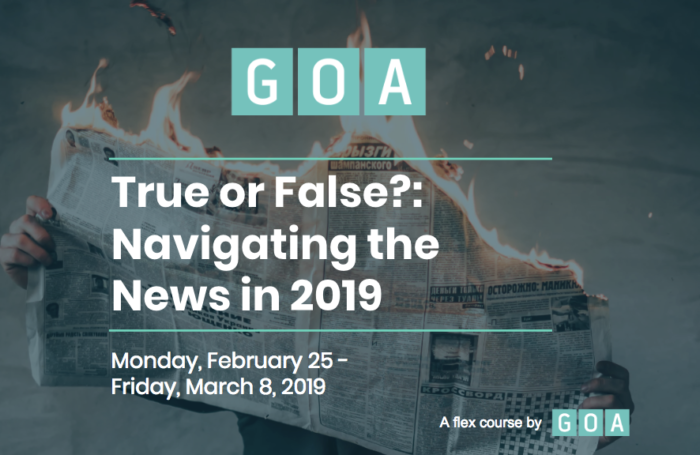 Let's say an upsetting headline floats across your lock screen or lands in your news feed. Is your first reaction belief or skepticism? Do you read or watch the full story, or do you share it and move on? A false story is 70% more likely to be shared than a true one. That's one of the reasons it's hard to be a well informed member of society today.
This two-week flex course, updated from GOA's popular 2017 course "The Truth About Fake News," asks students to explore the media landscape and hone their skills for detecting false stories. Students will identify some sources to trust, sources that meet their criteria for truth.
Course Details
This course will begin by exploring the concepts of news, honest reporting, and the challenge of defining "truth" in the context of current events. It will then offer examples of falsehood masquerading as news, including real events described in misleading ways, manipulated images and videos, and stories that are entirely fabricated. Students will look for false stories in their own social media feeds and try to trace them back to their origins.
Students will then choose a pathway to explore in more depth. Potential pathways may include:

Getting Rich by Telling Lies: Case studies of people and organizations who have benefitted from producing false news stories.
Who Is Doing What Where?: An exploration of how false news production is happening around the world.
The Ever-Changing Tools for Changing Things: How is technology being used to both create and fight fabricated information?
At the end of the course, each student will create a personal News Navigation Plan.

May 13-24 — Changing the Course of Climate Change
What can we do about climate change through our global, national, regional or local governments?
Register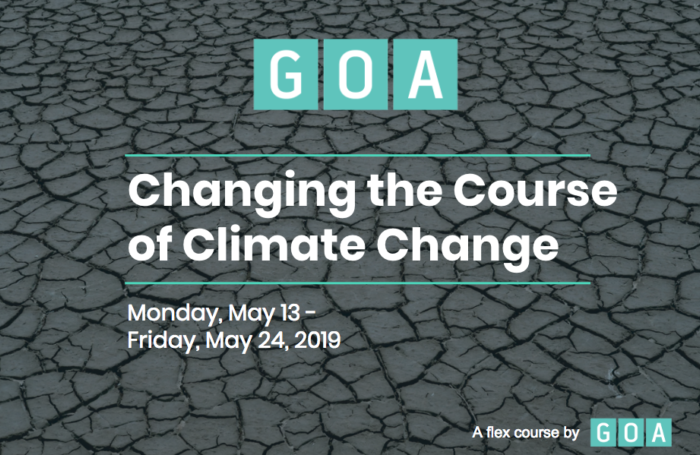 Have you experienced climate change? Are there rising temperatures, or extreme weather conditions in your hometown? Have there been droughts or floods that leave environmental and human devastation in their wake? Or is climate change still a distant, largely theoretical threat to you?

Dramatic changes to our climate, the warming of the globe and consequent widespread damage to our environment are recorded and reported daily. The latest UN report issued in October 2018 from the Intergovernmental Panel on Climate Change gives humanity about a decade to make substantive changes to avert future climate disasters. What can we do, as citizens, through our global, national, regional or local governments? What can we do as individuals in our daily acts of energy consumption and our support for sustainable markets?
Course Details

In this two-week course, students will explore opportunities to change the course of climate change, through building awareness, political action, and community and individual initiatives. Students will be introduced to and asked to seek out a growing network of scientists, social activists, business leaders, educators, students and concerned citizens at every level calling for action now.
All students in this course will gain an introductory understanding of scientific and political issues surrounding climate change . All students will participate in a common introduction and engage with our expert speakers (to be announced in March/April). Following the introduction, there are several pathways for students or teachers to choose from. These pathways will likely include the science of climate change; vulnerable populations/geographic locations; mitigation vs. adaptation; community action; the future of the Paris Climate Accords.