What is a Flex Course?
Short, interactive online classes about the most important issues facing the world today.
Flex courses are opportunities for middle and high school students (ages 13 and up) to join a global conversation about relevant, real-world topics. Designed and facilitated by experienced GOA teachers, flex courses are mostly asynchronous, highly interactive online experiences (two to three weeks) with no required meeting times. Students explore playlists of resources, engage in discussions, and complete hands-on activities to apply their new knowledge.
Designed for teachers and students to incorporate into existing classes, clubs, advisory programs, etc., flex courses ask participants to spend two to three hours per week in the course (in-class and/or as homework), leaving time to weave online learning into in-school coursework. Many teachers and advisors supplement GOA flex courses with materials and classroom activities of their own in order to best meet students' needs.

Flex courses are delivered via GOA's secure online platform and are open to all students. They are free for member schools and $25/participant for non-members.
Questions? Contact us.

May 13-24 — Changing the Course of Climate Change
How might we change our personal lifestyles to fight climate change?
Register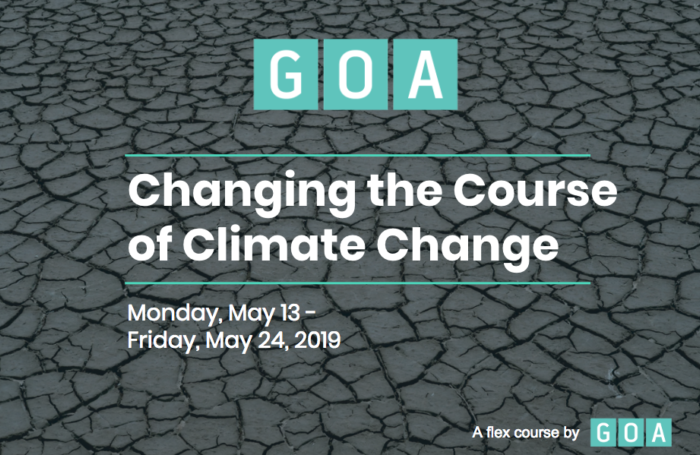 Have you experienced climate change? Are there rising temperatures, or extreme weather conditions in your hometown? Have there been droughts or floods that leave environmental and human devastation in their wake? Or is climate change still a distant, largely theoretical threat to you?

Dramatic changes to our climate, the warming of the globe and consequent widespread damage to our environment are recorded and reported daily. The latest UN report issued in October 2018 from the Intergovernmental Panel on Climate Change gives humanity about a decade to make substantive changes to avert future climate disasters. What can we do, as citizens, through our global, national, regional or local governments? What can we do as individuals in our daily acts of energy consumption and our support for sustainable markets?
Course Details

In this two-week course, students will explore opportunities to change the course of climate change, through building awareness, political action, and community and individual initiatives. Students will be introduced to and asked to seek out a growing network of scientists, social activists, business leaders, educators, students and concerned citizens at every level calling for action now.
All students in this course will gain an introductory understanding of scientific and political issues surrounding climate change . All students will participate in a common introduction and engage with our expert speakers (to be announced in March/April). Following the introduction, there are several pathways for students or teachers to choose from. These pathways will likely include the science of climate change; vulnerable populations/geographic locations; mitigation vs. adaptation; community action; the future of the Paris Climate Accords.