10 Strategies for Leading Online When School is Closed
Our effort to help those feeling less ready for the school leadership and operating challenges presented by the COVID-19 situation.

As our subtitle suggests, and in response to the evolving COVID-19 situation, we offer this reference in support of those schools and other organizations engaged in planning for the many possible ways in which their institutions and surrounding areas may be asked or required to operate.
If you're a senior or executive-level leader charged with moving school online for a considerable period of time (more than a few days), we hope you will find our suggestions, born of both practice and practical research, helpful. If you sit (lead) between senior level leaders and the students, you, too, will have to learn how to lead and learn online. In fact, your daily actions will likely have the greatest impact on building and preserving momentum in online-only settings.
These steps do not represent a comprehensive crisis plan framework. Instead, they are elements that we believe you should consider, especially if you have not taught or led in mostly or entirely online contexts.
You will notice that we are focusing primarily on communication — both delivering it and managing it — rather than learning or assessment techniques. In our experience, when working online, you have to treat communication like air; you have to pump it through the system; if you don't have enough of it, teaching and assessment won't even be possible, let alone optimized.
We also recognize that not all schools or districts have all the resources — physical, digital, or human — listed below. If that's the case, you can consider looking to your community for support, whether that leads you to a library, a community center, a constituent with certain expertise, a local business, and so on. Even if you are able to find just one consistent and effective channel for communicating (and enabling learning and assessment), your constituents will be better served than if they were forced into a fragmented experience.
A. Get your house in order
In Allen and Kusky's 2011 book The Little Book of Leadership Development, they wisely suggest a preliminary step before designing, managing, evaluating, and refining a new system: get your shop in order.
Such practice, with the deliberation it implies, is not always easy in times of managing crisis and/or responding to quickly changing conditions. Regardless, it is essential, even in a rudimentary way, to raise awareness about the items that need to be in-order and to assign responsibility for oversight of those items. Leaders must be invested in, if not passionate about, such orderliness.
Here's why. Orderliness allows users — in this case, faculty members and students moving online — to feel comfortable, to feel like they can make a space their own, to know where to find what they need and desire. In the case of online school, such comfort allows all the necessary transactions and transformations to happen without the benefit of the kinds of human presence you would find in a brick and mortar school.
A sense of order breeds familiarity — predictability — and sets the stage for human-to-human learning.
1. Know your audiences
We believe that online learning cannot replace in-person, human interaction. Instead, it serves as an extension of and bridge between life experiences. No matter what system you design and which formats you select to connect with students (or to connect faculty members to students), foreground the common humanity present in each situation. Acknowledge that you are simply trying to bridge distance and time in the face of variables over which you have little or no control. Good intentions, good will, and a bias to connect joyfully and playfully: these intangible qualities will be noticed and appreciated. What's more, they will help to quell the frustration bound to arise when teachers and learners interact in vistas beyond their typical habits and customs. Online learning spaces are like freshly fallen snow — brilliant to behold, worthy of exploration, and often difficult to navigate.
Depending on the ages of learners that your organization serves, you may have to craft multiple forms of guidance. In a remote learning setting, younger learners and learners with any special needs will need significant adult involvement. This does not necessarily mean that 5 and 6-year-olds should be connecting on video calls, but instead that families should be given instructions and guidance of what they can do to support their children's continuous learning.
The audiences you consider might include:
Students (broken out by age groupings)
Families
Families of students who will need support
Teachers
Administrators / Area Leaders
2. Define your technology stack
In the software development world, a technology stack is the collection of tools, platforms, code bases, etc. that are used to create the software upon which user behavior, activity, and engagement take place. The term works as a useful analogy for the situation we are considering — that is, planning to shift communications and operations from a physical school environment to a digital school environment. Your stack is the collection of tools and platforms that will be used to keep your institution moving, even when fully online.
We suggest that you select tools and platforms to support each type of communication format below, at the very least. Additionally, it will be important to name a point person or team to be responsible for technical support and the point person or team for training those who will be leading communications and learning on each format. Even if it is the same person or team, it is important to name them.

One-to-Many Text Based Communication
Throughout your time leading your school online or remotely, it is important to establish and maintain a single source of truth (SSOT) — such as a Web Page or a view-only shared document — where high level, institution wide information will be posted and shared.
As simple as it may sound, the school should decide on its primary mode of one-to-many text based communications that reach all its defined audiences. This might be email, it might be an existing mass mailing service tied back to a website, or it might be a community-wide SMS tool. It should serve the communication responsibilities of the top executive or their teams.
Use email and notification systems to alert your audiences of updates to the SSOT or to remind them about the information posted there. In order to avoid the circulation of obsolete information, avoid including specific details in these outgoing messages. Smaller groups (classes, department faculty, administrative teams) may decide to use tools and systems that work best for their ongoing communication.
One-to-Many Audio and Video Broadcast
You will want to select a tool or platform that will allow one person — in authority at or near the top of the school's managerial hierarchy — to stream video to all the possible constituent groups (all at once or by group) in the organization. For larger schools and districts, this audience could number in the multiple thousands.
Here are some tools to consider:
These tools usually allow for text-based chat and Q&A style interactions, but it is not necessary for those watching to be seen or heard unless they are invited as co-presenters.
Some of these tools also support recording, auto-closed captioning and/or auto-translations of transcripts, which allows you to not only reach all constituents, but also to build out an archive of important content and to make this archive available for those who could not connect in real-time. (Note: as soon as online school starts, online knowledge creation and documentation can and should run in parallel. Your old, pre-online announcements and policies will rarely do all that you need them to do, so it behooves you to take the role of archiving seriously — to treat it as a separate house to keep in order.)
If live streaming is not a possibility, a video can be filmed, published, and announced via the determined communication channels.
Large Group Audio and Video Discussions
Your teachers and teams will need a tool or platform that supports audio and video engagement from participants in large (>20 people) gatherings. These discussions might be faculty meetings, class sessions, gatherings of clubs / affinity groups, or parent meetings.
Here are some tools to consider:
Smaller Group Collaborations
Many web platforms afford spaces that can be used in real-time and asynchronously in support of group collaboration. Using documents, whiteboards, or presentations, teachers and students can construct and respond together at the same time or at different times. These tools, when combined with the audio and video tools mentioned above, can serve as a powerful extension of a video conferencing experience.
Here are some tools to consider:
Learning/Course Management System
It is important to establish a single starting point for courses and faculty-only materials. Even if those starting points link out to other resources (for example, a Canvas page with a link to a Google Doc), your audiences will be better served with a consistent "starting gate" rather than multiple entry points.
Here are just some of the Learning Management Systems that we see widely used:
3. Plan time-based phases instead of scenarios
Create, at minimum, three different phases for possible lengths of closure.

Phase 1: The first 5 school days
Treat the first two days like a weather-related closure and use the following three days for asynchronous student work, faculty training, and preparation for the next 5 days.
It may not make sense to move into a fully remote or online operating mode for a short period of time, especially if the end-date is unknown. We suggest that you treat the first two days as you might for a weather-related closure. In those two days, teachers should plan or refine 'snow day' activities that can be completed independently and asynchronously during the next three days.
During days 3-5, while students are completing asynchronous activities, teachers and teaching teams should prepare for the next 5 days of school which will be conducted online using any of the modes described above. A subgroup of leaders at the school should offer technical and instructional support while those preparations are being made.
Heading into the next 5 school days, administrators and team leaders should plan on communicating with audio and video to their constituents (broadcast for the largest groups like the full school community and video conference meetings for faculty groups and teams). This will likely be a line-in-the-sand moment for your community — the time when you acknowledge that school as you know it will be different for some time to come.
Phase 2: The next 5 school days
Use these 5 days to help your community get used to connecting to one another and engaging with relevant work with a focus on access to materials, connecting at the class or team level, and getting used to a new daily routine.
Even though you won't be able to stand in a room with them at this point, people -- students, faculty, families -- will be craving connection and routine.
There should be at least one or two community-wide broadcasts or video messages by the school leadership during this time. Faculty group and team leaders should plan to have more frequent touchpoints with their groups. Think back to keeping your house in order, but instead of thinking solely about digital space (as we asked you to earlier) think now about time in general and cadence, routine, or ritual in particular.
It might be helpful to use a regular school schedule to follow so that students — and their families for younger students — can plan on what to work on during the day. Some teachers will plan synchronous meetings and others will plan asynchronous activities.
The meta goal during these 5 days is to help everyone get used to connecting with one another, receiving instruction from faculty, and engaging in meaningful tasks. Formally measuring and assessing learning should not necessarily be a priority during this phase.
Phase 3: Beyond 10 school days
Beyond 10 school days, consider your institution to be in an "online school" mode and introduce structures for feedback, formal and informal assessment, and calendars and timelines that are best suited for online learning.
Once you've crossed into this threshold, your teachers and students will be getting used to a new normal of connecting and receiving information. You can consider your institution to be in an 'online school' mode. It is during this phase that assessment of learning, feedback cycles, student voice, and supporting individuals — both in terms of learning and in terms of social-emotional needs — all need to enter a new phase
4. Soften the ground for audiences
Whether it's in preparation for a remote learning scenario or simply to encourage practice, different modes of communicating help people to develop familiarity with modalities for communicating and contexts for communicating with those modalities.
One way to practice is to take a regular, text-based, written communication that is coming up and replace it with a video message to students (or parents of students). If there is a faculty or team meeting coming up, plan to do it over video call instead of in person -- even if you are all in the same building. Even without 'training' folks on how to do those things, such drills or practice runs will give them a sense of what learning and operating in a digital context could look like.
5. Provide Checklists
Provide your leadership, your employees, and your families with simple and appropriately populated checklists of things that they need to do independently in order to prepare to work and learn in the online setting you are designing. For each checklist item, provide the person or office that they can contact if they are having trouble completing it.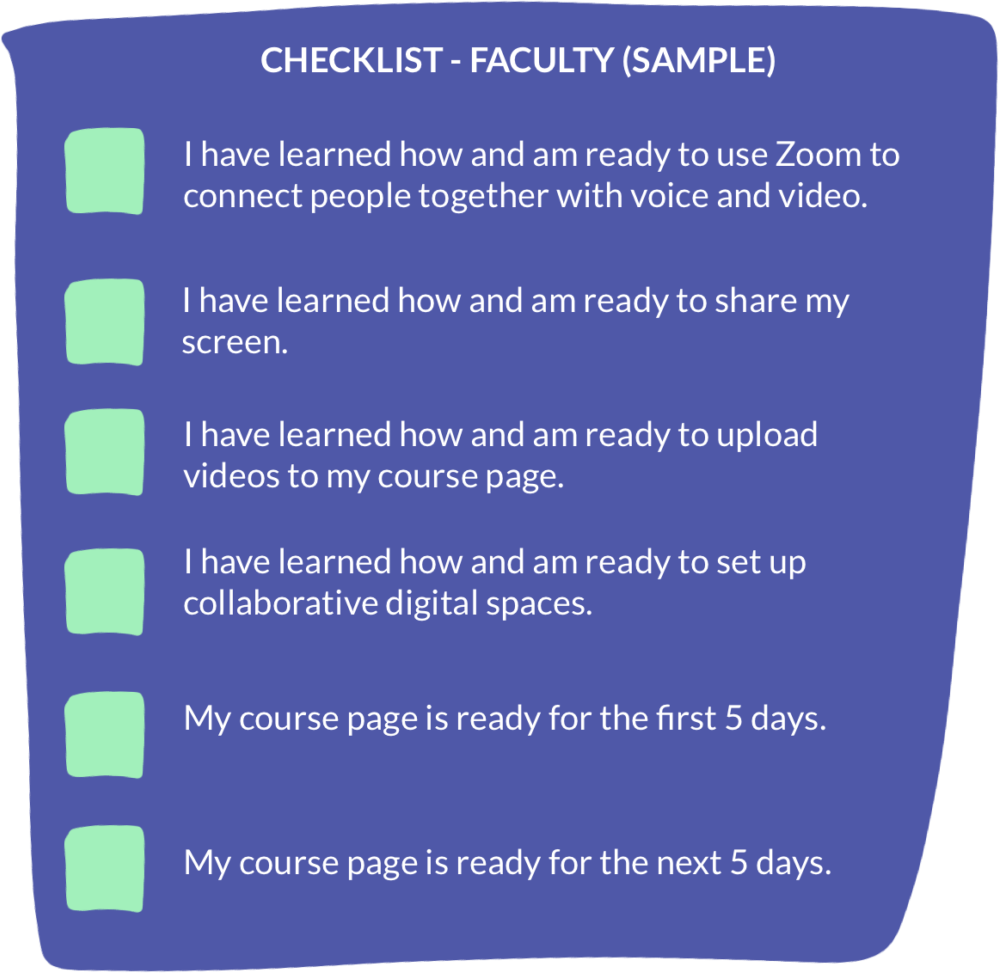 B. Lead Online
One of the biggest transitions from a brick and mortar setting to an online only setting is the loss of the environment — the place, the people, the smells, the sounds. As these are part of the routine of your constituents, you want to find ways to honor those elements knowing you cannot replace them. Depending on the length of time in a given scenario as well as the needs of your community, adjust the frequencies of routines accordingly.
1. Train those who need training
Faculty, families, and students will be learning (or asked to learn) about operating in online-only modes at a rate of learning that they may not be used to. Be prepared to offer both organized trainings and just-in-time support so that instead of worrying about technicalities, they can focus on the well-being of those in their physical and digital care. (Note: childcare may be an issue for parents working at home. Unlike when they are at work in a physical location away from home, they will be caring for their own families while trying to work. This can add an unexpected layer of stress — trying to parent and work at the same time.)
2. Gather with audio/video frequently
Early in your first phase (perhaps Day 2), schedule a brief (20 minutes maximum) video broadcast or video posting for the entire community that shares the facts of what you know and reaffirms any guidance shared in the initial announcement (timelines, checklists, who to go for help, schedules).
Area leaders can plan on doing similar meetings with their respective groups/teams following the community livestream or posting. Smaller, single-audience gatherings can be more participatory so that team members can ask questions and simply feel more connected to one another.
3. Create simple schedules and timelines
Share both a high-level timeline of what to expect (scenario start, scenario end) and any key moments in between each possible phase you have planned.
Additionally, share a detailed schedule for each day that has any fixed synchronous gatherings and meetings.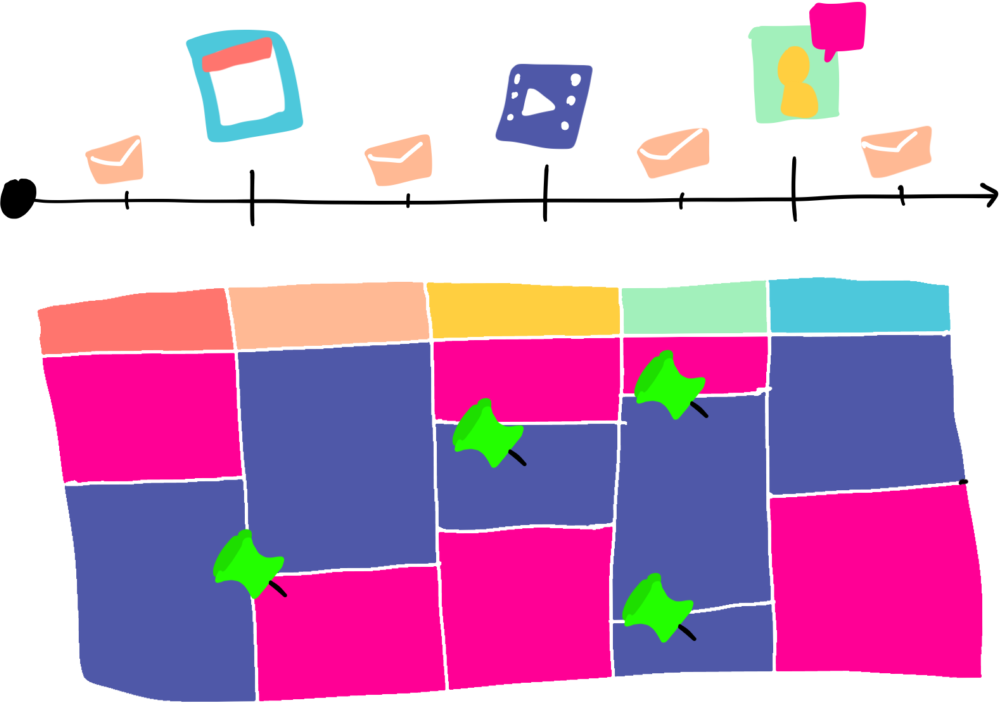 4. Open digital support rooms
Most video conferencing solutions have options for private "rooms" that can remain open to anyone who joins the links. Consider staffing open video conference rooms (with at least two employees) for people to join for technical help, instructional help, and for general information. Understanding and establishing norms in such spaces may take some time, but it can be treated like an open forum. If a question or topic gets too personal, then it may be helpful to move a dialogue to a private room or separate call.
Rooms that might be helpful to have available include:
Technical support
Instructional support
HR support
Health support
Wellness support
5. Update the community routinely
Set up a single source of truth (SSOT) of any text-based information. If updates are made, send a note in an email with a link back to that location. Explain to the audience that the reason to avoid putting content in an email, text, social media post etc., is that you want to ensure that the information is always up-to-date. You may have one source for families and a separate one for employees.
Short of major updates, plan to send a weekly notice that reminds your audiences to check the SSOT.
C. Lead the Learning Online
An increasing number of resources are surfacing for how to design for learning online across all age groups. Rather than repeat any of those great ideas, we suggest that you think about the affordances and limitations of different forms of communication and that you adapt solutions to your existing environment. Adapting for local use, people, and context will ensure that your efforts feel authentic — like your school still feels like your school.
The best leaders we know are aware of the options available to them and select among them. With that in mind, we offer the descriptions below, which have been adapted from an article we wrote a few years ago.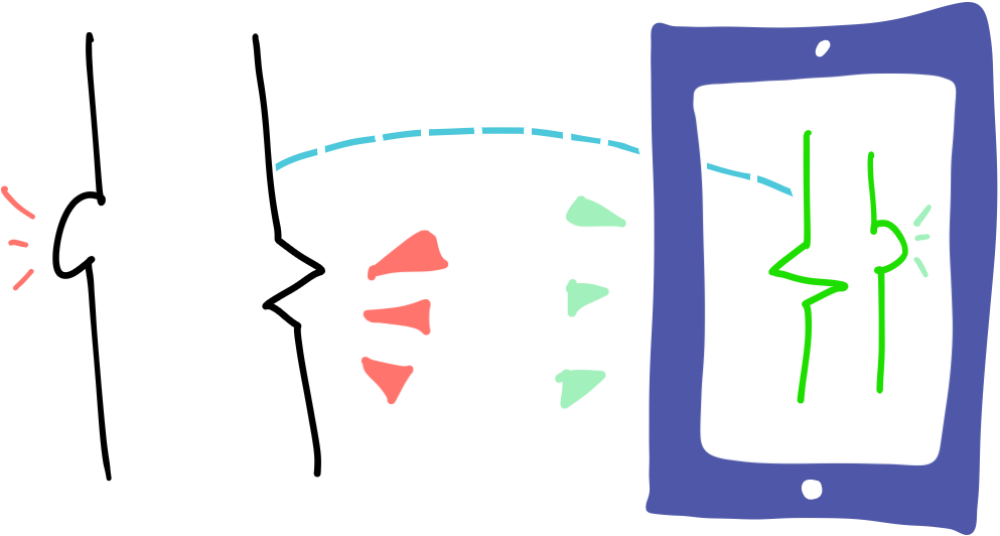 Synchronous, face-to-face, in-person
Affordances
The most human, most personal way to meet. In a shared environmental context, you can hear tone, pace, and inflection and see facial cues, gestures, and body language.
Limitations
Interactions are difficult to record or capture (even with note-taking). Such meetings have to be scheduled, requiring pre-meeting effort.
Synchronous, face-to-face, across distance (i.e. video conference)
Affordances
Offers the affordances of in-person meetings minus the shared environmental context.
Limitations
Technological interruptions can break up the flow of dialogue. Also, setting up this meeting requires onboarding people in the digital "room." Finally, participants in multiperson meetings won't always know when/how to chime in.
Synchronous, phone call/conference call
Affordances
Tone, pace, and inflection can all be heard, and meeting participants benefit from a shared temporal context.
Limitations
Meeting participants cannot "read" the room, especially when multiple people are involved. This meeting type also requires effort to schedule and calling instructions.
Synchronous, text based/shared document
Affordances
People respond and interact in the moment, producing a clear record of the exchange.
Limitations
Gaining social/emotional information from the exchange is difficult.
Asynchronous, email/shared document
Affordances
Your team members can continue to work in a different time and place at a time that suits them. This meeting type creates an accessible record of the work.
Limitations
Without shared temporal context, connection to other participants can be elusive.
What strategies do you suggest for leading online? We invite you to share with us @GOALearning. For additional resources related to online learning and school closure, please see our COVID-19 landing page.
About the Authors
Stephen J. Valentine is Assistant Head, Upper School and Director of Academic Leadership at Montclair Kimberley Academy (NJ). Dr. Reshan Richards is Director of Studies at New Canaan Country School (CT) and co-founder of Explain Everything Inc. He also serves on GOA's board. Together they have written Blending Leadership: Six Simple Beliefs for Leading Online and Off and Make Yourself Clear: How To Use A Teaching Mindset To Listen, Understand, Explain Everything, And Be Understood.
For more information on online learning during school closures, visit our COVID-19 resource page.