EdTech Tools for Feedback and Relationships
We had to change our approach to feedback during emergency remote instruction. Turns out we liked it. Here's why it's important we talk about it now.
This is part one in a series of two articles focused on looking at how edtech tools can make feedback feel more personalized, actionable, and accessible for all learners.
Cultivating strong relationships in the classroom has always been a key area of focus for me. As a math teacher, I'm no stranger to the anxiety often associated with the subject. I lost count years ago of the number of parent-teacher conferences that began with some variation of, "I'm terrible at math." Building confidence, in my opinion, starts with deeply knowing your students and them knowing that you are fully committed to giving them individualized feedback that will allow them to thrive. Finding the study techniques that individually fit each student takes time and trial and error, and a solid foundation of trust is critical to engage in this work. Personalized feedback is essential as I help students find strategies to optimize their math understandings. Their math confidence grows as they gain the tools necessary to improve independently.
We don't always hear feedback mentioned as a strategy to gain student trust, but I think it's one of the most important tools I've used. When I give feedback, my goal is not only to make corrections to errors but also to make students feel seen and heard. In structuring homework, I try to embed questions that go beyond math problem-solving. I'm not talking about anything elaborate – a simple "do you have any additional questions," "is there anything on your mind," "what were your key takeaways," and "what are you curious about" goes a long way. In providing these more open-ended prompts, I can open up space for students to share a bit more about themselves. As I listen to and respond to what students have to say, I must have the tools to make this feedback feel personalized and expressive.

I started more deeply exploring this idea of how to best deliver feedback in 2016 when I began teaching a purely online section of AP Calculus AB to juniors and seniors at my school. I had put months of thought into the design and structure of my online course. Even so, as I started teaching the class, I was itching for a way to deliver more effective and efficient feedback. Getting the tone right in an online setting was something new for me. My course was small, so that helped things feel more intimate and personal. But delivering feedback through writing alone is tough. For one, it is time-consuming to write out an explanation clear enough to replace a face-to-face conversation. Without the live back-and-forth, directions have to be super straightforward so that students aren't left confused or frustrated. Plus, critical feedback can be challenging to receive. How was I going to ensure that students weren't left feeling upset or discouraged when that would never be my intention?
I'll be honest – for the first time in my teaching, I started using emojis and smiley faces in my feedback. I was afraid, at first, that it would come across as unprofessional; I learned, though, that when thoughtfully used, emojis can make a positive difference! This piece is not about emojis, though.
In looking for a way to provide richer, more efficient feedback to students, I discovered Kami. Kami is a fabulous annotation tool allowing you to embed rich, multi-media elements on any PDF. Instead of just marking up a student's work with pen and paper, a tool like Kami allows teachers to provide voice and video feedback in addition to typing text and using digital inking capabilities.
Save Time and Give Rich­er, More Effec­tive Feed­back using Kami
While at first I was primarily drawn to the handwriting annotation tools in Kami for my math instruction, the ease of adding audio and even video took things to the next level. Now, I could express tone and give additional context, to deliver feedback that felt more personal and actionable for students. The multi-media elements I could embed allowed students to engage more deeply with annotations and corrections, putting them in the driver's seat of their learning. What's more, I was able to create a forum for ongoing feedback in this collaborative digital tool since commenting is available. Students who need further instruction could respond to my comment directly in Kami with typed text or audio.
Favorite Tools to Pro­vide Video and Audio Feed­back on Assignments
By embedding this multimedia feedback, I could deliver the critical feedback I needed to communicate for a student to grow without worrying quite as much about how they would read that feedback. With voice and even video comments, I could share strategies to boost performance on the next quiz, what study techniques the student might try next, etc.
Equipping Teachers For Success
March 2020
While I fully realize that none of us want to relive March 2020, I was able to lean on my years of experience teaching Online AP Calculus prior to the pandemic to lead the teachers I was working with in my role as Director of Innovation and Educational Technology.
I started by asking myself what tools were essential to my success as an online teacher. I don't usually like to lead with the tool, but in this emergency situation, I needed to see if we needed to onboard any new tools as a school to ensure teachers were equipped for success. Luckily, my school has been ahead of the game in tech innovation for years, so there wasn't a need to deploy much new tech. Teachers needed to focus their time on restructuring lessons and navigating all the shifts to come, so my goal was to introduce as little new tech as possible. But I knew how critical having a tool geared towards personalized, differentiated feedback was in my online teaching experience; this was the one area where I felt a need to address the gap by rolling out a new tool. In addition, I was concerned about the annotated reading that students do in classes like Social Studies and English; moving to a digital world where not all students would have access to a printer, I knew I was going to need to address this as well.
Deciding to Onboard Kami
Kami had been a game changer in my online teaching, so I knew this was one tool I wanted to talk to my teachers about to assess whether it made sense to deploy school-wide. After a very brief introduction to what Kami could do, some comments from teachers that stood out to me:
"I hope to find a way to allow students to interact with a text, ask & answer questions about the text, and reflect on what they read all while avoiding having to navigate multiple tabs on their browser. I'm so excited to learn more about the feedback features as well."
"I'm curious about Kami and marking up worksheets. I like to idea of giving recorded feedback as well."
"How do I provide detailed feedback for students more efficiently? How to use Kami's voice feature to give more efficient and comprehensive feedback to my students?"
"A live collaborative worksheet sounds interesting! I'd like to use it for group work."
We clearly had interest and excitement. From there, we got a license rolled out and I created a virtual mini-course that began with teachers interacting with a Kami worksheet from the student lens and then interacting with some questions and watching an in-depth video tutorial. From that, they shared:
"I most enjoyed seeing examples of Kami for collaboration. It is so neat that students can work together on the document in real-time using more than just text. Can't wait to see them screencast their thoughts about an image or text or dump ideas into a brainstorm."
"I am so excited to learn that I can use worksheets and files I had already created and not have to reinvent the wheel; Plus I really love the speaking features, it makes the lesson so much more personalized."
"I can use the already designed worksheets I have for my class and not have to reinvent the wheel to make them for remote! Yeh!!!!"
"Wow, I'm realizing how useful it will be to add voice/video/screen recorded instructions to my worksheets."
Outcomes
Let's take a look at some of the creative ways that teachers used Kami across all subjects and divisions: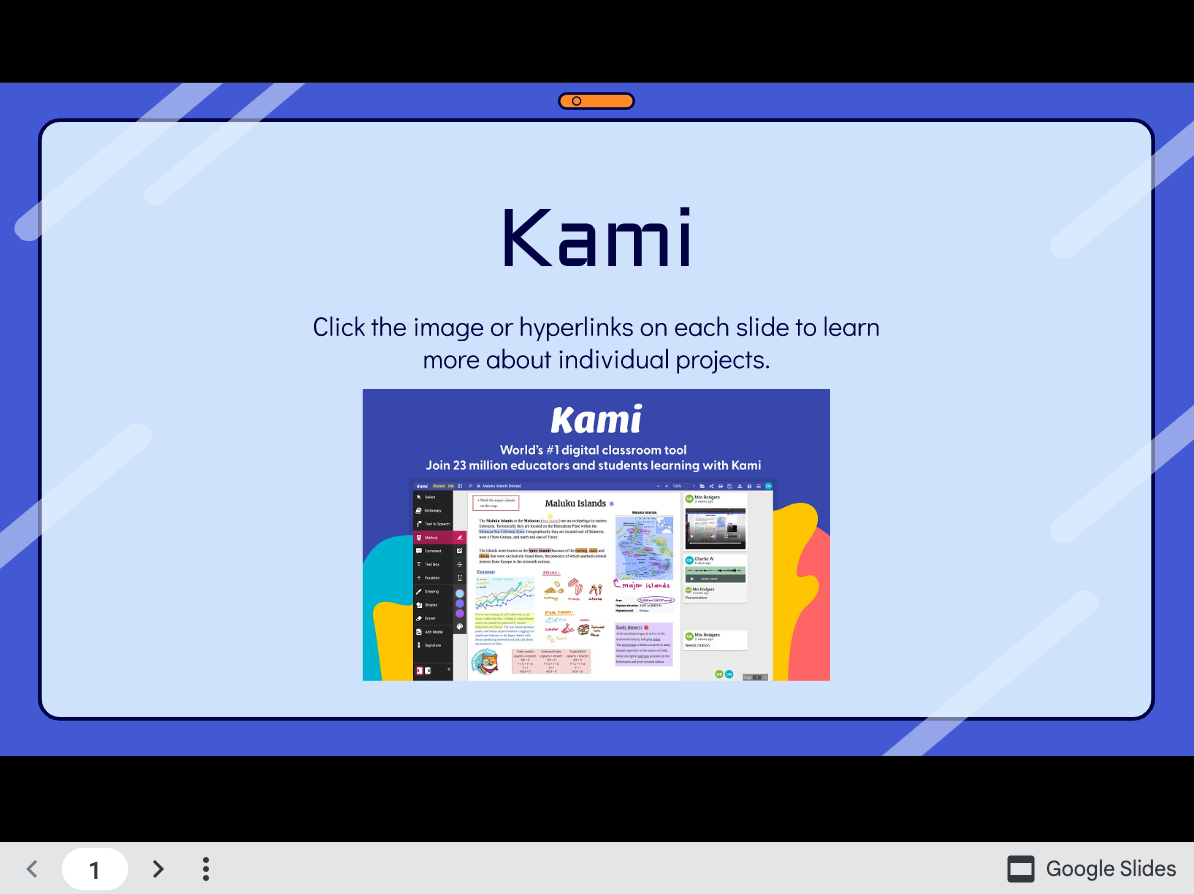 Grading Efficiency
Teachers can leave corrections alongside short instructional content using a combination of media types to empower students to self-correct their mistakes. While it may initially seem like a significant amount of added work, features such as Kami's annotation bank allow you to create and reuse content. This saves a considerable amount of time as we all know that, when grading, we tend to see the same handful of errors repeated frequently. For these teachable moments, YouTube content can also be a powerful guide for students to extend their learning. YouTube videos embed directly in Kami so that students don't stray away from the document they are receiving feedback on.
Accessibility
Kami embeds accessibility options to be inclusive of all learners' needs. Teachers can leave a combination of audio notes and written text depending on an individual student's needs. Additionally, Kami has a built-in text-to-speech tool, OCR technology for read alouds, and custom playback speeds are available.
Forum for All
As we have moved back to face-to-face instruction, a tool like Kami gives students the option to engage with feedback in a way that best fits their style and individual needs. Students can choose a traditional method for clarification, like verbally asking a question in class; however, Kami provides an additional option for students who prefer to type or audio record a question back to their teacher. What's powerful is that students have a chance to engage in a format that works best for them. Perhaps they have something on their mind when they read their feedback – they can quickly get that thought out by typing or leaving a voice comment back to their teacher on the spot, whereas that thought may be lost if they wait until the next day in class. Perhaps the student is shy to ask questions in front of their peers and cannot meet after school. Or, perhaps the student does best when they can sit with their teacher one-on-one to elaborate verbally and in real-time. These options are readily available when we add a tool like Kami into our teaching practice.
Stayed tuned for part two of this article, where I will focus on providing audio feedback on any document type or website using Mote.
Stacey Roshan is an educator, keynote speaker, TED-Ed talker, consultant, and author of Tech with Heart.
For more, see:
This post is part of our Shifts in Practice series, which features educator voices from GOA's network and seeks to share practical strategies that create shifts in educator practice. Are you an educator interested in submitting an article for potential publication on our Insights blog? If so, please read Contribute Your Voice to Share Shifts in Practice and follow the directions. We look forward to featuring your voice, insights, and ideas.
GOA serves students, teachers, and leaders and is comprised of member schools from around the world, including independent, international, charter, and public schools. Learn more about Becoming a Member. Our professional learning opportunities are open to any educator or school team. Follow us on LinkedIn and Twitter. To stay up to date on GOA learning opportunities, sign up for our newsletter.