Kakenya Ntaiya and Sarah Craven are the 2018 Catalyst Conference Keynote Speakers!
Global Online Academy is thrilled to announce our 2018 Catalyst Conference Keynote Speakers: Dr. Kakenya Ntaiya and Ms. Sarah Craven. Our conversation with them will be part of the conference's open on April 26, 2018. Register for this online conference at goaconference.org/register.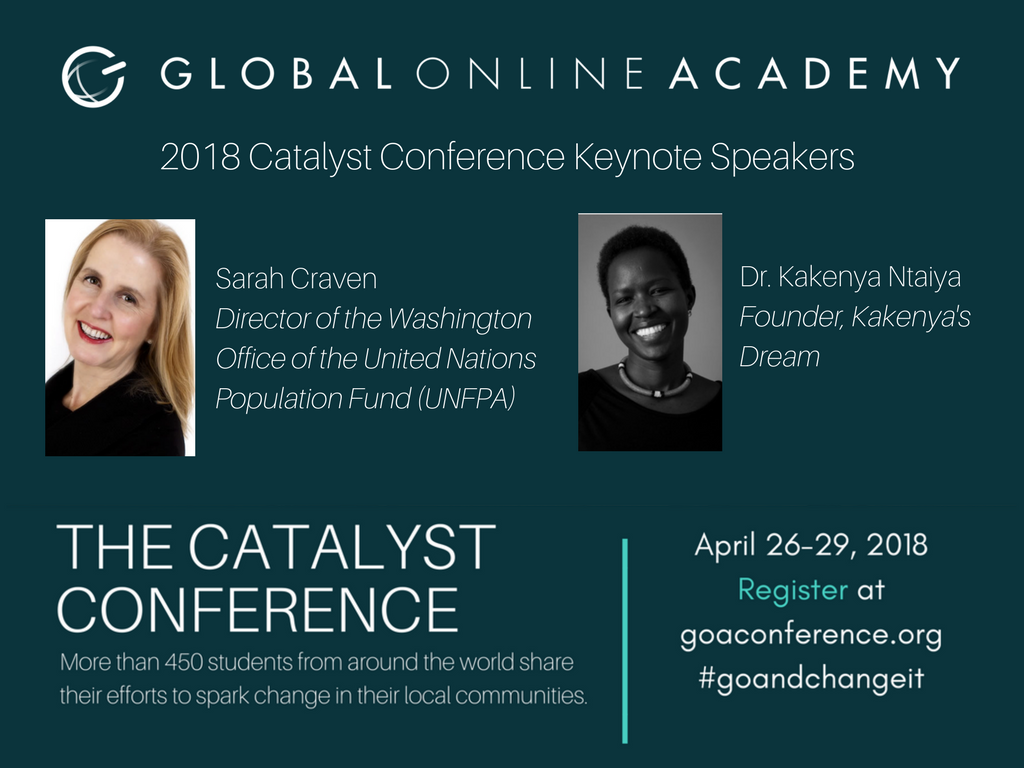 Dr. Ntaiya founded Kakenya's Dream, an organization devoted to supporting and educating girls and young women in rural communities in Africa. Through the development of programs, partnerships, and schools, the organization strives to put an end to harmful traditional practices and empower the women it serves to bring about change in their communities.
As her organization's website states, "Dr. Ntaiya Kakenya is a proud CNN Hero Finalist and National Geographic Emerging Explorer. She was honored to receive the Feminist Majority Global Women's Rights Award from the Feminist Majority Foundation in 2013 and the Vital Voices Global Leadership Award in 2008). was recognized by Women in the World as a "Woman of Impact," and named a Top Ten CNN Hero. Kakenya was also named one of Newsweek Magazine's "150 Women Who Shake the World" in 2011 and counted among the Women Deliver 100: The Most Inspiring People Delivering for Girls and Women."
Watch a short film of Kakenya's story below or view her TEDTalk from 2012.
Ms. Craven is a graduate of GOA member school Punahou School and is currently serving as the Director of the Washington Office of the United Nations Population Fund (UNFPA). She is a policy advocate and attorney with expertise in women's reproductive health and rights.  Ms. Craven's work advocating for rights-based population policies has included positions at the U.S. Department of State and the Centre for Development and Population Activities (CEDPA). Prior to her work at CEDPA, Ms. Craven was a staff attorney at the National Women's Law Center and served on the legislative staff to Senator Timothy E. Wirth (D-CO) and Senator Spark Matsunaga (D-HI)" (source).  Ms. Craven's work has intersected with Dr. Ntaiya's work and the two have collaborated for some time.
The two speakers will use questions generated from students to guide their conversation. They plan to discuss their individual and shared work, share successes and challenges of navigating the world of social change, and offer words of encouragement and advice to the young advocates and changemakers presenting and attending the conference.
The Catalyst Conference brings together students from around the world and asks them to apply the skills and content they've learned during the semester to design a change project that will impact an aspect of their local community. Projects are presented in the form of interactive web pages. The conference is free and open to the public. Register at goaconference.org/register and follow along using #goandchangeit on social media.
This year's participating GOA courses are:
Abnormal Psychology, Advocacy, Architecture, Bioethics, Computer Science II: Analyzing Data with Python, Energy, Game Theory, Gender Studies, Graphic Design, iOS App Development, Medical Problem Solving II, Music Theory & Digital Composition, Positive Psychology and US History: Problem Solving Past & Present (a Head-Royce School campus based course).
To learn more, see:
Global Online Academy (GOA) reimagines learning to empower students and teachers to thrive in a globally networked society. Professional learning opportunities are open to any educator. To sign up or to learn more, see our Professional Learning Opportunities for Educators or email hello@GlobalOnlineAcademy.org with the subject title "Professional Learning." Follow us on Twitter @GOALearning. To stay up to date on GOA learning opportunities, sign up for our newsletter here.