Preparing for Competency-Based Learning: GOA's Partnership with School Year Abroad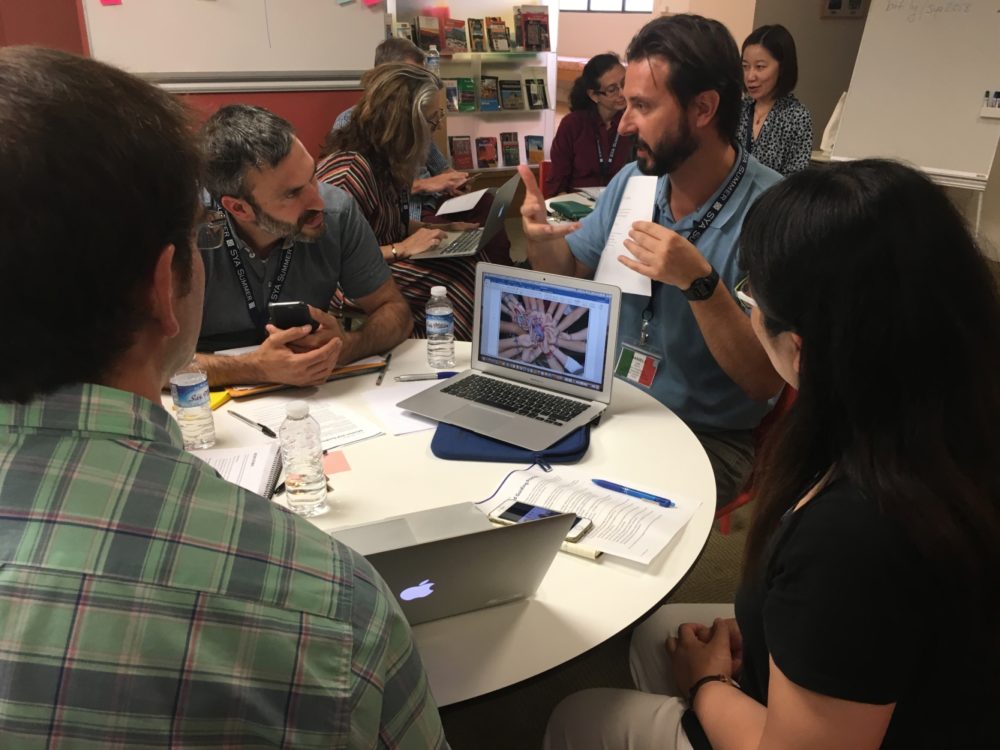 When it comes to competency-based learning (CBL), first impressions matter.
Introducing a potentially paradigm-shifting mode of teaching and learning can be inspiring and galvanizing. It can also be overwhelming and anxiety-inducing.
Earlier this year, GOA partnered with School Year Abroad (SYA) to tackle exactly this: how to introduce competency-based learning to teachers in a way that invited them to collaborate rather than imposed new policies. (To learn more about how GOA partners with schools and learning organizations, see our partnerships page.)
SYA invites high school students to spend a year living in one of four locations (China, France, Italy, or Spain) with a host family, all while attending classes and exploring the local community with SYA teachers. Its focus on immersive experiences, deep language learning, and intercultural competency makes it uniquely suited to competency-based learning, where skill development and exhibitions of learning take priority over seat time and traditional modes of assessment.
Over the course of three months, GOA's Professional Learning Team worked both online and in-person with 24 SYA teachers from all four of its locations on developing a draft set of SYA core competencies, competencies that would drive the design of learning experiences. It was a fascinating experience because SYA is a global program built on deeply local experiences. SYA teachers and students live and work around the world, communicate in multiple languages, and are committed to celebrating and protecting the unique appeal of each location. Yet, these campuses share a mission and vision for learning, and the teachers crave opportunities to connect and collaborate across distance.
GOA's goal was to help SYA develop core competencies that shaped teaching and learning while allowing enough flexibility for students and teachers to personalize their work to their specific needs and contexts. Deep preparation and professional growth for faculty ensures the transition will be thoughtful and appropriate for the community's culture. Importantly, SYA's partnership with GOA is one part of an ongoing process.

Four steps GOA and SYA took to introduce CBL:
1. Articulate a student-centered vision for learning
Prior to its partnership with GOA, SYA underwent a deep process to develop a new Mission, Focus, and Approach. To meet these forward-looking targets, SYA decided to explore how other modes of teaching and learning could be embedded into the program. The ongoing conversation and ultimate ratification of a vision for learning at SYA both generated excitement among teachers for a new era at SYA and laid the groundwork for deep work on their practice.
The vision, said Aric Visser, SYA's Head of Schools and Programs, was to make SYA's uniqueness the center of its approach. "How can we as an organization make sure we're taking advantage of the situation we're in? We're not trying to be good at what most schools are good at. We're trying to be something different. We have some advantages that other schools don't."
This was where SYA decided to partner with GOA: to help teachers envision how SYA's new approach fit their practice. "As an organization in a period of change, there comes a point when, as much groundwork as we can do with faculty, we reach a point where they need to hear from someone besides the leadership of the organization. We take these decisions really seriously. We don't look at professional development as picking from a catalog. We have a specific need in mind and GOA is really good at building around that."
2. Take the time to discover the meaning and role of competency-based learning in your school
In April of 2018, GOA launched the online component of the partnership, a series of playlists and activities teachers on all four SYA campuses would complete to prepare for a two-day in-person workshop in June. This online work was focused on discovery: teachers engaged with current research, leaders in the field of education, SYA students, and their local contexts. This work had two goals: 1) to better understand what competency-based learning is and 2) to envision how it is relevant to teaching and learning at SYA. In addition, by documenting, sharing, and discussing their work through images and reflections, teachers from these four different locations had a chance to see and learn from the learning their colleagues were leading around the world.
3. Engage in a collaborative design process
At GOA we believe the development of competencies, learning outcomes, and calibrated assessments should be collaborative. By engaging in a design process grounded in a school's mission and informed by teachers' work, communities surface the values and skills that they want to drive student learning. For teachers, this is excellent professional development, a chance to work on articulating the learning targets — what students should know and be able to do — that will shape curriculum development. They also learn more about each other: too often teachers don't have a strong sense of why and how their colleagues work. Collaborating on developing core competencies and outcomes reveals the many exciting ways they might be applied.
Following the online work, we gathered for a two-day in-person workshop at SYA's campus in Zaragoza, Spain, where we focused on developing a draft set of SYA core competencies. GOA designed the workshop in a competency-based format: the learners articulated their purposes and visions for success, activities were learner-centered and completed in small groups, and we used multiple gallery walks for exhibitions of learning that led to feedback and discussion. Once a draft set of SYA core competencies had been developed and voted on at the end of Day 1, we spent Day 2 working on how those competencies might be used to rethink the design of assessments.
"One of the reasons we like working with GOA is because it feels like a natural extension of our own organization," Aric said. "Because our organizations have shared values, GOA recognized this wasn't just a mere workshop, but part of an ongoing process. This made the work feel much more natural, and it engaged faculty in a real way."
4. Create time, space, and support for your community to do this work
After the GOA workshop, SYA teachers remained in Spain for another full day to get to work. They had the time, space, and support to take what they had done with GOA and apply it to specific projects and initiatives in their own practice.
"Our school with four campuses feels more unified today than it ever has," Aric said. "It's unified for all the right reasons: around a common set of values and goals for the best way for students to engage in the study abroad experience in a way that they wouldn't be able to do if we left things to chance."
What approach has your school taken to adopt competency-based learning? How have you engaged your communities in talking about the skills you want students to develop? Let us know on Twitter @goalearning. Join our newsletter to keep updated on our work.