Summer Playlist: 24 Resources to Unwind, Reflect, and Inspire
It's almost the close of another academic year, and in order to uplift each other— as well as ourselves — the GOA team loves to share books, podcasts, videos, and more. So, as many of us head into a break from the regular school year, we would like to offer you our annual Summer Playlist with 24 of our favorite resources to help you unwind, reflect, and find inspiration in the weeks and months ahead.
What resonates with you here? What would you add? Let us know on Twitter!


With music from artists like Vampire Weekend, The Decemberists, and The Flaming Lips, this Spotify playlist has a great soothing mix for Fridays or for when you're catching up on large tasks.
This HBR IdeaCast interview with Dan Pink on his research into regrets contains some terrific lessons and stories about the different types of regret that people have. It also shows the value of reflecting on those regrets so that we can learn from them.
Adam Grant offers some useful insights about the difference between aiming for excellence and being a perfectionist in this podcast. The WorkLife episode contains entertaining personal anecdotes as well as instructive examples of how some teams have normalized sharing their mistakes so they can move beyond them.
C. Thi Nguyen, a professor at the University of Utah, is a philosopher of games. In this interview, he explains why we love games, how great games are designed, and, most importantly, how the philosophy of games can affect the design of systems that define our lives: school, social media, politics, etc. Nguyen offers a particular way of seeing the world that can help us understand the incentives and structures that drive our behavior.
This podcast is based on Dr. Laurie Santos' Yale course, Psychology and the Good Life, and shares research, stories, and conversation on the science of happiness, offering practical applications for listeners' daily lives.
Code Switch, a podcast hosted by journalists of color, provides "fearless conversations about race … with empathy and humor" as they discuss the effect race has on "every part of society — from politics and pop culture to history, food, and everything in between."
For educators in year three of the pandemic, it's time for a LoFi summer. Listen to this great playlist of "downtempo electronica" and "jazz-infused sounds" while relaxing by the beach, in the mountains, or just watching the sunset on your porch after a lazy summer day. It's perfect for winding down after a long school year.
This neuroscience podcast shares science-based tools to live a healthier, happier life.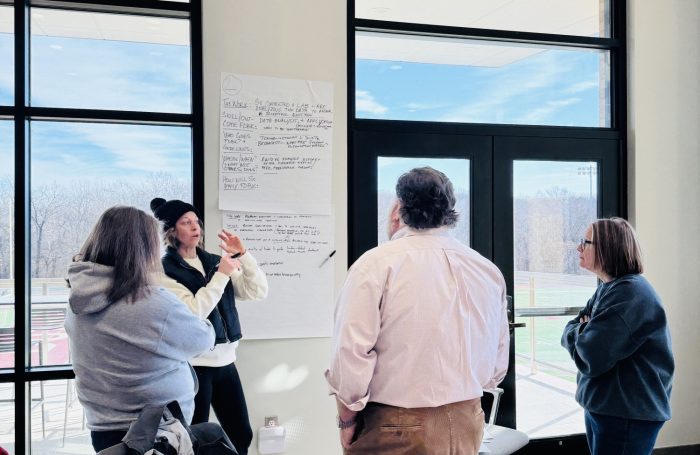 Head out to the big screen to see this "hilarious and big-hearted sci-fi action-adventure about an exhausted Chinese American woman (Michelle Yeoh) who can't seem to finish her taxes." (Currently playing in cinemas, check local showtimes)
Narrated by former President Barack Obama, this docuseries highlights some of the world's "most spectacular" national parks. It's both educational and breathtaking to watch. (Available with a Netflix subscription)
Love Parts Unknown with Anthony Bourdain? Try Taste the Nation, a travel and cooking show that invites a nuanced response to "What is American cuisine?" Taste the Nation offers the chance to get away even if you actually can't get away this summer. (Available with a Hulu subscription)
This period drama drops you in the middle of New York City in 1882 when the railroad is booming and old money meets new. Mix the glamour and upstairs-downstairs narrative of Downton Abbey, conflict surrounding race, gender, and social norms, and a whole lot of rich people problems, and you've got the recipe for captivating television that's perfect for a relaxing, but engaged, night in. (Available with an HBO subscription)
Looking for a mindless summer watch? Our favorite nostalgic, sci-fi, horror drama is back with its 4th season! Check out the description: "Struggling with the aftermath, our group of friends are separated for the first time — and navigating the complexities of high school hasn't made things any easier. In this most vulnerable time, a new and horrifying supernatural threat surfaces, presenting a gruesome mystery that, if solved, might finally put an end to the horrors of the Upside Down." (Available with a Netflix subscription)
The Prime Minister of New Zealand lays out with humor, passion, and clarity what democracies need to survive.
Some of today's greatest thinkers explore important questions relevant to the ways we live and work in this series of interviews.
And for our animal lovers ...
Two seasons of stories about dogs and their bonds with their humans. Need we say more? (Available with a Netflix subscription)
An "immersive" two seasons into the lives of some of the world's most amazing creatures. (Available with a Netflix subscription)
A mindless rabbit hole to make you laugh — and pet therapy without any responsibility.

The GOA team discussed sections of this book by Daniel Coyle during a staff retreat to help us further build trust and collaboration within our growing team. It's a great resource for reflecting on and planning for the future of a group, large or small.
Vedic meditation teacher Jeff Kober's collection of writings is designed to uplift the reader and "support a steady shift of consciousness from darkness to light." You can also subscribe to daily email meditations — here is an example: Being Present - Vedic Meditation Thought for the Day.
Journalist Annie Murphy Paul's book synthesizes decades of research to make the argument that we should look outside the brain to better understand what goes on inside it. By studying how we use our bodies, how we engage with our physical environment, and how we create and sustain relationships, we can better understand how we think and learn. Paul makes many explicit and implicit connections to how the design of school supports, and doesn't support, the extended mind.
The Washington Post says this novel "does what great comedies and satires are supposed to do: make you laugh while forcing you to ponder the uncomfortable implications of every punchline." Author Elaine Hsieh Chou discusses privilege, power, "individual complicity," and "unspoken rage," all while exploring "who gets to tell our stories — and how the story changes when we finally tell it ourselves."
For those of you who are planners and will already be thinking about the upcoming school year in July, this article is for you. It delves into why we, as human beings, are hardwired to constantly have meetings. This is a helpful text to share with any team you're a part of as you think about setting the schedule for when and why you have a meeting during this upcoming school year.
I have been reading and revisiting this book, written by Lin-Manuel Miranda and illustrated by Jonny Sun, since it was first published in 2018. These daily affirmations can be built into your morning or bedtime routine or read through all at once. "When the world is bringing you down, Gmorning, Gnight! will remind you that you are awesome." —Booklist


GOA serves students, teachers, and leaders and is comprised of member schools from around the world, including independent, international, charter, and public schools. Learn more about Becoming a Member. Our professional learning opportunities are open to any educator or school team. Follow us on LinkedIn and Twitter. To stay up to date on GOA learning opportunities, sign up for our newsletter.