Three Shifts for College Counselors During and Beyond COVID-19
Jim Mahoney is the Associate Director of College Counseling at Blake School.
While media attention has been trained on the seismic impact of COVID-19 on matriculating college students from the class of 2020, traditional college counseling resources for rising seniors have been disrupted, as well. Most schools are opening this fall in online or hybrid learning formats, raising important questions about how college counselors can best advise and support rising seniors.
With these challenges in mind, a cohort of college counselors from GOA member schools connected to discuss the impact the pandemic has had on the college process. Earlier this summer, GOA Associate Director of School Engagement Kelsey Hall and I hosted a Zoom conversation with colleagues from GOA member schools, including David Burke (Pembroke Hill School, Kansas City, MO), Heather Deardorff (Potomac School, McLean, VA), Jack Fitch (Bolles School, Jacksonville, FL), and Michael Pina (Greens Farms Academy, Westport, CT) to share resources to further address how engaging new techniques and adapting to the evolving needs of college-bound students could lead to fundamental, ongoing shifts in college counseling.
A June article in Inside Higher Education entitled "What Students Didn't Do" reinforces three key challenges resulting from public health responses and limitations brought on by COVID-19: 1) that students were not meeting with their counselors, 2) that standardized testing was halted, and 3) that researching and curating college lists was not prioritized. These initial setbacks presented opportunities for college counselors to develop new ways to deepen and improve.
1. Help students find new ways of researching and exploring to provide greater depth of understanding and engagement.
Create an ABC's of Virtual Visits. Greens Farms Academy guided students to move beyond the facile and to engage their critical thinking skills in exploring college information online. Moving beyond the tour and information session, a clear, efficient one-page set of guidelines offers opportunities for students to reflect on what they have learned, prompts valuable questions to consider, and helps lead students to explore deeper digital resources in the areas that intrigue them most. (See Greens Farms Academy's ABC's of Virtual Visits here.)
Involve Alumni. Potomac School gathered a virtual alumni panel of recent graduates across a variety of college experiences. The school recorded and shared the conversation beyond the evening event. Current students said they appreciated hearing from younger alums, especially in discerning school location, size, culture, and the overall transition to college life. Posting these panel discussions in an easily accessible space, such as a dedicated college counseling page for students, offers easy and asynchronous access. Another possibility: team with the alumni office to generate and share a list of willing recent graduates and their contact information to connect with alums by phone, text, or email.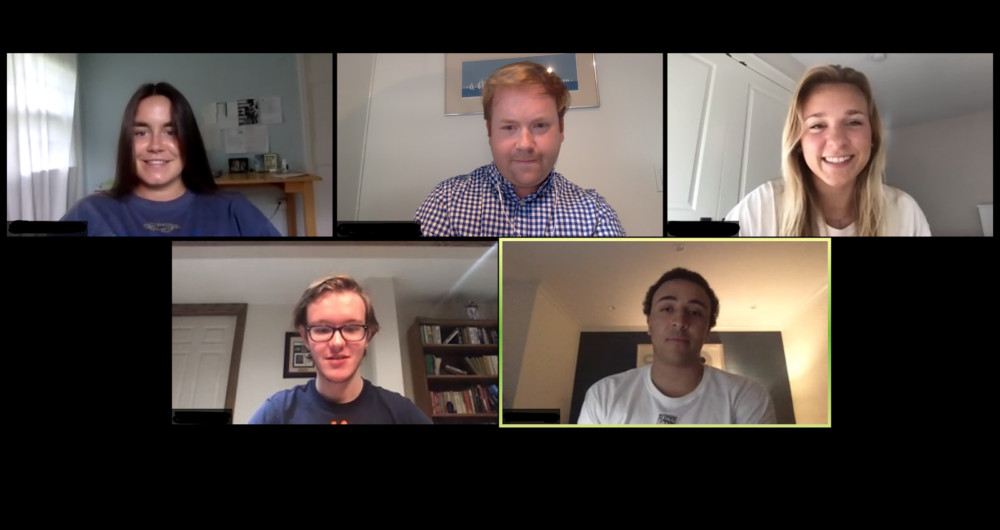 Share a map of destinations and reflections from the Class of 2020. The Blake School designed an interactive Google Map to share the destinations of the Class of 2020 (without using student names). Graduating seniors were asked to share a few sentences about why they were excited to attend their matriculating college, and these insights appear on each map location, including an icon of the college and a link to the college's website. Schools can add further links and content to each destination, including short video reflections from recent school alumni/ae at the college. Once created, this destination map can be modified to support other school constituents, including admissions, advancement, and alumni relations. Other software tools such as Zeemaps and Padlet can be harnessed for similar sharing and insights. Here's a simulated college destination map as an example.
2. Use online spaces to build authentic relationships and offer more differentiated support services and resources.
Make online student meetings easily accessible, informal, and regular. Many counselors engage with students throughout the school day in the "management by walking around" mode. Replicate these regular face-to-face connections by including your appointment calendar in your email signature and in other easily accessible formats (in particular, a college counseling homepage). Hold virtual office hours where students can pop in without advance notice, even just to say hello. Establishing an overt sense of accessibility can help reduce the feelings of isolation and stress students often mitigated by those quick touch points during the day.
Use technology to make family meetings as inclusive as possible. With families more likely to have flexible schedules with at-home workplaces, counselors report a greater number of parents and guardians joining the conversations than if meeting in person. At Potomac, this has allowed for students with a parent overseas to more easily join family meetings, and counselors at The Bolles School cite much higher turnout from multiple parents/guardians in video meetings.
Meet with medium-sized student groups on video. At Pembroke Hill School in Kansas City, counselors arranged periodic group meetings with their entire cohort of grade-level counselees. Gathering a group of 25-40 students allows for addressing larger topics that might happen more commonly in school assemblies or other formats. These meetings can build a sense of shared purpose that can be missing without larger full-grade meetings.
3. Take advantage of online opportunities and shifts in the admissions landscape to encourage and provide deeper insights for students in defining, refining, and questioning their initial college search criteria.
Engage the possibilities and opportunities of smaller online college fairs. Counselors may consider teaming with partner schools and colleges to invest in online college fairs. Well-run online fairs provide practical, real-time search tools to guide students toward live representatives eager to meet them where they are in their college search. In addition, students can follow up with representatives and their own college counselors in real time. Providers include Strivescan and VisitDays.
Curate more frequent student and family presentations to meet time-related challenges. Gathering your college counseling team to share updates and insights, whether live or in recorded webinars, offers students and families comfort and context as everyone navigates this process. Consider offering shorter, more focused sessions, and include partners from the college admissions community when possible to address wider concerns and answer questions. Pembroke Hill School's "town hall" format, dedicated solely to questions from families, offered "up-voting" for especially pertinent questions, allowing offices to better address time-sensitive concerns. Tools like Flipgrid and Loom can also offer inviting formats to answer specific or frequently asked questions to be shared with students and families. Including updates from college counseling in weekly school communications can also help convey accessibility and clarity.
Shift emphasis away from standardized testing and toward best college fit. With the majority of colleges shifting to test-optional admissions practices for 2020-21, an exciting opportunity exists for students to shift their focus and attention away from fall test preparation towards full investment in their classes, especially in online formats. Reinforce to students their role in making learning communities more vibrant and connected, despite physical limitations. Encourage them to practice positivity, resilience, and to take advantage of their connection with peers and teachers, optimizing office hours, initiating and extending discussion, and supporting struggling or vulnerable peers—all vital skills required to thrive in college and beyond.
We are eager to hear from college counselors about ways you are harnessing online gatherings, platforms, and tools to improve your practice and nurture relationships in the wake of COVID-19, ideally in ways that will bring lasting and healthy change to the complicated college application and selection process. Reach out to GOA on Twitter or contact us with examples of how your community is approaching these challenges.
For more resources on online learning during this uniquely challenging school year, visit our COVID-19 hub. To learn more about GOA's offerings for member and non-member schools, explore our Student Program and our Professional Learning opportunities.