The Ask Me Anything (AMA) live event series is an opportunity to have just-in-time professional learning that fits into your schedule. When registering, you'll have the opportunity to submit questions that will be addressed by the guests on the webinar. Each event will take place on Zoom. These events are free and open to all educators. A recording of each webinar will be made available to participants.

How do we make feedback meaningful and sustainable?
Tuesday, September 27 at 9pm UTC (5pm EDT)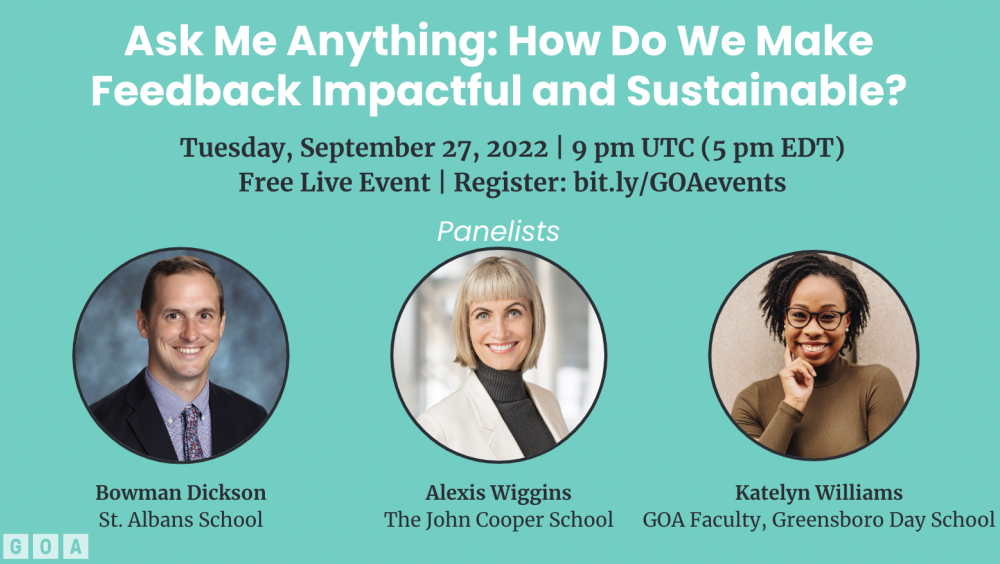 A critical component of being able to assess for learning is creating structures that provide students with timely and actionable feedback throughout learning processes. We know from Grant Wiggins that "Decades of education research support the idea that by teaching less and providing more feedback, we can produce greater learning." Yet, what are the feedback moves that make an impact? How do we know that the feedback we're providing is effective? What are some strategies we can use to ensure that students are processing and applying the feedback they receive? How can we manage what, at times, feels like an insurmountable feedback load?
We invite you to join GOA for a panel discussion featuring Bowman Dickson (math teacher at St. Albans School and co-author of "Feedback in Practice"), Alexis Wiggins (curriculum coordinator at The John Cooper School and author of The Best Class You Never Taught), and Katelyn Williams (GOA faculty and middle school counselor at Greensboro Day School). The panelists will speak to where they've found success when it comes to creating feedback loops to support student learning and also field questions from attendees. We encourage you to submit any questions you have for the panelists when you register.
Join us Tuesday, September 27, at 9pm UTC (5pm EDT). This event is free and open to all educators. Register via Zoom.