Facilitated Workshops for School Teams
NEW! Intro to Competency-Based Learning
The disruptions of the past two years in education have renewed interest in competency-based learning (CBL), a system designed to promote agency, equity, and transfer in schools by prioritizing flexibility, evidence-based (not time-based) assessment, and student empowerment. But what is CBL? Why does it matter? How might schools begin working towards it? In this hour-long workshop, a GOA coach will help your team understand the core elements and impact of CBL and, through a series of simple exercises, introduce five key shifts for moving towards CBL in classrooms and beyond. Participants will leave this workshop with a deeper understanding of CBL as a framework for school design as well as concrete approaches to bringing competency-based approaches into their classrooms.

NEW! Assess for Learning
How do you know your students are learning? And, how do your students know they are learning? This one-hour workshop unites a learning community in a shared understanding of what we mean when we talk about student-centered assessment. Through classroom and course examples, the workshop introduces the look-fors that teachers can identify in their own practice and potential shifts they can make to ensure that assessment is directly impacting student learning. Participants will apply those look-fors, engaging in a collaborative conversation to self-assess their own practice. Participants will leave the workshop with an outcomes-based rubric, an identified next step to ensure that all students see and experience learning growth, and a strategies playlist to support future shifts in practice.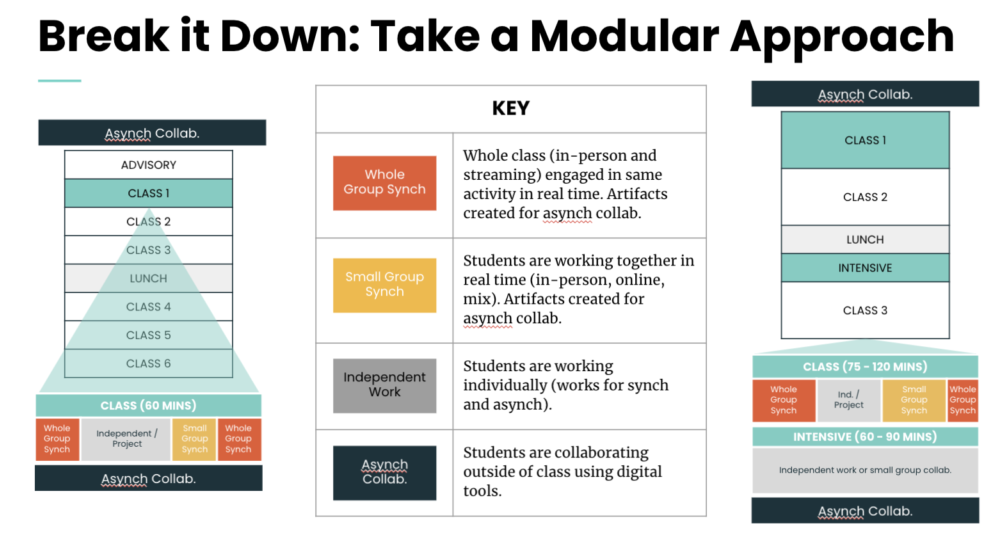 How Might We Design for Hybrid Blocks?

Hybrid learning combines online and in-person spaces to create a flexible learning environment. Using the "HyFlex" model as a guide, this workshop will show teachers how to prepare a single block that serves three types of students: those who are in person, those who will be joining synchronously online, and those who will need to engage asynchronously with the lesson. Participants will explore how to pace a hybrid block, how to encourage interaction and collaboration, and how to use technology to support learning for students and sustainability/efficiency for the teacher.

How Might We Humanize Online Spaces?
For learners to thrive, we need to first consider how we humanize learning experiences and design intentionally for presence and connection. Establishing and maintaining relationships is the foundation of a culturally responsive classroom. Small shifts offer big impacts in transforming online learning from a solitary, individual, teacher-driven experience to a connected, relational, student-driven community. From audio and video-based strategies to proactive design moves, this workshop offers specific ways teachers can humanize learning while promoting student agency across online, hybrid, and in-person contexts.

How Might We Design Synchronous Student-Centered Experiences?
Many students (and educators!) are spending a significant amount of time online in synchronous experiences. How do we make these synchronous experiences more student-centered in online spaces? What are the specific ways of organizing synchronous experiences that allow for students to engage and connect? In this workshop, we'll tease out best practices from the GOA network in designing synchronous time. From protocol-driven breakout rooms to designing equitable group work practices, this workshop is designed for elementary, middle, and high school teachers to design intentionally to promote student-centered learning in online synchronous environments. Using specific protocols, frameworks, and tools, synchronous experiences can drive student engagement, humanizing the online learning space and creating meaningful, connected learning experiences for students and teachers. We'll go beyond emojis and ice breakers to talk about the ways in which teachers can make synchronous time a productive, inclusive learning space.