Passion-Based Online Learning
GOA offers middle and high school students the chance to learn in a highly collaborative, global learning community, building the skills they'll need for college, career, and life.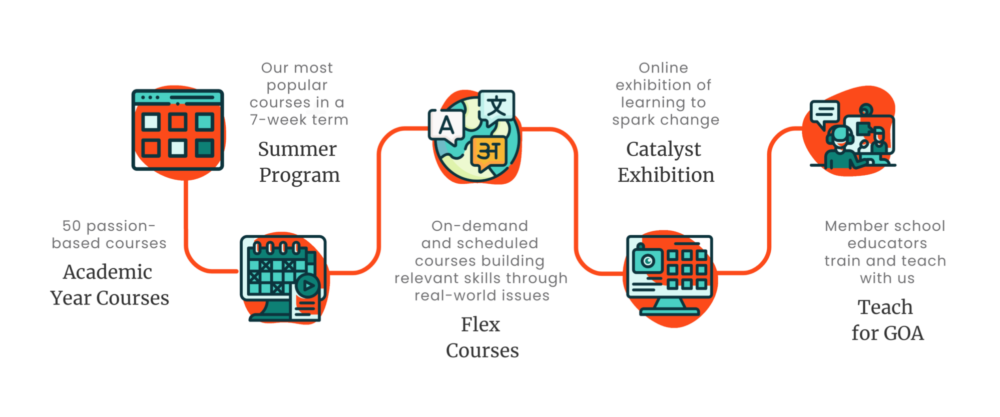 What We Do
The GOA Student Program connects students to topics, teachers, and peers they may not otherwise have access to, empowering them to learn deeply about the ideas they care about.
Since GOA's founding in 2011, our Student Program has brought together students and teachers from around the world to learn together in high-quality, relationships-based online classes. We have built a diverse set of offerings, including semester and yearlong courses, an online capstone project and conference, mini courses for high school and middle school students, and a unique summer program. In all cases, GOA learning experiences are led by expert teachers who are committed to knowing students, to connecting them to relevant academic content, and to engaging them in rigorous work that deepens understanding and builds skills that matter in school and in life.
What We Believe
High-quality online learning is connected, relevant, and flexible.
Students who take a GOA course will learn far more than just the content of that course. Learning how to learn online is a lifelong skill. All of our courses are designed to support the development of GOA's six core competencies.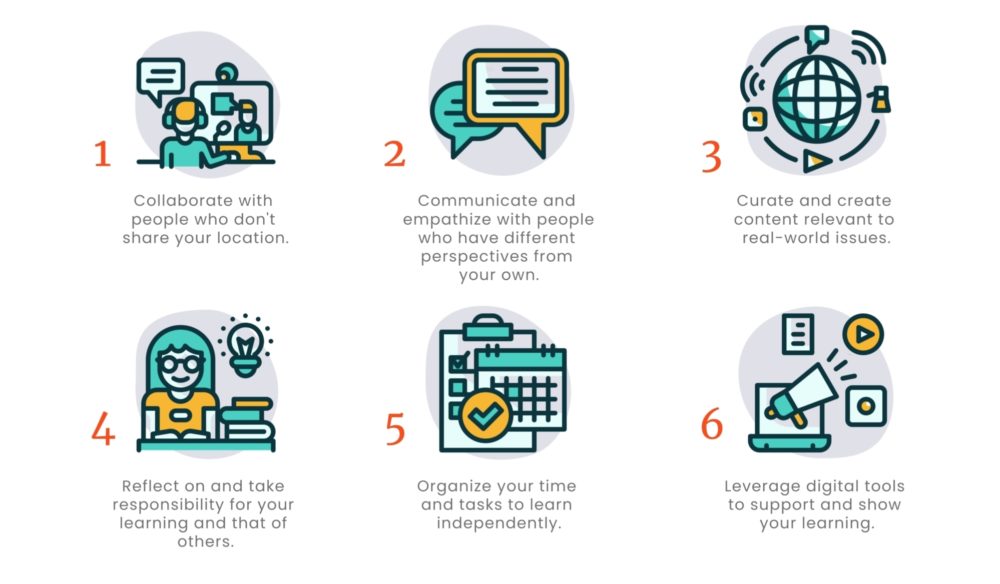 To ensure all students have the opportunity to build these skills, GOA courses:
Are small (average teacher-to-student ratio is 1:20) to ensure personalized support.
Are led by an expert teacher trained and supported by GOA's staff.

Bring together global rosters of students from a variety of different schools to create unique opportunities for collaboration and perspective-sharing.

Are primarily asynchronous: teachers design the coursework and calendar, and students work on their own schedules, gaining important independent learning skills along the way.

GOA's mission is to reimagine learning to empower students and educators to thrive in a globally networked society. The Student Program reflects our commitment to students and to designing learning environments that are equitable and inclusive.
"

My daugh­ter loved her

GOA

class. She found it to be very rig­or­ous, which was exact­ly what she was hop­ing for in this class. Her teacher was in a dif­fer­ent coun­try and class­mates were around the world. To learn from and col­lab­o­rate with peo­ple from all over the world was an amaz­ing experience."

Erin O'Neill

Parent

"

I took Micro­eco­nom­ics and had so much fun. I loved get­ting to know peo­ple I prob­a­bly would have nev­er have crossed paths with oth­er­wise. I liked being com­plete­ly in charge of my learn­ing and hav­ing a sense of inde­pen­dence but also know­ing that my teacher was there to help if I need­ed it."

Alex

Student, Head-Royce School

"

Med­ical Prob­lem Solv­ing

1

was the first

GOA

course I'd ever tak­en. I was able to con­nect with peers liv­ing all over the world and learn about the dif­fer­ences in health­care from every­body's first­hand experience…Not only did I fur­ther my under­stand­ing of anato­my and biol­o­gy of the human body, I learned even more impor­tant lessons in empathy."

Sanya

Student, Buckingham Browne & Nichols School