A Professional Learning Framework: Announcing the Launch of GOA's Educator Competencies
In August 2021, GOA announced an expanded vision for teaching and learning. Our vision is based on four pillars and represents our commitment to ensuring that each GOA program will be Equitable, Accessible, Global, and High-Quality.

Our executive director Michael Nachbar writes, "We embrace the fact that education, an essential natural resource, should be accessible to all students. With this expanded vision statement, we are solidifying our commitment to each of these four pillars as a focal point for the work ahead. As we continue to grow as an organization, building new programs and improving our current offerings for educators, students, and school leaders, we join our member schools in their commitment to broadening opportunities to students through the many incredible programs at their schools."

As a component of this vision, we are pleased to launch a new professional learning framework that will guide GOA's programming. The framework articulates the skills educators need to have to teach in order to improve student learning outcomes, regardless of where or who they teach, or where they are in their own professional development.

In this article, we share the professional learning framework, its purpose, our process for development, and how we will be using the framework to empower and support educators in their professional growth and development.

Education as a field is undergoing seismic shifts that are attracting new ideas and disrupting the status quo, creating new opportunities. As we have seen and experienced over the last eighteen months, educators need durable and transferable skills, skills that can support student learning whether online, in-person, or in a hybrid learning environment. As we have expanded and grown over the last 18 months, we also identified a need to have a common language across the GOA ecosystem, seeking to answer the question, "What do educators need to know and be able to do?"

The purpose of GOA's professional learning framework is to articulate personalized pathways for educators to learn and grow as they shift their teaching practice in order to improve student learning outcomes.

Introducing GOA's Professional Growth Framework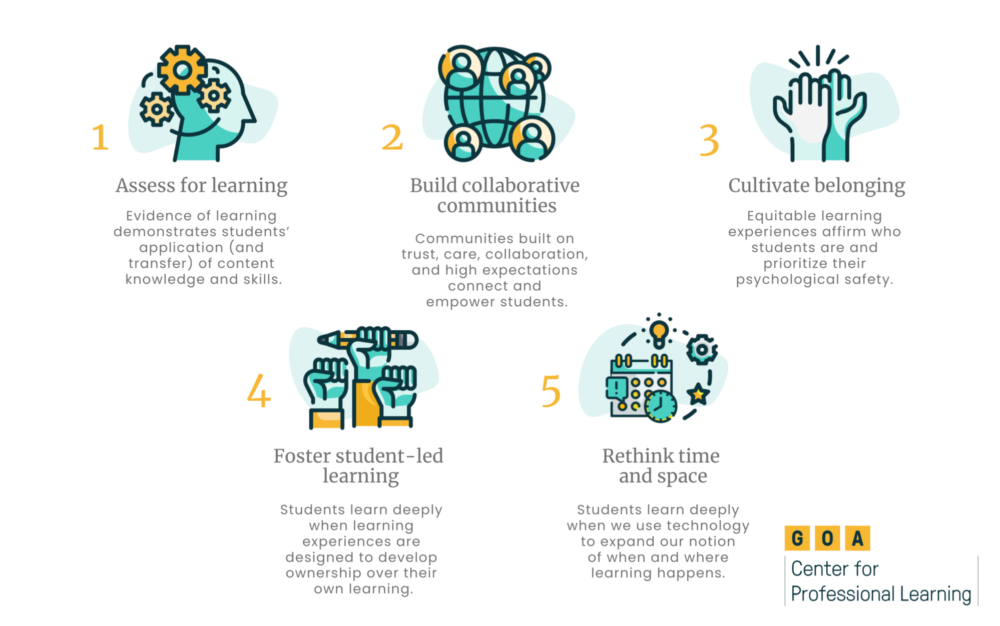 We have organized our new framework as a set of five educator competencies. This framework mirrors our approach in GOA's competency-based student program, where courses are aligned to and specifically teach six core student competencies. These competencies are applicable for K-12 educators and are for teachers who teach in-person, online, or in hybrid learning environments. The educator competencies reflect skills that are essential to equitable teaching practices.

The five new educator competencies are:
1. Assess for learning. Evidence of learning demonstrates students' application (and transfer) of content knowledge and skills.
2. Build collaborative communities. Communities built on trust, care, collaboration, and high expectations connect and empower students.
3. Cultivate belonging. Equitable learning experiences affirm who students are and prioritize their psychological safety.
4. Foster student-led learning. Students learn deeply when learning experiences are designed to develop ownership over their own learning.
5. Rethink time and space. Students learn deeply when we use technology to expand our notion of when and where learning happens.
To ensure these five competencies are applicable to K-12 educators across schools and contexts, we engaged in an extensive design process to develop the framework. First, we mined existing professional learning courses and rubrics and looked at examples of educator competencies from across the field. We analyzed years of data from our work with faculty in our Student Program, and the framework reflects the skills GOA faculty have honed and developed over the past ten years. We also examined professional learning offerings from the last five years leading the growth and development of thousands of educators. We had a team of writers from across the GOA team who compiled skills and competencies of educators. After the writers created this list, we solicited feedback from a variety of constituencies including GOA faculty members, all GOA staff members, and school leaders and teachers from independent, public, and international schools. We led focus groups with specific school leaders and school heads to hone and refine the competencies. The team then consolidated the competencies into the framework we are announcing today.
What the Framework Looks Like in Action
Our belief is that aligning our Professional Learning catalog to this framework will impact student learning and wellbeing, and offer educators support in meeting professional goals and growing in their practice. We are engaged in competency-based experiences for student learning in our Student Program, and we seek to model the same competency-based approach to educator growth.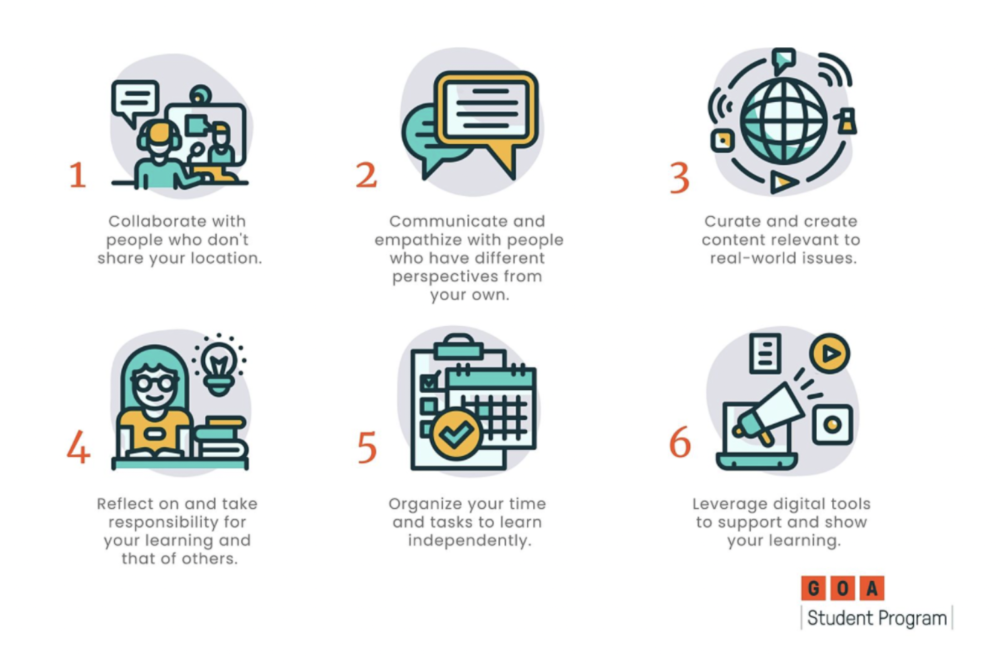 As we move forward, we plan to utilize the educator competencies to organize faculty learning experiences and for faculty self-reflection and growth. As we design and facilitate professional learning, these competencies will be used to align all experiences, serving as a map and pathways tool for GOA's Center for Professional Learning offerings. All educators will be able to map their own personalized professional learning growth to the educator competencies and demonstrate growth in the competencies through evidence of their learning.
Stay tuned for more from GOA on what these competencies look like in action in our own student programs and how educators around the world are using them to guide their professional growth, and in turn, impact student learning. In our courses, live events, and publications, you'll find the work we do aligned to GOA's educator competencies. We invite you to consider how they might apply to you and your colleagues' own goal setting and reflection and to engage in our offerings.


Lead­ing Pro­fes­sion­al Growth: A Frame­work for Edu­ca­tor Development