The Catalyst Exhibition: A Celebration of Learning
Congratulations to all Semester 2 participants!
Over 800 high school students from over 100 GOA member schools worldwide participated in GOA's Catalyst Exhibition this past semester.
A Celebration of Learning
GOA's Student Program creates global learning opportunities for high school students by allowing them to design their own end-of-semester projects. We believe that when students pursue a topic of their own choosing, they encounter unique obstacles and challenges that they can learn from and celebrate. By designing experiences like the Catalyst, we hope to encourage students to share their learning with a public audience to amplify and authenticate their voices and ideas.
The specific guidelines of Catalyst projects vary by course, but there is a common prompt that each student responds to: Take concepts and skills learned in your course to share and live out a real-world project. From this broad prompt, GOA teachers narrow the focus further by selecting from a list of three possible concentration tracks below.


The project requirements ask students to meet three main objectives:
Generate a "beautiful question" (Warren Berger) that focuses research and empowers students to pursue a topic of personal interest.

Include student voice and perspective in the presentation of their learning. Many teachers frame this as a "for now" response that asks students to articulate an impact for their project: raising awareness of an issue in their community, promoting grassroots action, or advocating for institutional change.

Engage conference visitors with a call to action.
Amplifying Student Voices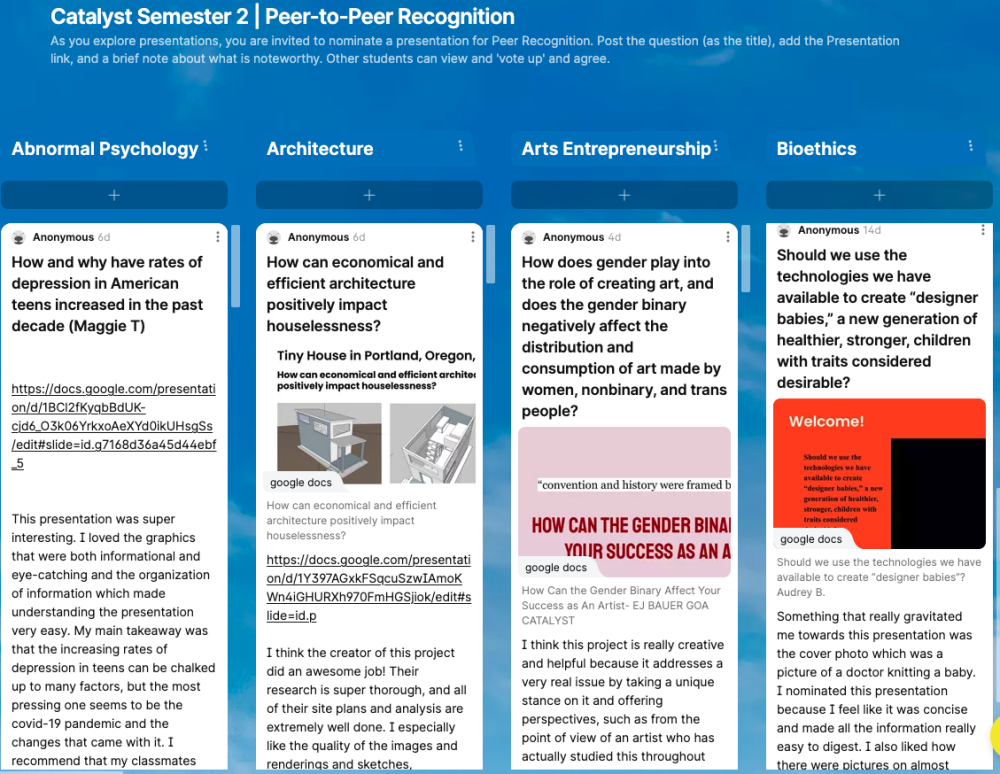 During the exhibition, teachers and students are able to nominate projects that are compelling and noteworthy. Students are encouraged to nominate and re-share inspiring presentations to a Peer-to-Peer Recognition Padlet. This is a place where students can elevate and discuss presentations as they explore the entire gallery of submissions. The feedback students receive on their project allows them to deepen their learning, identify elements that could be refined, and explore aspects of their project that resonate with their peers.

Each GOA teacher is also invited to nominate select student projects for inclusion in the GOA Catalyst Exhibition, which adhere to the following criteria: The project demonstrates the target outcomes impressively and is the result of an exemplary process, including careful, thorough research, a well-crafted question, and an original response to it. These projects also raise awareness and promote grassroots actions and institutional change.
We encourage you to view the capstone projects from GOA students in The Catalyst Exhibition!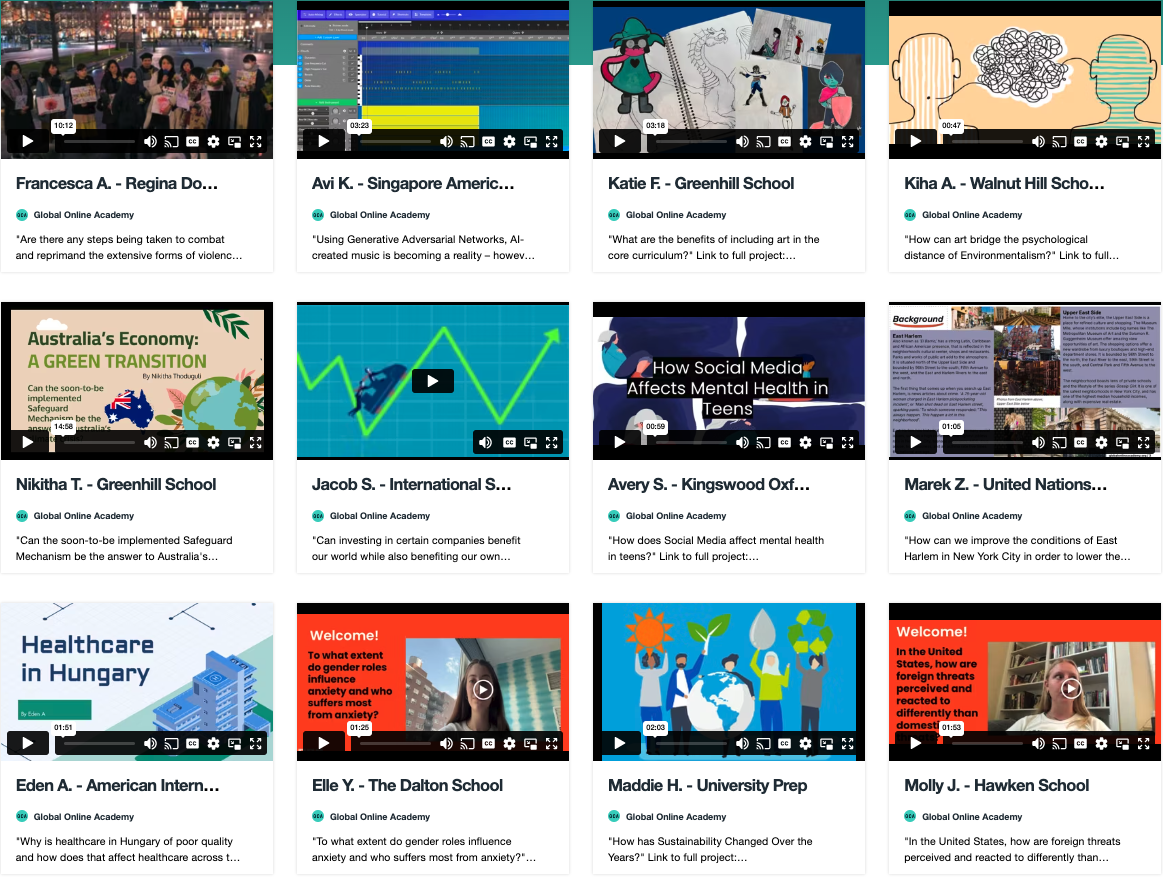 Embarking on an inquiry and bringing a project to completion is a noteworthy indicator of success. GOA believes all students who participate in the Catalyst Exhibition deserve recognition for their pursuit of learning.

The Catalyst Exhibition is a signature GOA learning experience for high school students. All GOA member schools are invited to participate in the project and conference. To get involved, contact us. If you are interested in learning more about designing student-driven authentic learning assessments in your own setting, please join us for one of our summer institutes for educators.