Part Two: EdTech Tools for Feedback and Relationships
We had to change our approach to feedback during emergency remote instruction. Turns out we liked it. Here's why it's important we talk about it now.
This is part two in a series of two articles focused on looking at how edtech tools can make feedback feel more personalized, actionable, and accessible for all learners. For part one, click here.

Voice Comments for Accessibility & Clear Communication Anywhere
While Kami is a fabulous tool for annotating any PDF version of a document with rich multimedia, there was a lingering need to leave voice notes on live Google Docs, Slides, Forms, etc. For years, English teachers, in particular, had been telling me that they wanted to be able to leave voice comments on a Google Doc. While that form of feedback worked wonderfully well for some students, others struggled to make corrections from voice feedback alone.
Luckily, the Mote team was listening, and they launched just the product in 2020. Mote allows you to leave voice notes on any website. It's very powerful when used with Google's suite of tools, which is what I'll focus on here.
After installing a simple Chrome extension, with just a click of the button, you can record your voice. That voice note is transcribed automatically, can be translated into a variety of languages, and the listener has control over the playback speed at which they listen.
Leav­ing Voice Feed­back (with Auto­mat­ic Tran­scrip­tion!) in Google Docs using Mote
Instead of relying on typed comments for feedback in a Google Doc, using Mote gives the teacher the ability to use audio expression to ensure good communication. When students receive feedback, they can choose to read the transcription or listen to the audio. Moreover, they can speed up or slow down the playback speed, pause and rewind, and even use translation features if needed. As I mentioned with Kami, Mote also allows teachers to save audio notes to a bank for reuse. Students can reply to their teacher directly on the digital document – using both voice and text.
Student Collaboration & Peer-to-Peer Feedback
These tools aren't just powerful for teacher feedback. Students can also leave one another peer feedback or work collaboratively by leaving voice notes to their partners as they work. With voice, tone more easily comes across when delivering peer critiques, which is an important factor in helping students feel comfortable both giving and receiving honest feedback. What's more, having students document their communication directly on their work can allow teachers to shift how they're grading to reward collaboration in ways that would not be possible without documentation or a transcript of communication. In doing so, teachers are helping students learn how to give effective feedback.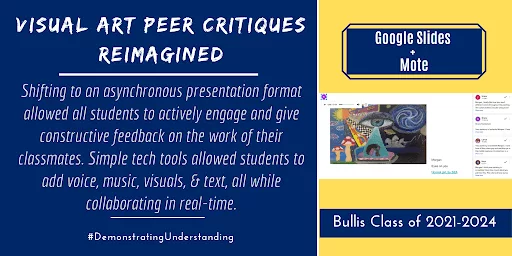 Leveraging simple tech tools creatively unleashes opportunities to create more inclusive, accessible, and empowering classroom environments. Though feedback and relationships may not have been ideas you thought went hand-in-hand, I hope this article helps shift your mindset. Tools such as Kami and Mote give us all a chance to find a mode of expression that best suits our style. When we give personal and critical feedback, it's a sign that we care to help another person improve. Delivering that feedback can be challenging, particularly when relying on written text alone. Of course, face-to-face communication with students will always remain an extremely powerful mode of connection and communication. But it's not the only way, and having these tools at our fingertips expands how we can spend our valuable class time together and provide students some choice in how they receive and process the feedback we are giving them.
Stacey Roshan is an educator, keynote speaker, TED-Ed talker, consultant, and author of Tech with Heart.
For more, see:
This post is part of our Shifts in Practice series, which features educator voices from GOA's network and seeks to share practical strategies that create shifts in educator practice. Are you an educator interested in submitting an article for potential publication on our Insights blog? If so, please read Contribute Your Voice to Share Shifts in Practice and follow the directions. We look forward to featuring your voice, insights, and ideas.
GOA serves students, teachers, and leaders and is comprised of member schools from around the world, including independent, international, charter, and public schools. Learn more about Becoming a Member. Our professional learning opportunities are open to any educator or school team. Follow us on LinkedIn and Twitter. To stay up to date on GOA learning opportunities, sign up for our newsletter.