Gilman Students Design Their Own Learning Through Global Online Academy
This article was originally published on Gilman.edu on November 10, 2022.
Back in the summer of 2017 before anyone knew what Zoom was and the word virtual still meant "in essence," Upper School science teacher Cody Miles participated in a professional development opportunity in Seattle about teaching lessons that blend asynchronous learning with real-time collaboration among students from all over the world.
He was preparing for a program called Global Online Academy (GOA), a nonprofit organization whose mission is to "reimagine learning to empower students and educators to thrive in a globally networked society." Currently more than 137 schools in 31 countries are members, which gives those students access to more than 56 courses on subjects that are not traditionally offered, taught by specially trained teachers around the globe. Gilman joined in 2014 and remains one of the few member schools in the Maryland area.
Miles teaches a GOA section of a course called Medical Problem-Solving. So does his colleague Frank Fitzgibbon, who also is a member of the Upper School science faculty at Gilman, and joined the GOA team a few years after Miles.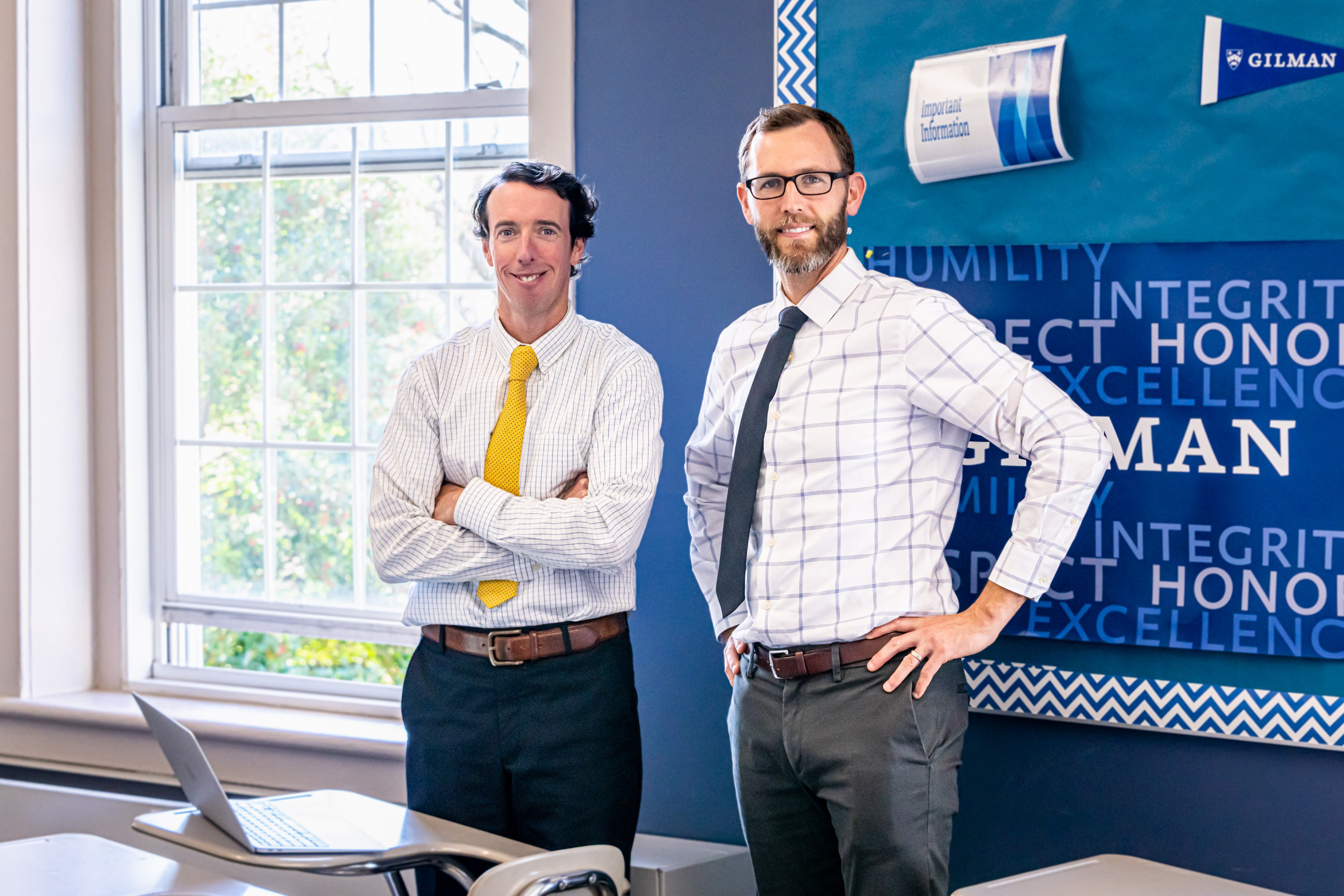 Opening Perspectives, Centering the Student
"The GOA platform opens up global perspectives for students," said Miles. "In Medical Problem-Solving, for example, if the lesson dovetails into a conversation about healthcare, we'll hear from students in several countries who have very different experiences."
Fitzgibbon agrees. "Another topic where this comes up is elder medical consent — people in different cultures can view this quite differently," he said.
GOA classes are offered to juniors and seniors at Gilman as electives. Currently about a dozen students are enrolled. The curricula include paced, asynchronous instruction with several real-time class meetings held on Zoom throughout the semester, and students initiate additional small-group sessions to work with their peers in the course.
"One pillar of GOA," says Fitzgibbon, "is that it is very student-centric. Students design their own learning through the lens of whatever the course is offering." They read, watch, and listen to resources, and they enhance their learning through conversations with students around the world in the Zoom sessions. There are no tests or quizzes; the students are assessed repeatedly over the course of the semester on a rubric of outcomes through problem-solving assignments.
Beginning in 2020, those in the world who had not yet attended online classes got a taste of what GOA had been doing since 2011. But all virtual learning is not created equal. Fitzgibbon said the switch to an online learning environment for all schools in the early part of the pandemic was like trying to fit a square peg into a round hole. "GOA is a 180-degree experience from that. GOA is a round peg going into a round hole. It was designed specifically for the digital experience."
Miles agrees. "The virtual classroom is not trying to replicate the in-person classroom experience," he said. "The things that work successfully online are different from what will work in person."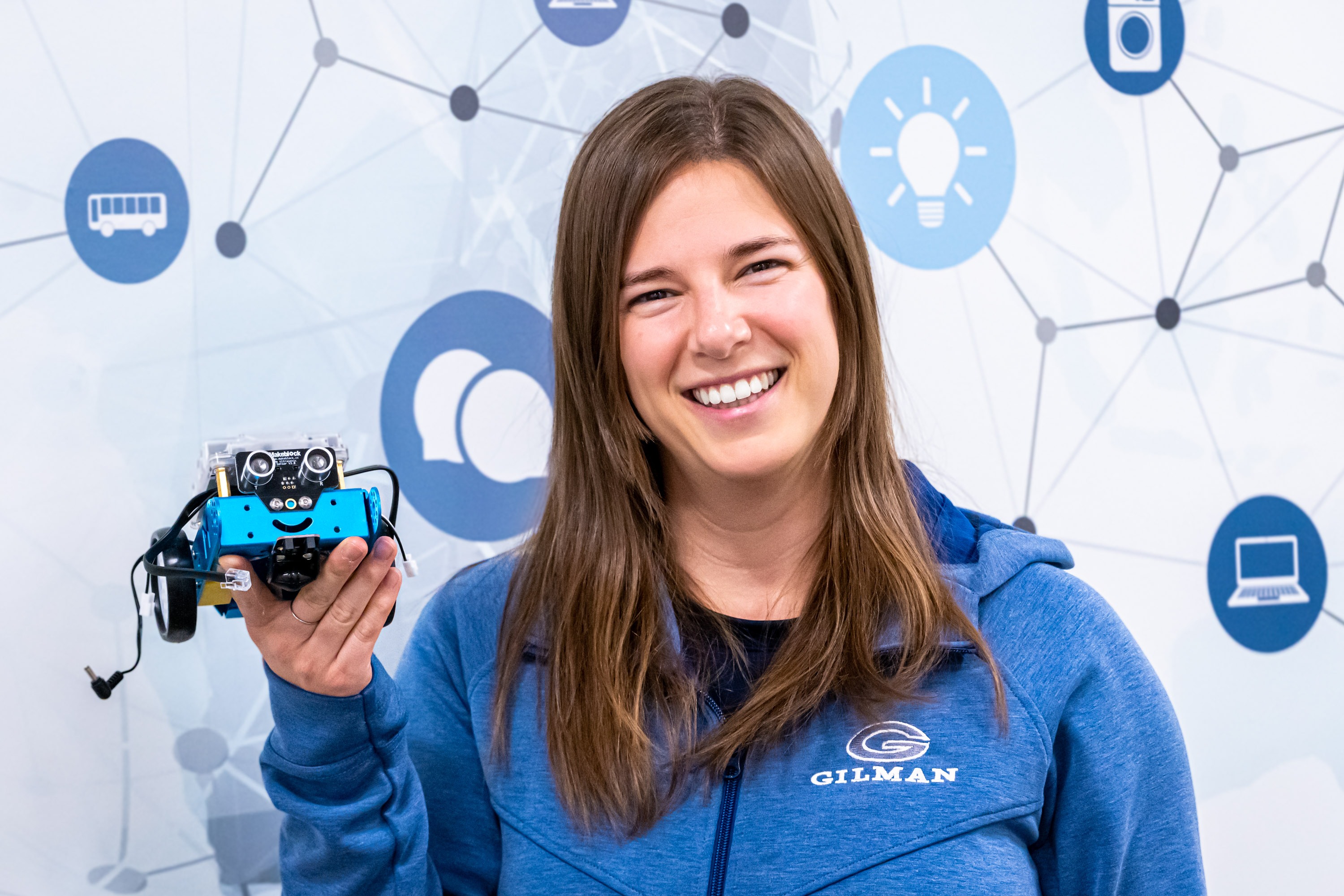 In fact, when Gilman was preparing for hybrid learning during the summer of 2020, they took full advantage of the relationship the School has with GOA. All Middle and Upper School teachers took part in professional development through the program to guide them in making online lessons and resources more engaging, and GOA staff members also spent time with Gilman's leadership team to help them prepare. The overall goal: to provide the best learning experience for all of Gilman's students, regardless of their location, as well as a manageable teaching experience for faculty, for whom this was all still new and very challenging.
"GOA offers a collaborative learning experience to familiarize faculty with technologies and 21st-century learning pedagogies that enhance traditional classroom education," said instructional technology coach Lynn Nichols. "The program fosters a community of learning with a global perspective."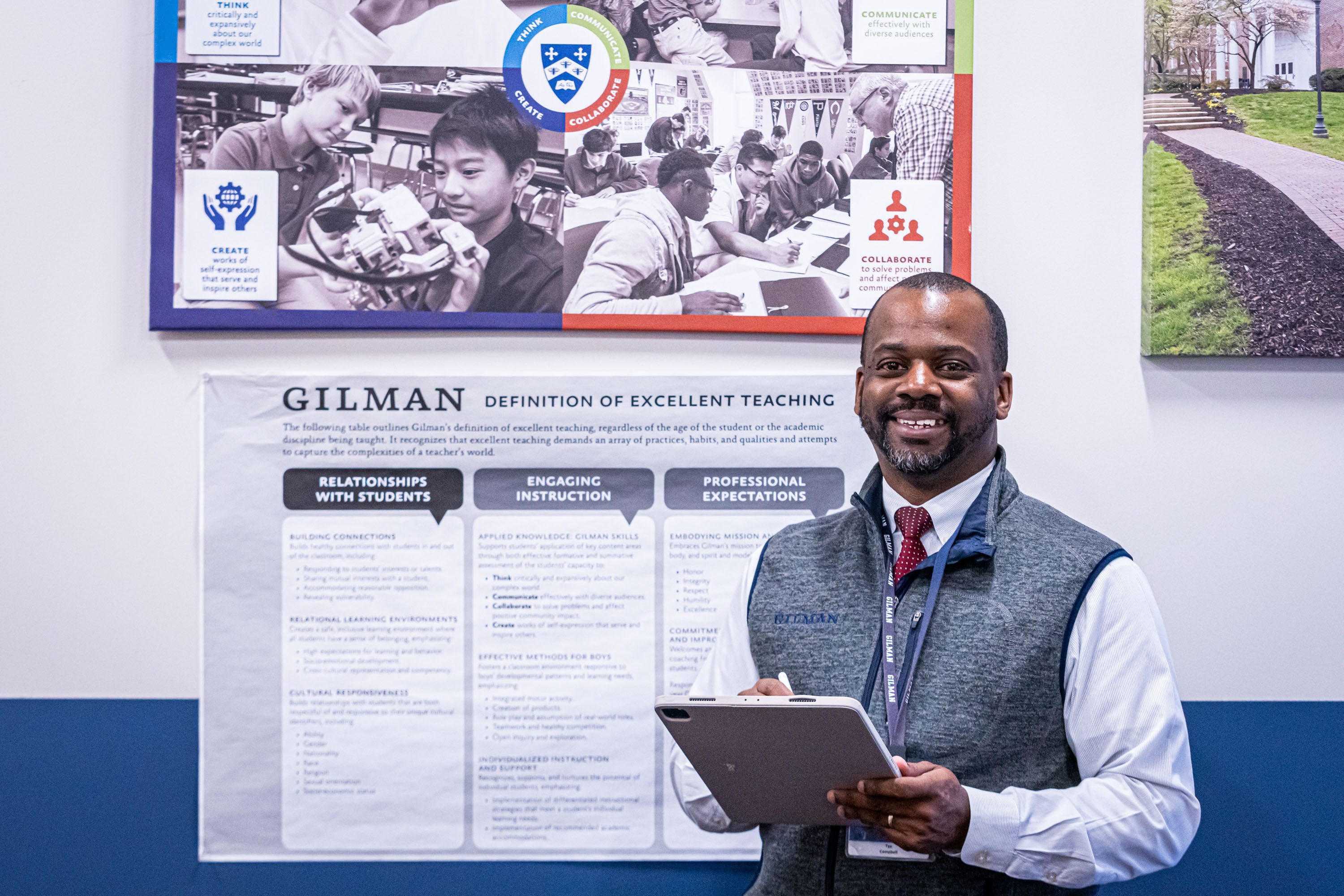 Though GOA began as a student-centered organization it has shifted to also deliver high quality professional development for teachers. Now, when teachers join Gilman's faculty, they participate in a GOA summer program to learn how to better utilize the online tools available to them to make their teaching practice more effective. "We are looking to deepen the relationship we have with GOA. They are doing a great job reevaluating what teaching and learning looks like," said Gilman's Director of Strategic Information and Innovation Tye Campbell. "The focus has traditionally been on what we're teaching; now we are asking: What are students learning, and how might they demonstrate what they have learned?"
Plans to bring GOA to Gilman both in person and virtually this school year for professional development are underway. "Partnering with GOA is a great step forward," Campbell said. "Excellent teaching is a journey, not a finish line."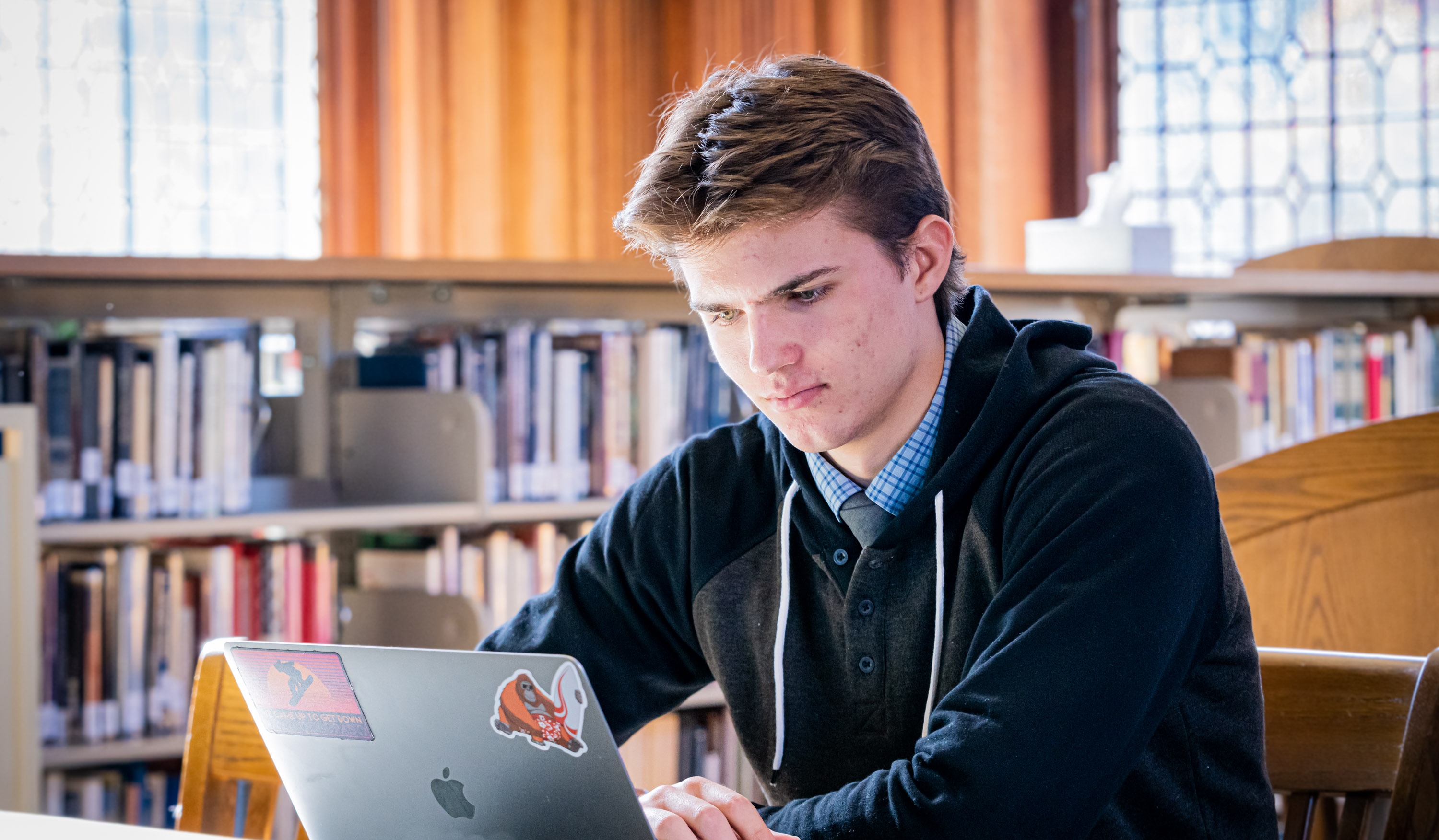 Students at Gilman are along for the journey. Nick L. '23 is enrolled in Introduction to Investing through GOA. "I am learning an important life skill that I am passionate about. I am already seeing the incredible results from this course because it is teaching me a variety of financial strategies to save money and make money grow in value over time," he said. "And it is an enriching experience because I am connecting with people across the globe."
It's been overwhelmingly beneficial for participating teachers as well. "It's been the most positive experience I've ever had, from a professional development standpoint," Fitzgibbon said. "The assessment style — competency-based learning — has influenced what I'm trying to do in my classroom at Gilman. In a science class, the content of an assignment is often the focus, but now I've shifted away from that and expanded my view to see aspects of presentation as just as important."
Miles said teaching GOA courses has made him a better teacher. He even developed an in-person version of the Medical Problem-Solving course at Gilman, a senior elective born out of his time in GOA.
"In a post-pandemic world, students are going to engage in hybrid learning in college and beyond, and it's a really useful skill to be able to navigate those spaces in conjunction with a typical classroom environment," Miles said. "GOA students are lucky to be able to experience what a well-designed online class looks like."
We acknowledge and thank retired faculty member Ned Harris, who established Gilman's partnership with GOA as well as former Assistant Head of School Bart Griffith and Head of Upper School Rob Heubeck for their leadership and continued support.
Lauren Rauseo is Communication Manager at the Gilman School in Maryland.

For more, see:
This post is part of our Mission in Action series, which profiles how GOA member schools align GOA's Student and Professional Learning Programs to meet their school's mission. Want us to profile your school? Email us at hello@globalonlineacademy.org with the subject title "Mission in Action."
GOA serves students, teachers, and leaders and is comprised of member schools from around the world, including independent, international, charter, and public schools. Learn more about Becoming a Member. Our professional learning opportunities are open to any educator or school team. Follow us on LinkedIn and Twitter. To stay up to date on GOA learning opportunities, sign up for our newsletter.