GOA's Summer Playlist 2019: 20 Resources for Reflection and Inspiration
Like many educators, the GOA team has spent much of this year sharing great resources with each other. We even have a channel in our Slack community dedicated solely to trading links to books, podcasts, videos, and more that inspire us.
In many places around the world, educators are about to embark on summer break, a time to reflect, relax, and finally get to all the great work they've been meaning to read, watch, and listen to. Below, we've curated 20 recommendations for educators looking for inspiration, challenge, or just a great learning experience this summer. What's on your list? Tell us on Twitter!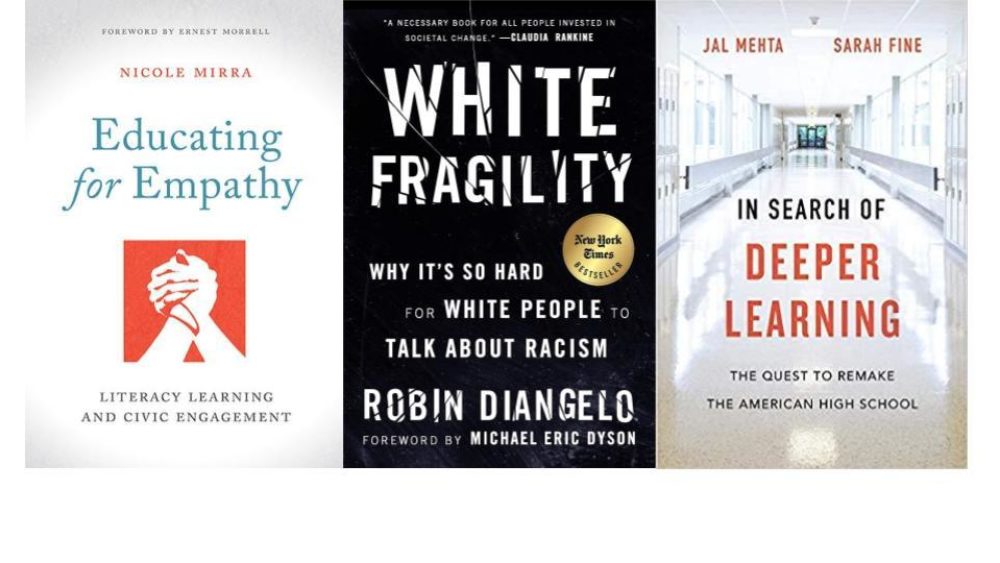 Educating for Empathy by Nicole Mirra. In our politically polarized climate and society, one that is suffering from an "empathy deficit," Nicole Mirra calls on educators to engage in educating for critical civic empathy. Focusing on the English/Language Arts classroom, Mirra argues that on literacy education is more than the teaching of reading, writing, listening, and speaking skills; it is through using these skills that students begin to understand themselves and others, their personal, professional, and civic identities living in an interconnected, democratic, and just society. Mirra's book is an inspiring reminder and practical guide to teach to change the world for the better.
On Your Mark: Challenging the Conventions of Grading and Reporting by Thomas Guskey. In this 113-page read, Guskey, a renowned researcher on educational assessment and evaluation, challenges a host of common grading practices and explains the research about how many of the most common approaches to grading in our schools are wrong-headed and, in many cases, inequitable. Many of Guskey's recommendations point us toward a competency-based approach to evaluating learning.
Grading for Equity by Joe Feldman. A good companion to Guskey's book. Feldman makes the compelling argument that grading is some of the most personal work teachers do, and thus can cause resistance to alignment of practice with colleagues, can encourage implicit bias, and can lead to habits (like grading behavior) that aren't aligned with research on assessment. Feldman lays out the problem clearly, then offers step-by-step solutions for teachers and schools to adopt grading practices that better assess learning and abandon long-standing beliefs and habits that can promote systemic inequities in school.
Digital Minimalism: Choosing a Focused Life in a Noisy World by Cal Newport. Technologists and humanists will both love Newport's approach as he makes a compelling case for eliminating non-intentional technology usage from our lives. His book isn't a diatribe against technology or a plea for abstention, but rather a nuanced argument and a practical roadmap for getting more out of technology by using it less.
In Search of Deeper Learning: The Quest to Remake the American High School by Jal Mehta and Sarah Fine. This book is the culmination of two researchers' efforts to find on-the-ground evidence of deeper learning and explore both how it happens and why it doesn't happen more often in American schools. Their approach is to embed themselves in four different types of high schools — a progressive project-based school, a "No Excuses" charter school, an International Baccalaureate school, and a large public school — and identify elements of deeper learning that are both unique to the environments and can transcend them. The final chapters offer compelling analysis, especially when it comes to "deeper teaching" and the importance of teachers' relationships with and perceptions of their own expertise.
White Fragility: Why It's so Hard for White People to Talk About Racism by Robin DiAngelo. DiAngelo defines "White Fragility" as an intolerance for racial stress, a state that comes from being insulated from racial intolerance and that causes many white people to react with defensiveness or anger to issues of race. DiAngelo explains the dynamics of white fragility and argues confronting it openly will allow for more open and constructive conversations about racial justice.
Onward: Cultivating Emotional Resilience in Educators by Elena Aguilar. The author of the popular Art of Coaching books tackles educator stress, offering a framework to help teachers manage stress and build resilience. Aguilar offers habits and strategies that help educators — especially those in the highest demand positions — to develop the awareness of emotions required to manage them in a healthy way.
Make Yourself Clear: How to Use a Teaching Mindset to Listen, Understand, Explain Everything, and Be Understood by Reshan Richards and Stephen J. Valentine. In this book, Richards, co-founder of Explain Everything, and Valentine, Assistant Head at Montclair Kimberly Academy, argue that much of what people need to succeed in business is also what we need to succeed as teachers. Using three key elements of great teaching — authenticity, immediacy, and delight — as a frame, Richards and Valentine offering research, case studies, and practical strategies for how to better understand how well a "teaching mindset" is suited to our modern age.
Play Anything by Ian Bogost. This funny, thoughtful exploration of why humans love play and games has deep implications for education, especially when it comes to designing learning experiences. Bogost, a philosopher, designer, and computer scientist, uses research and real-world examples to talk about the relationship between limitations and engagement, boredom and creativity, and learning and fun. In an age where educators are exploring how to redefine when, where, and how learning happens, Bogost offers a useful framework for how to recognize playful learning opportunities in any situation.
Why Don't Students Like School? by Daniel Willingham and Make it Stick by Peter Brown, Henry Roediger, and Mark McDaniel. These two books have been around for a few years, but we include them here because we return to them so often. Both translate research in cognitive psychology and other learning sciences into clear, practical strategies and implications for the classroom. Written with classroom teachers in mind, the authors help us see learning and school from the perspective of students, reminding us to question our assumptions about what learning is and what it looks like.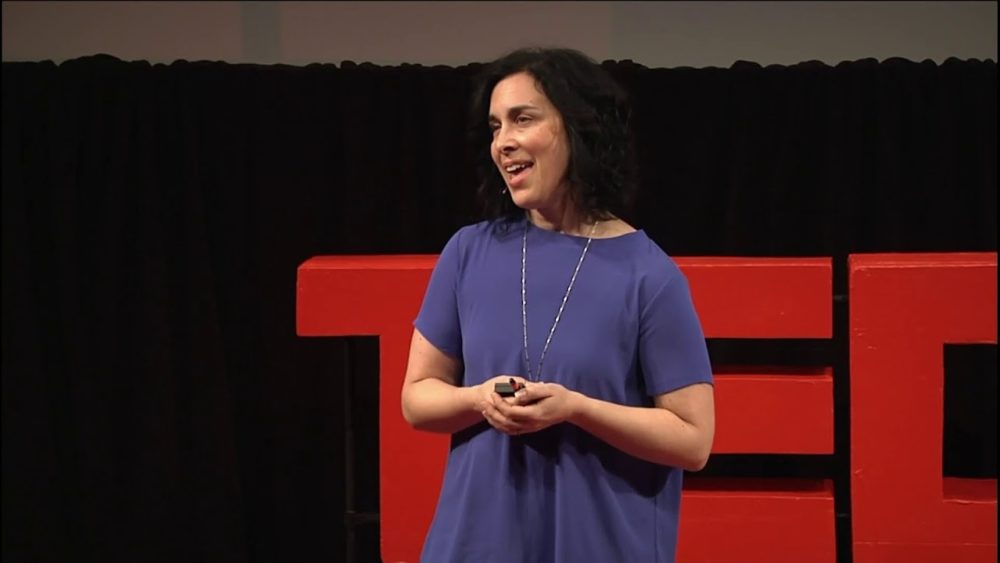 How Open Dialogue Can Develop More Self-Directed Learners by Paulette Unger. In this talk from TEDxGreenville, GOA Bioethics teacher Paulette Unger of Christ Church Episcopal School explores how teaching on campus and online have broadened her understanding of when, where, and how students learn. She shares stories and practical strategies of how she's used technology, data, and design to make her classes more open, collaborative, and student-led.
Humanize Diversity and Inclusion by Damien Hooper-Campbell. eBay's first Chief of Diversity breaks down the state of diversity, equity, and inclusion (DEI) in tech without using numbers and statistics. He aims to move beyond the surface-level conversations around DEI to get at the real personal, human implications in the workplace. His talk is an interesting point of comparison to the work that we try to do in our schools: how might our approach be as deep and intentional?
Eighth Grade directed by Bo Burnham. There is so much to take in, think about, talk about in this stark portrayal of the latter part of middle school. While it would not be surprising if some saw this movie as one big warning about unrestricted use of technology and social media, but that would overlook the enormous themes about our vulnerability at this life stage and our efforts to construct our identities (whether on youtube or in other settings). Such a view would also miss all of its authentic information about adolescence, which any adults who work with, live with, and love middle schoolers need to take in, then talk about with them.
The Aerodynamics of Exceptional Schools by Jennifer Gonzalez. In this keynote address from the 2019 SXSW EDU conference, the creator of the popular site Cult of Pedagogy explores the variety of factors that help and hinder schools from reaching their full potential.
10 Ways to Have a Better Conversation by Celeste Headlee. A writer and radio host, Headlee has interviewed hundreds of people. In her TED Talk, she shares profound advice for how to listen to others and how to truly connect with more humans. We all often say we want to connect, but are we connecting if we are the ones talking all the time? This features great advice for teachers, but also for any of us who want to have stronger relationships with our partners, children, or friends.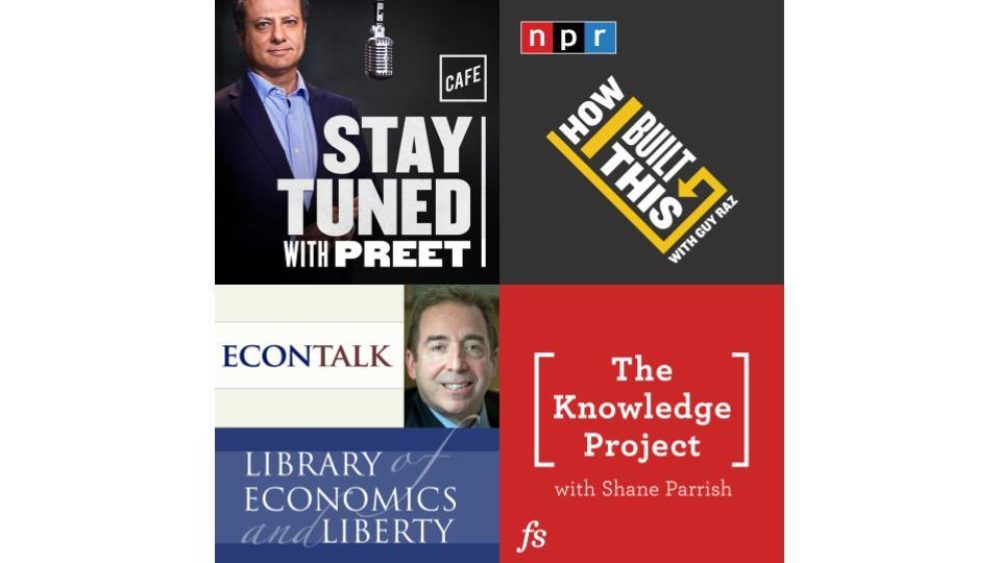 Becoming a Model Thinker on The Knowledge Project podcast. In this episode, host Shane Parrish (Farnam Street) interviews Professor Scott Page, who explains his research on mental models. Mental models are frameworks that help us make sense of the world. He discusses the advantages of multiple models or degrees of depth to which we understand each model in order "to confront the complexity of the world." From mundane decisions to conceptual visions, our reliance upon these models is profound.
Robert Burton on Being Certain on the EconTalk podcast. In this episode, EconTalk host Russ Roberts interviews neurologist and author Robert Burton. Burton discusses how our brains experience certainty or the "feeling of knowing" - even when we may not be correct. Using neuroscience to challenge notions of memory and knowledge, this episode offers insight, invites question, and provides much to discuss.
Froebel's Gifts on the 99% Invisible podcast. This popular design podcast often intersects with questions of learning and education, and in this episode host Roman Mars explores the astonishing influence of Friedrich Froebel, the inventor of kindergarten. Froebel's deep belief in the importance of play and creativity in school led him to invent a new form of early childhood education, one whose influence can be found in the work of great artists and designers, including Frank Lloyd Wright. A thoughtful examination of what matters — and what lasts — in the minds of students.
The Learning Mindset with Sal Khan on the Stay Tuned podcast. Former U.S. Attorney Preet Bharara's podcast usually focuses on questions of law and politics, but in this episode he interviews the creator of Khan Academy. The story of how Sal Khan began making math video tutorials for his younger relatives and turned them into one of the most popular online resources in the world is well known, but less understood is his vision for what education can and should be. He explains that vision, and the role of Khan Academy and similar organizations fit into it, in this interview.
Rent the Runway on the How I Built This podcast. Host Guy Raz interviews some of the world's most successful entrepreneurs, who often talk about the influence of their formal education. While some have degrees from highly competitive schools, e.g. Harvard Business School, it's common that some of them were often at odds with their schools, figuring out ways to get around requirements or schoolwork that interfered with what they most wanted to be doing. Further, some failed out of college or dropped out to pursue passions or problems they were dogged about solving. This episode with Jenn Hyman, founder of Rent the Runway, is an excellent illustration of the power of resilience and strategic thinking.
Learn with GOA this summer! Explore our summer courses for students and for educators.