GOA's Summer Playlist: 15 Resources for Reflection and Inspiration
As many of us head into what we hope will be a restorative break, we offer a playlist for rest, relaxation, and recalibration. We hope you get the chance to restore yourself and spend time with loved ones. Whether you are on the road or at home, here are 15 ideas for listening, watching, and reading this summer.

70 Over 70 is a new weekly podcast where the host, Max Linsky (Longform Podcast), interviews people over 70 (famous and not) about what they have learned and how they see the rest of their lives. The podcast is full of joyful, heartfelt, and poignant reflections. A great reminder of the importance of perspective in our lives.
Brene Brown's Unlocking Us podcast episode on Burnout and How to Complete the Stress Cycle offers a very helpful framework (and a fun conversation) for rejuvenation. Pop in some headphones and listen!
Cafe Con Leche Playlist on Spotify might be the perfect salve to the end of the academic year. Grab your own coffee and listen to these tunes and keep calm.
Flow State is an email newsletter that sends you two hours of music designed to support focus, deep work, and, as the title suggests, all-important flow. An easy way to find new music that supports thought and focus.
Science Vs. by Gimlet Media are 30 to 40 minute podcast episodes about a whole plethora of topics from old school conspiracy theories to buried treasure to human anatomy and more. Let your mind wander as you are entertained and learn something new.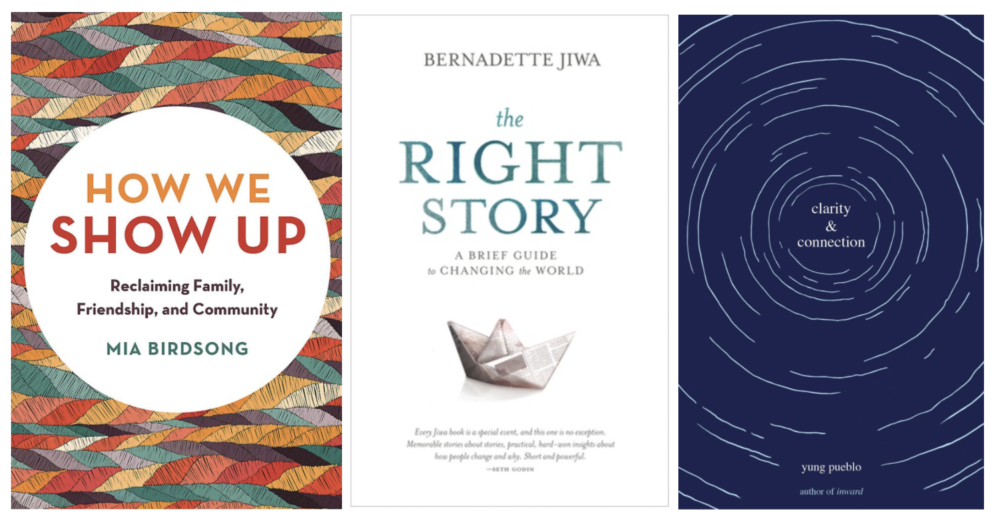 Clarity and Connection, a collection of poetry by Yung Pueblo, is an inspiring resource for those looking for more introspection and personal growth.
Future Proof: 9 Rules for Humans in the Age of Automation by Kevin Roose is a reminder that people are the center of our civilization. Roose offers ideas on how to keep our humanness in focus.
Grading for Equity: What It is, Why It Matters and How it Can Transform Schools by Joe Feldman remains one of our staff's favorite books. Mr. Feldman recently spoke with GOA's entire faculty. This is the one education-related book that, if you have not done so already, will empower you to shift grading practices and support your work as an educator moving forward.
Mia Birdsong's How We Show Up: Reclaiming Family, Friendship, and Community helps us think about creating the communities we want and so badly need, now and moving forward.

The Right Story: The Secret to Spreading Your Ideas by Bernadette Jiwa takes the reader beyond good ideas vs. bad ideas and focuses on how to tell the right story to bring about change. Jiwa's message and strategies are for anyone in a position to use storytelling to amplify their impact in their field and on those they seek to serve - educators, school leaders, entrepreneurs, artists, scholars, and marketers.
No More Easy Button: A Suggested Approach Post-Pandemic Teaching by Cult of Pedagogy's Jennifer Gonzalez where she writes, "do the slower, more nuanced, more satisfying work of prioritizing quality over quantity and creating schools where each student, and each teacher, has what they need to thrive."
Why We Sleep is a deep-dive into "one of the most important but least understood aspects of our life." Matthew Walker's research offers clear, compelling, and practical reasons to prioritize sleep for our health and wellness.
What are you reading, listening to and/or watching this summer for inspiration? Share with us on Twitter @GOALearning and #GOALearning.