How Blended Learning can Transform Leadership
We are thrilled to share this post from guest writer Katrina O'Connor, an Instructional Coach and Senior Teacher at West Point Grey Academy in Vancouver, Canada. Connect with her on Twitter and LinkedIn.
Over the past three months I have been immersed in GOA's Blending Leadership, an online course facilitated by Stephen J. Valentine and Dr. Reshan Richards, based upon the ideas and approaches presented in their book of the same name. Within the supportive network of our online cohort of 20 leaders from 18 different schools around the world, we explored how we might use our understanding of blended learning to further personalize and extend our leadership capacities as we work to support the mission and vision of our schools. Though many questions and ideas resonated with me during the course, as I reflect upon the experience, four key principles stand out.
Leaders look out for their organizations by looking out of their organizations.
Schools are ecosystems: complex networks, interconnected systems, communities of organisms interacting with, and within, their environments. Through involvement in Blending Leadership, I now ask myself much more pointed questions about my leadership role within my own educational ecosystem. Am I being as mindful about my organizational practices as I could and should be? Am I opening my mind and leadership approaches to support and inspiration from both my onsite and online peers? In our course, Steve and Reshan launched our online network by asking us to use Padlet to gather our perspectives on the major challenges schools face. We discovered commonalities across our settings, helping us understand that despite our physical distance from each other, we could be supports for one another. I have come to consider leadership relationships from both an offline and online perspective, since we inhabit both worlds.
Here's how Steve and Reshan introduced the concept of "looking out" in our course:
Leaders are designers.
One of the tenets we explored in the course is that leadership needs to be both designed and intentional, with specific consideration of the people and communities we serve. Design thinking needs to be part of our everyday habits. I am a former Head of Department who transitioned to an Instructional Coaching role this academic year, and Blending Leadership has been a huge support in helping me to shift my thinking from more 'traditional' offline approaches to leveraging online tools as a complement to the varying nature of my role. By approaching leadership and educational challenges with a 'design eye', we can see opportunities where previously we might have seen barriers: a perceived lack of time or offline scheduling constraints, for example. Working asynchronously in an online sharing space such as Slack, and complementing in-person meetings with synchronous Zoom meetings when required are some ways I see myself moving beyond what might formerly have been considered limitations of time and space.
A good blended leader looks for ways to reduce friction for others – to free people up to do their best work.
I am now considering how online tools might support our professional learning teams at my school as we move to integrate inquiry practices more visibly into our planning, assessment, and instructional methods. For example, during my involvement in this course, I set up a Teaching and Learning Sharing Space for our faculty via our school's Learning Management System (LMS), and built an Inquiry Toolkit website as a resource for teachers to easily access a range of ideas. Part of my responsibility is to ensure these spaces are cared for and are as robust and user-friendly as possible: that they continue to stay vivid and relevant for my colleagues.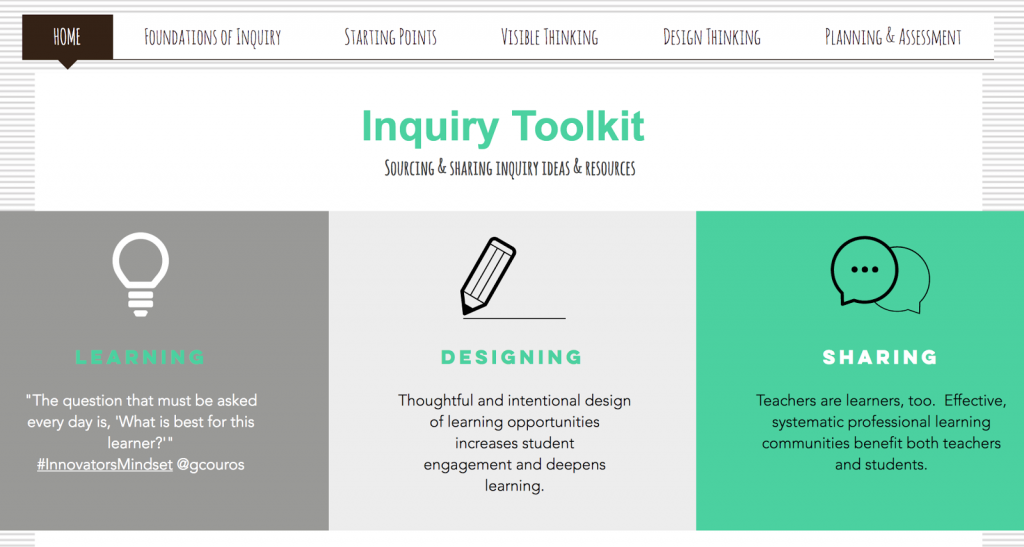 I am also thinking how we might move to the implementation of a Video Learning Team (VLT) structure in order to widen the scope of how we learn with one another beyond perceived limitations of space and time and extend our use of documentation in support of both teacher and student learning.
These practices, in turn, may help us open the door more widely to innovative practice.
At my school, we are striving to find a balance between tradition and innovation, working toward our school's mission and vision and coming to terms with shifting our practices in support of a new provincial curriculum, which holds inquiry at its core. Through the network of support created during Blending Leadership, the ideas explored by the cohort from our global contexts and the range of online tools we used as part of our curriculum has supported me in feeling more fully equipped to push the boundaries of what we do while preserving the best of what we have already created. Through the journey of this course, I have come to understand that innovation does not necessarily have to mean invention. Innovation can simply be what results when we think (and rethink) about our practices, always asking ourselves: How might I, or we, do this even better?
Want to be part of the Blending Leadership community? Register for the 2-day Summer Seminar!