The New Normal: Five Insights from GOA's COVID-19 Leadership Roundtable
Do you think we'll see permanent change in education because of COVID-19? What can we do now that might normally take ten years to move forward?
GOA Executive Director Michael Nachbar recently led a roundtable discussion with education leaders focused on strategizing for "the new normal" that will follow COVID-19. He was joined by panelists Nicole Furlonge (Professor of Practice and Director of Klingenstein Center, Columbia University Teachers College), Madeleine Hewitt (Executive Director of the Near East South Asia Council of Overseas Schools), Mark Milliron (Co-Founder and Chief Learning Officer of Civitas Learning), and Stephanie Rogen (Principal and Founder of Greenwich Leadership Partners LLC) to facilitate a conversation on the challenges, opportunities, and overall impact that operating schools remotely during this unprecedented global pandemic might create.
Participants also broke into smaller groups to connect with other educational leaders and target three prompts:
What might not return to schools in "the new normal?"
What will schools do now that they did not before?
What does this mean for you, and what change do you want to see?
Below are five key takeaways from the panel and group discussions.
School leaders need to connect with and empower their teachers.
This is the time for leadership to capture how educators have navigated this experience and broadened their classroom resources, teaching strategies, and creative communication practices. Michael Nachbar said "the role of the administrator as a pollinator and as a catcher of ideas" is critical.
Teachers have been called on to design for learning and build relationships with students in a distinctly different way in a short amount of time. They have become the face of the school for families, as both a partner for parents and the primary resource and advocate for students in the learning process. As teachers continue supporting their students online, fostering faculty connections and the opportunity to hear firsthand what is working online and what new ideas are emerging requires a more deliberate approach on behalf of school leaders.
Developing a "continuity of learning" plan is critical to the stability and success of schools.
Mark Milliron said one of the major conversations taking shape in education right now is centered around accreditation, regulation, and licensure. The continuity of service standard will likely be a focus for accrediting institutions in the next few years, requiring schools to expand online learning operations and build on learning management systems, digital resources, and communication strategies. "We're going to be pushed, as leaders, to start showing our work around whether or not we have the digital capacity to continue learning and to continue supporting our students."
It's time to shift and design for equity.
The issue of equity has intensified in the wake of COVID-19. Schools have had to evaluate how to increase access to learning for students, or they have had to determine how learning can be achieved offline and without digital resources. Nicole Furlonge said she was "struck by this moment where things that are just taken for granted have become the center of the conversation." This is an opportunity for school leaders to determine how to increase access by evaluating financial capacity, build on their digital infrastructure, and address the needs this crisis has heightened. "We've been treating digital connections as a private luxury, as opposed to a public good," Mark Milliron said. "This is a public good issue much like the rural electrification project or the interstate highway system. We, as educators, need to sound the call on that and be part of the larger conversation."
"How do we assess?" needs an answer, now more than ever.
The conversations surrounding pedagogy, best practices, and equity for students all revealed the critical need for rethinking assessment. "Assessment is taking the stage front and center," Nicole Furlonge said. "It pops up in every conversation I've had, whether you're a lower school educator or a head of school." At every division and age level, teachers have to discover new ways to measure learning and new methods to determine each student's level of engagement and understanding. The question, "How do we assess?" is essential to the conversation now and when we return to brick-and-mortar school.
Recent events highlight what can be done if we work as a collaborative community.
Both Nicole Furlonge and Stephanie Rogen spoke about the need for educators to shift from an autonomous mindset to a collaborative one, where teachers work together to enhance learning experiences for all students. "Teaching has not normally been seen as a team sport," Stephanie said "Until we learn as educators to share in the design and facilitation of learning experiences in a very deep and authentic way, we are limiting what we can do." The move online is the result of a proactive, collaborative push during a crisis. School leaders can now take the opportunity to drive forward this shared work and practice across departments and divisions for the long-term, and, as Nicole highlighted, this may be the way to dismantle silos that form in schools.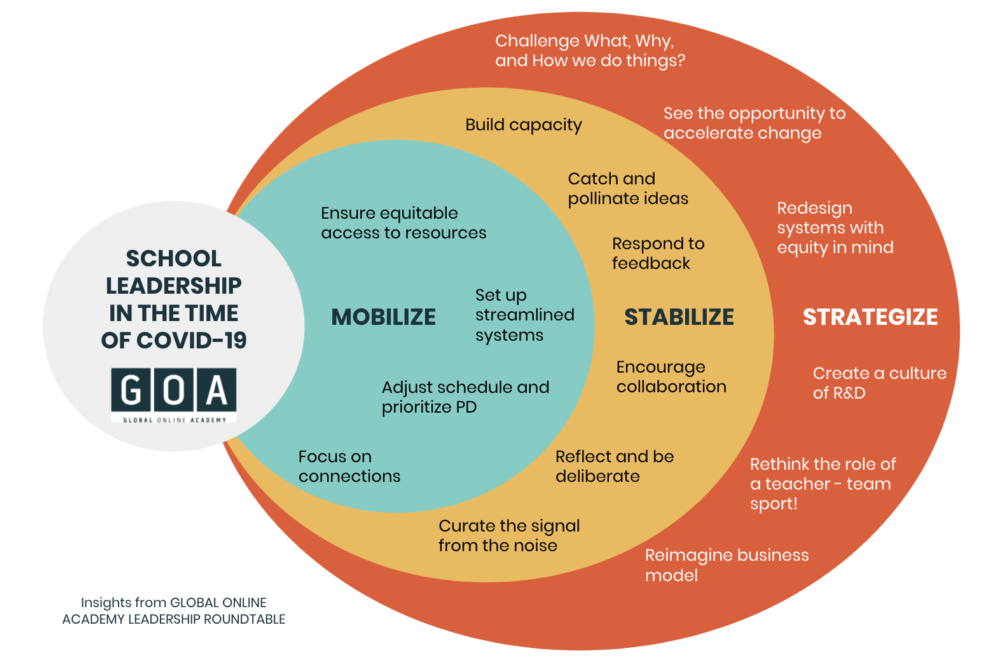 It's critical to recognize the role of leaders at a time of crisis and rapid change. As Madeleine Hewitt said, "It's important for leaders to make clear that we're in this space right now. We're in iterative change." School leaders will have to determine their school's capacity for restructuring and development. Mobilizing teams, honing in on best practices, and strategizing for the operational needs that will likely need to change may prove to be a successful approach to navigating "the new normal." As Nicole Furlonge explained, "We've been pushed into designing schools for crisis, as opposed to designing schools for what we want them to be." There is an opportunity to use this experience to rethink our vision for schools and accelerate those changes that need to be made.
For more GOA resources on learning online, visit our COVID-19 landing page. For more information about how GOA can support students and educators in online learning, explore our Student Program and Professional Learning services.