"If I Knew Then...": A School Leader Reflects on Ten Weeks of Learning Online
Glenda Baker is the High School Deputy Principal at UNIS Hanoi. Glenda has also taught professional learning courses (Coaching Innovation and Introduction to Online Learning) and student courses (Graphic Design) at GOA.
UNIS Hanoi closed for the Lunar New Year holiday on January 24, 2020, and has been (mostly) closed since. We started distance learning on February 4th after just one day for teachers to get ready to teach online. It has been a baptism in a whole new approach to learning for most of our students and teachers. We just paused for our Spring break (March 28 - April 6). It has been a much needed chance for everyone—students, parents and teachers—to catch their breath. The break has afforded me some time to reflect on what's been working in the Middle and High School, and some of the things that, knowing what we do now, we might do differently.
What Would I Keep?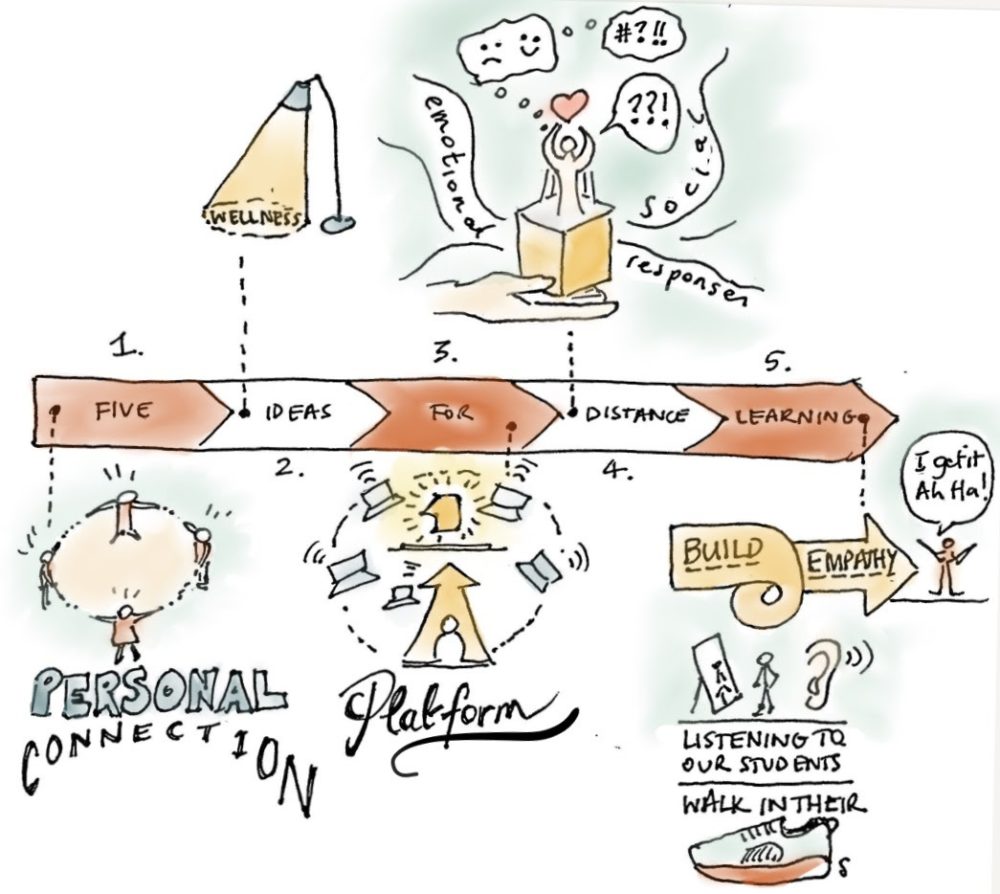 Keep personal connections a priority
Within the first week of distance learning all Mentors (Grade 6-12) made connections via synchronous calls to students in their Homebase (our name for advisory groups of 8-10 students). Since then we have established a bi-weekly group check in. This serves as a social support for group members and helps Mentors to monitor how students are faring emotionally and academically. Initially we were not recording attendance. When Mentors started reporting that some students were not joining Homebase and required synchronous calls for classes, we decided to turn on attendance tracking in our LMS. We also reiterated the importance of this support with students and families. This was one of the strategies we have implemented to address disengagement by some students.
Keep wellness in the spotlight
Our MSHS physical education department has been proactive in supporting student wellness. From day one they set about redesigning their distance learning lessons so they were focused on helping students maintain activity at home. They also launched a weekly program for all students intended to give them voice and choice in staying active and well.
Keep ONE primary communication tool
When there's clarity about where to expect to find information, everyone benefits. Rather than giving teachers total freedom to communicate learning plans however they wanted, from the beginning we decided to require everyone to use the class websites on Veracross (our LMS). Our rationale was that we wanted to minimize cognitive load on students. Parents also have access to the Veracross Gradebook, so they can more easily keep track. We also asked everyone to reserve email with students for individual, specific communications rather than sending instructions that way. Students' inboxes were getting swamped and it was overwhelming them, and parents had no easy way to monitor the expectations set from teachers to students.
As one student put it, "I like the fact that all of my teachers are actually posting work that they have assigned and that they are doing so on Veracross where I can easily see it." This decision for consistency was further validated by our Learning Support teachers who have been excellent advocates for keeping instructions clear and focused to help reduce the noise that kids have to sort through.
Keep adapting systems of support
The Middle and High School already had a robust alerts system in place prior to distance learning. All alerts are automatically routed to key people in the students support team (Counselor, Mentor, Grade Level Leader, Principals, and members of the Student Support Team) depending on the type of alert. When we shifted to distance learning, that system transferred really well to the new context and has helped us identify when students become disengaged. We encourage teachers to make direct contact with students when a pattern emerges. A simple email with details and an expression of concern frequently brings positive results.
Keep building empathy for our students
Since closing campus completely, we have hosted our professional development activities online. We immersed teachers in our students' experiences and have tried to model some of the strategies and tools we are asking teachers to use—a humbling experience when things don't necessarily go as you plan. But, connections matter. As one teacher shared, "Being able to see my colleagues' faces made me feel more connected to them, as some of them I haven't seen in the last few weeks." Creating regular connections with students and with each other through synchronous experiences is one of my most important takeaways.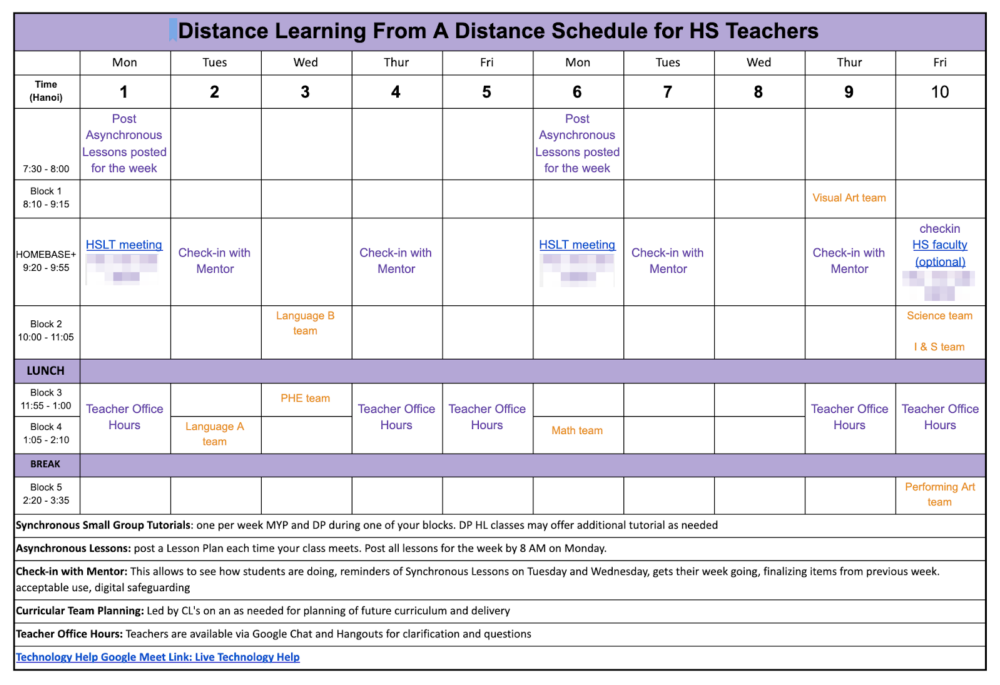 What would I change?
Assessment—Begin with the end in mind
A big challenge has been not anticipating how long we would be doing distance learning for. In hindsight I can see that most of us were hoping things would return to normal and we could get on with things as before—making up a short fall of a few lessons in the unit plans that were previously mapped out. Bad idea! The result of "waiting for tomorrow" has meant well-intended teachers postponed assessments (because they were not suited to online learning) rather than diving in the deep end and rethink or completely redesign them.
Anticipating, as we now do, that school may not reopen this school year, we should have addressed how to gather evidence of learning by distance much earlier and with greater gusto. We are now looking closely at all courses and gradebooks from Grade 6-10 and we expect we will have to do some serious review of end-of-year outcomes. We now understand that most teachers may need to re-evaluate summative assessments in light of this situation. Our Curriculum Coordinators (MYP and DP) have been working with teaching teams to review evidence of learning, Gradebooks and unit objectives to help inform how best to make adjustments and report appropriately.
Hold back on too many tweaks too often
Looking back, I wish we had set a course and stuck with it for longer chunks of time. We tended to rush to make changes. Setting things in motion and letting them play out for a period of time would have been less stressful for teachers and students who each week were asked to make slight changes. For example, we began by asking teachers to design asynchronous lessons. Our fabulous faculty jumped into creating screencasts and collaborating on some vibrant and creative learning plans. Then, we asked them to commence hosting synchronous tutorials with classes in addition to the advisory check-ins.
Even with face-to-face meetings, people understand things based on their past experiences and interpreted instructions differently. One hardworking teacher stressed themselves out completely by trying to teach full lessons 'live' online. Their interpretation of the instructions to run 'synchronous tutorials with classes' was not what we intended at all.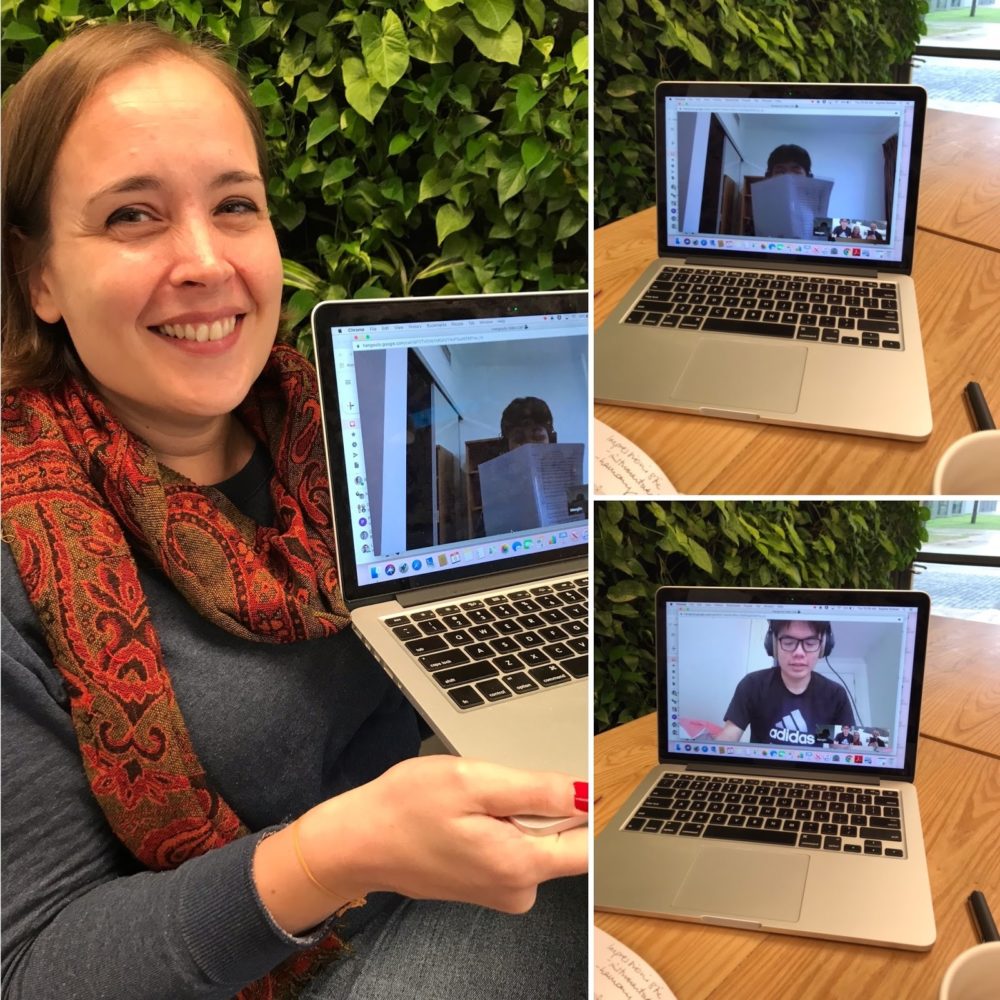 What's next?
Some of our most valuable insights come from students
UNIS Hanoi joined GOA this year (see a list of GOA members), and we have had about twenty students take GOA semester or year-long courses. There is nothing like firsthand experience to provide perspective so with that in mind we have started asking our GOA students to share their observations. Here are a few gems:
Q. What are one or two things that stand out from your GOA course that were really helpful or made your learning experience successful that you wish all your teachers knew about or how to do?
"Something that is very common in GOA is to have calls with other students: our teacher assigns us a student or a group, we have to review questions and sources before we call, and we discuss our different perspectives in the call. Then, we write a reflection on our work and our communication. Although this may be harder for students at UNIS since it does require all students to be equally responsible, this should still be an option as our course progresses because teamwork is very important for student growth and learning."
"My experience with GOA did help me a lot with getting used to this online learning system. In my course, we use a messaging app called Twist. Peers in my course can ask questions to the whole group or to the teacher personally. While I do think that it's the students' responsibility to reach out, I just wanted to stress the importance of communication because the distance makes it difficult to get answers back right away."
"My GOA teacher's weekly video of the overview of lessons is always very helpful in getting a grasp of what I will be learning and what to focus on that week."
"One thing that stood out from the GOA course that was helpful for me was how they organized the schedule and their resources. The GOA course would have one page where the task and dates were specified but also had all the resources we needed to complete them."
"Something really nice about how they organized the tasks was instead of writing everything that we are doing for one lesson and filling up a full page there would be a hyperlink to the tasks which would open up a separate document with the task in it."
We keep asking students for feedback to help us continue to improve their overall experience. They have been very clear about some of the positives:
"I like that you can learn at your own pace and you have more freedom."
"I can use the time to my advantage. It's really flexible and I can work on each subject whenever I want."
Reflecting on what some students are saying, I do wonder how they will feel about returning to our old way of doing school after the Covid-19 pandemic is over.
Glenda Baker is the High School Deputy Principal at UNIS Hanoi. Glenda has also taught professional learning courses (Coaching Innovation and Introduction to Online Learning) and student courses (Graphic Design) at GOA. For more GOA resources related to learning online during the Covid-19 pandemic, visit our landing page. To learn more about how we support students and educators through online learning, explore our Student Program and Professional Learning services.