A Letter from GOA's Executive Director: Our First, and Next, Ten Years
One of the greatest losses during this past year has been the absence of the rites of passage that mark time, growth, tradition, and most importantly, provide a moment to reflect not just on where we are, but where we've been and where we're headed. For those reasons, celebrating GOA's first ten years is important to us. Taking the time to think about what we've accomplished over our first decade and appreciating where we are right now provides the perspective we need to be deliberate about where we're going.
When a group of schools gathered ten years ago at Lakeside School to discuss creating a new online learning program, nobody had a clear idea of what, exactly, we were creating. As our founding mission states, our charge back then was "to replicate in online classrooms the intellectually rigorous programs and excellent teaching that are hallmarks of its member schools." So, one employee, a handful of teachers, and a few dozen adventurous students began experimenting with online learning on a week-to-week basis. Those first GOA faculty meetings set the tone for how we evolved for years to come: We gathered to ask, "What's working? What's not working?" We shared information across classes and disciplines, and we supported each other in the shared purpose to create new ways for students to learn.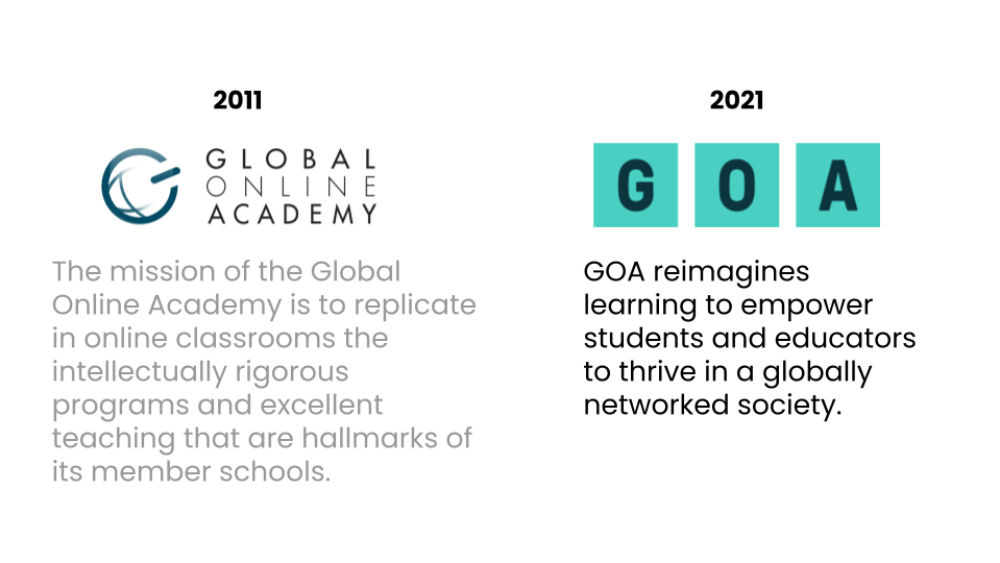 The context in which we exist today is different. There is a clarion call to address the systemic racism that exists in our society. Political division and nationalism are pulling people apart just when we need to be coming together. The impact of climate change will be a burden for this generation of students to solve. Education as a field is undergoing seismic shifts that are attracting new ideas and many new opportunities.

As an organization, because of our growth and strong global community, GOA has the capacity and skills to continue growing, to create superb programs, and to launch new opportunities that can help meet this moment. When we were accredited by the New England Association of Schools and Colleges (NEASC) in 2016, they told us we had fulfilled our original purpose, and so we launched our current mission: "GOA reimagines learning to empower students and educators to thrive in a globally networked society." That new mission helped us to focus our work not just on students, but educators as well, and it's what set us up to serve schools, educators, and students so well this past year.
One question that has consistently and continually guided GOA: How should we serve this moment? Education—and GOA—are at an inflection point that requires us to consider what guides us. Educators need to re-prioritize what drives students' educational experiences to focus on competency and mastery, personalized learning experiences, student health and well-being, and equitable learning environments.
Even as we adopted a new mission, we kept three core elements of our work. The first is that our courses and programs are intellectually rigorous. This was the bar that was set at the founding meeting, and one we've met. The second is that faculty would need to rethink their approach to how to design a great learning experience, which not only supported our own Student Program, but expanded outward to include teachers in on-campus classrooms as well. The third piece that has remained consistent and has grown considerably is our commitment to equitable learning. Through our competency-based learning work and commitment to social justice, we're dedicated to fighting systemic inequities in education and pushing educators to reflect on their practice. There is a lot of work that needs to be done to meet this moment, and we want to ensure that the pillars of GOA are fundamentally sound.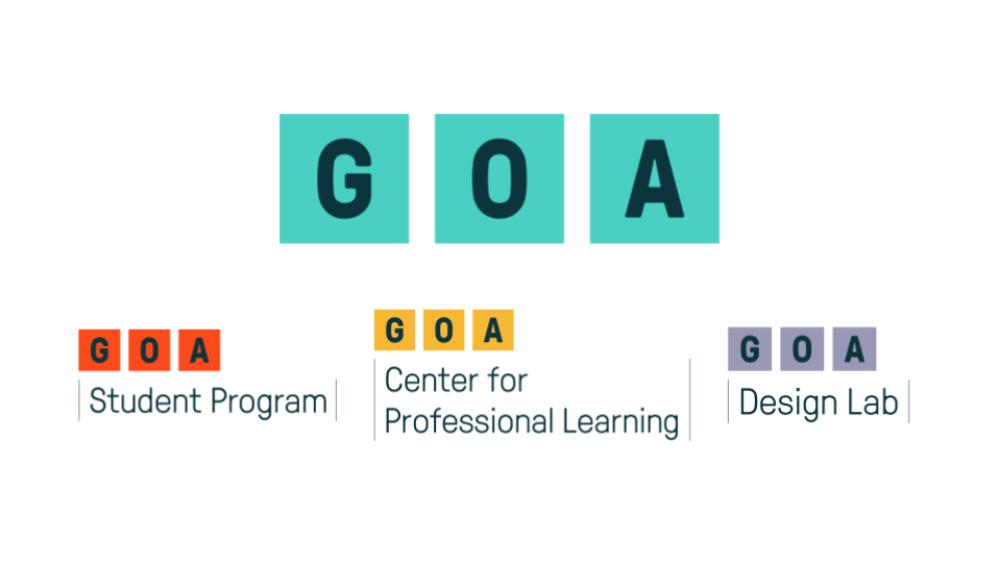 This is why we recently launched two new arms of GOA that will work in concert with our longtime work with students in our Student Program: our Center For Professional Learning, which designs and delivers programming that supports teachers and school leaders in refining their practice to improve student learning outcomes, and our Design Lab, which translates GOA's decade of experience building a world-class online program into a suite of products and services that empower school leaders.
The launch of the Center for Professional Learning is a significant moment in the history of GOA because there is a deep recognition that we can continue to take all we have learned from this disruptive period in education and move forward at scale. The Center of Professional Learning was established to serve as a hub for educational innovation: a place where educators can begin or continue their professional growth within a caring and supportive network; a place for strategic faculty development for schools; a place that will always elevate the voices of teachers; a place dedicated to creating equitable design practices; a place that is accessible in ways that serve busy teachers; a place that prioritizes practice over theory; and perhaps most importantly, in the world that continues to move rapidly and is increasingly technology-dependent, the Center aims to be a place that is human and prioritizes relationships.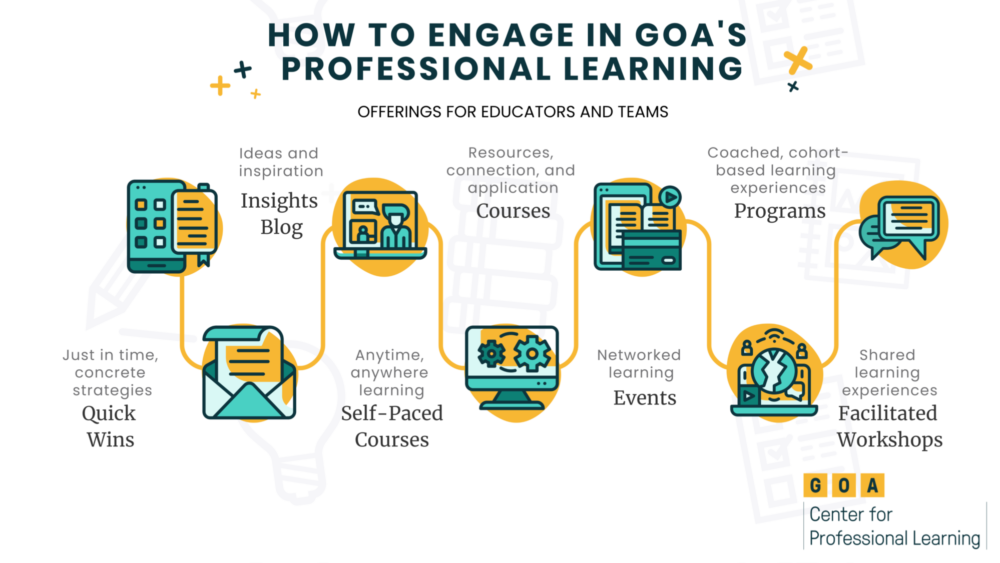 Most professional learning organizations exist separate from the lived experience of teachers and students. There are very few organizations with such a clear focus on what teacher learning means for students outcomes. GOA works directly with teachers and students. What we espouse and offer is what we are living and doing day in and day out, and one of the magical elements of the Center for Professional Learning is our commitment to teacher practice. Our hope is that our offerings reflect the world we all want to live in, learn in, teach in, and the world of education that we want to send our own children into.
We created the Design Lab because we know that now more than ever, schools have to expand their notion of when, where, and how learning can happen. School leaders need to reimagine systems and structures at their schools to prioritize equity and accessibility, increase flexibility and personalization for students and teachers, and expand learning experiences beyond the bounds of a physical building or daily schedule.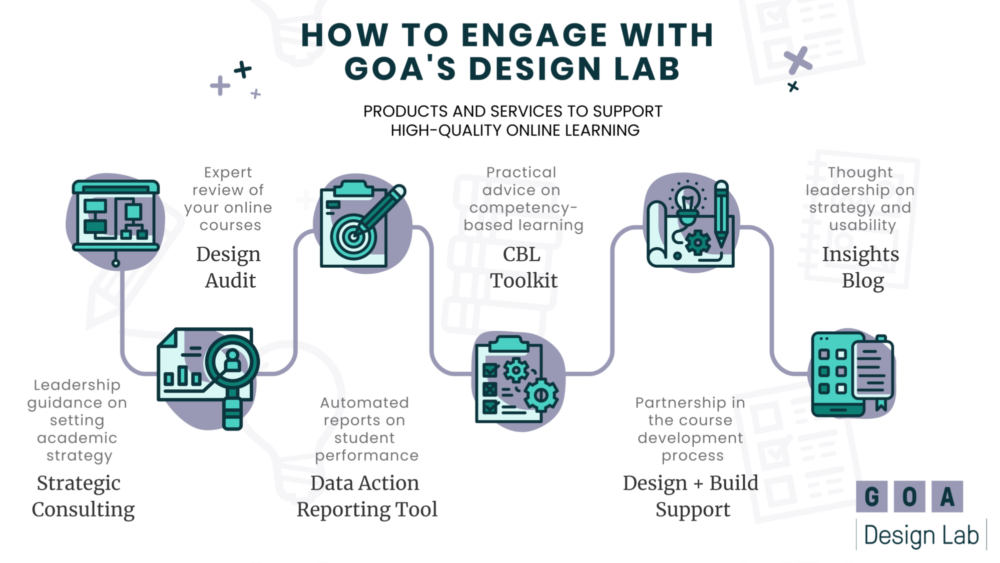 The Design Lab empowers school leaders to achieve three key goals:
Develop a vision and strategy for an expanded academic program.

Design and build learning experiences to support that vision.

Adopt reliable and research-based practices for assessing those experiences.
The last year has opened all of our eyes to the opportunities of this work, which are many, but we believe schools must approach these opportunities with intention and deep understanding of the learner experience. The Design Lab reflects our commitment to mission-aligned leadership and learner-centered design.
And, as always, we work in service of students. Our Student Program is committed to increasing access through diversifying its offerings. We are committed to designing equitable and inclusive learning environments that embody the spirit of global learning, and we'll continue our work
on competency-based learning as our strategy for elevating student voice and prioritizing deeper learning.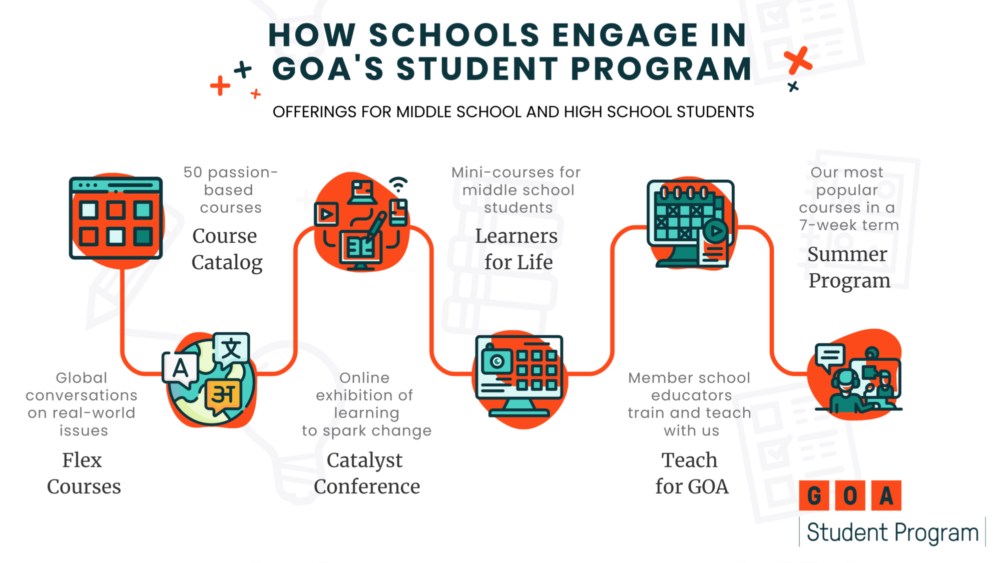 As we move forward, we're designing GOA to continue to meet the moment, which means meeting the needs of educators and supporting school leaders in the service of meeting the needs of students. We're ready for this work, and we're invigorated by what lies ahead. I hope you'll join us.
GOA reimagines learning to empower students and educators to thrive in a globally networked society. We offer passion-based online courses for students, networked professional learning for educators, and products and services for school leaders. While most of our offerings are available to all, GOA member schools have full access to our student course catalog, free access to educator courses, and a suite of other benefits. Learn more about becoming a member school.