The 2019 Catalyst Conference Guide
Global Online Academy's Catalyst Conference, an online event featuring student projects from around the world, runs April 25-29, 2019. We invite teachers to bring their students to the conference to learn from and engage with peers who are committed to making change in their communities.
Student presenters have been working on capstone projects in response to this prompt: How might I use what I've learned to spark change in my community?
When we first designed the Catalyst Conference, we knew there were some typical conference elements that we wanted to preserve and others we wanted to reimagine. For example, in our online conference we wanted to retain the feeling of choice: you enter a room (or in our case a page), and realize the content doesn't meet your needs or capture your attention, you are free to walk out (or click away).
On the other hand, being entirely online means freedom to reimagine what it means to attend and present at conference. From the start, we knew we wanted to leverage technology to expand conference attendance to a global audience, allow for engagement regardless of place or time zone, and put students and their interests at the center of everything.
Details
The Catalyst Conference is FREE and open to the public, not just GOA students and teachers. The website is: goaconference.org. The site will be updated with 2019 student projects on April 25.
The entire experience is online and happens asynchronously over the course of four days. There are no set times for events, no RSVPs needed, and there are no special accounts needed to join.
The 300+ student advocacy projects have been created by students in the following GOA courses:

Abnormal Psychology, Advocacy, Architecture, Bioethics, Climate Change and Global Inequality, Computer Science II: Analyzing Data with Python, Game Theory, Gender Studies, Graphic Design, iOS App Development, Medical Problem Solving II, Music Theory & Digital Composition, Positive Psychology, US History: Problem Solving Past & Present (a Head-Royce School course) and The American School in Japan's Marine Science course.

The conference's keynote speakers are author/activist Chessy Prout and filmmaker Mackie Mallison. Their conversations with GOA students will appear on the conference site during the event. Learn more about Chessy and Mackie.
Student presentation content is typically appropriate for late middle school, high school, and adult audiences.
We invite you to read earlier blog posts on the conference which introduce the concept and why we believe creating global learning opportunities through local advocacy projects is a critical factor in student engagement and project-based learning.
Just as there's no single way to use Facebook or buy a sweater online, there's no single way to engage with the conference. Once on the conference site, you and your students are free to explore, connect, vote, and share.
Here's an infographic to share with your students to help guide them.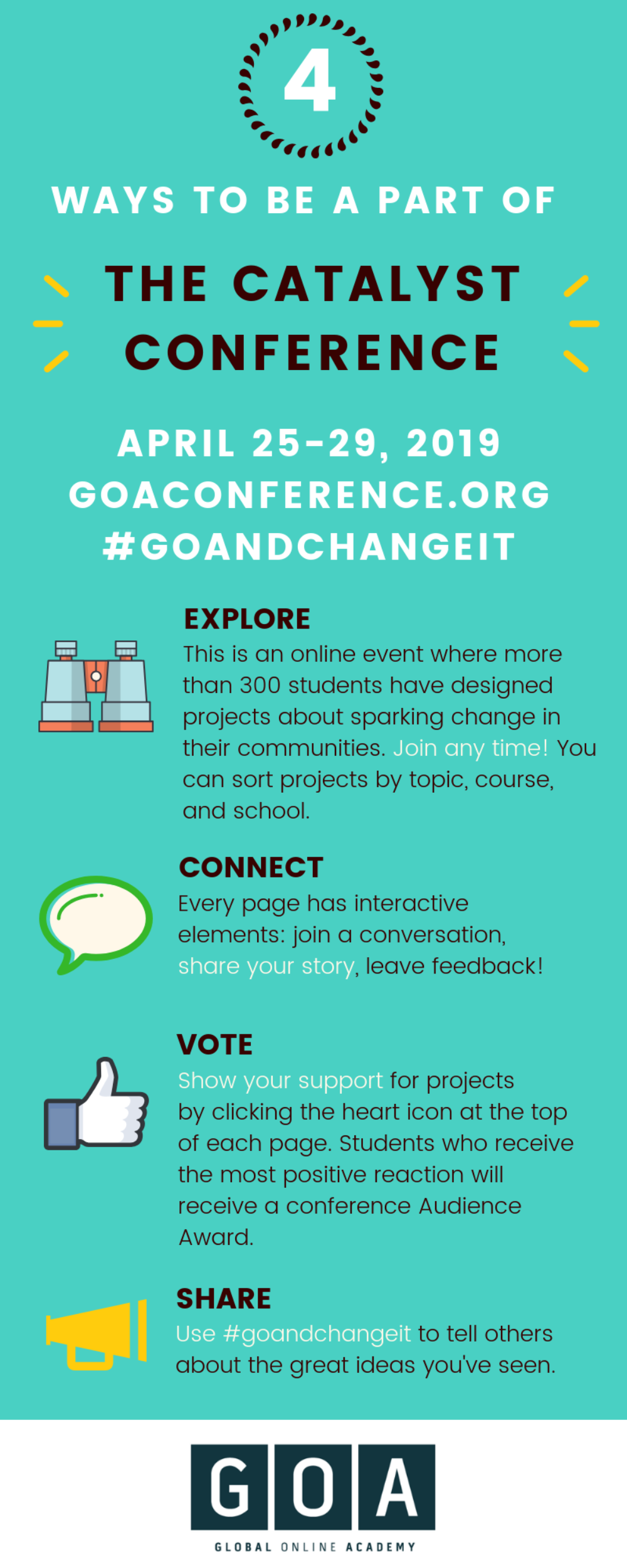 Reflective Questions
Students are better positioned than ever to become changemakers. We encourage you to sponsor a conversation among students and educators in your community. Some prompts:
How might we connect abstract, academic concepts to the real world?
How might we take real-world actions as part of our school experience?
How might we leverage people and resources in our local communities to support this work?
How might online spaces support and encourage this kind of experiential, project-based work?
The Catalyst Conference is one element of GOA's Student Program, which invites students from around the world to take online courses on the topics they care about most. We offer a variety of learning experiences for students. To learn more, follow us on Twitter and subscribe to our email list below.