Thinking of Embracing Competency-Based Learning? 6 Organizations to Know Now
The most interesting thing in education right now may be competency-based learning (CBL).
CBL allows students to show what they know through demonstrations of learning rather than pursuit of a letter grade earned through content knowledge and seat time. Many learning organizations adopting CBL aim to foster flexible pacing, to utilize new technology, and to encourage place-based experiences (internships, community-based work, externships, etc).
Both public and independent schools in the United States and internationally are embracing CBL. In addition, foundations and grantmaking institutions such as the Nellie Mae Education Foundation, the Bill & Melinda Gates Foundation, and the Edward E. Ford Foundation are supporting work that fosters competency-based learning and new assessments for learning across schools, districts, and school networks.
At GOA, we are following the work of leaders in the field (such as the ones listed below and beyond) as we design competencies and outcomes for 75+ student courses available to high school students in partner schools. Here are a few (of the increasing number) of organizations who are embedding competency-based learning as a core approach in schools.
Del Lago Academy's Competency X
In the fall of 2013, Del Lago Academy opened its doors to 9th and 10th graders and now serves 800 students. Del Lago Academy's core academic program immerses students in project-based and real-world learning in order to prepare them for college, career, and citizenship.
Formed out of experience working with students at Del Lago Academy, team members designed Competency X, an assessment system specifically designed for science and engineering disciplines that is co-developed with leading industry and college partners.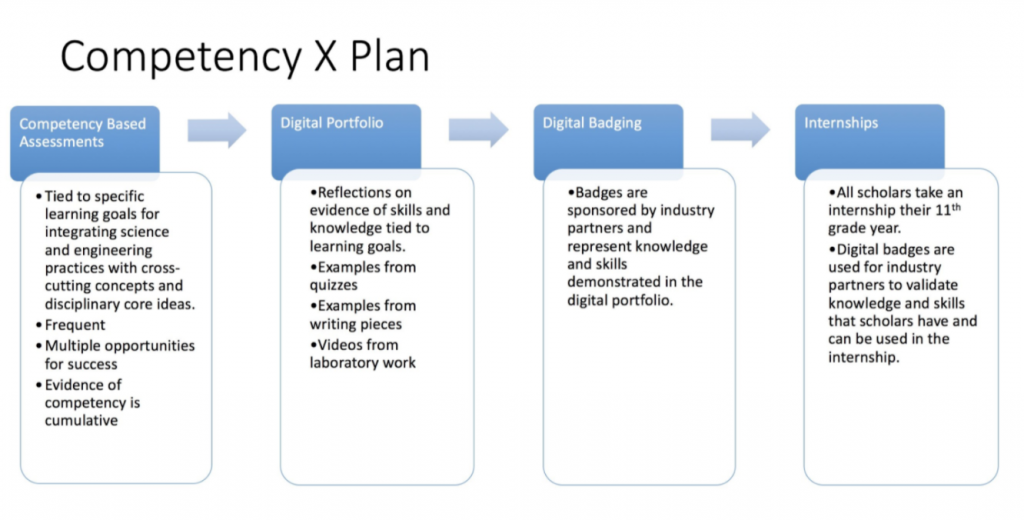 [Image from CompetencyX.com]
How do you introduce the idea of competencies to a team full of teachers? In the summer of 2016, the team behind Competency X started off by showing this clip from the movie Up. This is Russell looking to earn his Assisting the Elderly Badge to become a Wilderness Explorer.
How does learning work at Del Lago? Students have a digital portfolio that they use to track and reflect on competencies earned within science and engineering disciplines. Based on the Next Generation Science Standards, digital badges are validated by industry and college partners and are assigned when students meet specific outcomes.
A founding teacher at Del Lago Academy and Principal Investigator for Competency X, Alec Barron writes: "Digital badges that are validated by industry and college partners are assigned when our scholars meet specific criteria for these practices in their digital portfolio. The digital badges are used by scholars as evidence of their competency with the knowledge and skills required to be a scientist for their internships and their college applications. Our website will be a hub for this system."
De Lago Academy's Competency X received a grant from the Assessment for Learning Project (ALP) to support the implementation of Competency X. For more, see From Dinopocalypse to Digital Badges at Del Lago Academy from Next Generation Learning Challenges (NGLC).
Big Picture Learning
Big Picture Learning, a network of 65 schools in the United States and schools in the Netherlands, Canada, Australia, and Italy, has a foundational principle of emphasizing learning in the real world and student-centered learning. Many Big Picture Learning schools utilize competencies for assessment and "level up" students (the term used to describe a student moving up to a subsequent grade level) according to demonstration of competencies at student-led exhibitions and in project work.
Student exhibitions occur quarterly and are often over an hour long. Exhibitions feature a student sharing independent and internship-based project work, demonstrating competencies, and reflecting on personal qualities developed throughout the quarter. The exhibition audience is comprised of peers, parents, and mentors who collaborate and support student project work at local businesses, nonprofits, and other community-based organizations as well as advisors, staff, and community members.
Many Big Picture Learning schools have developed competency-based and narrative transcripts to showcase learning for graduation and college admission. Highline Big Picture High School, a school where I worked, developed a competency-based transcript and was granted a waiver from the state of Washington in 2011 to graduate students based on competencies rather than traditional credits associated with seat time (often referred to as Carnegie units).
For a deep analysis of Big Picture Learning results, see: Post-secondary Outcomes of Innovative High Schools: The Big Picture Longitudinal Study led by Boston College professor Dr. Karen Arnold.
Da Vinci Schools
Da Vinci Schools is a charter network based in the Los Angeles, California, area that serves 2,100 students across middle and high schools. Da Vinci RISE School is one of 10 schools in the United States to win the XQ Super School grant to reimagine high school. (The XQ Super School initiative is funded by Laurene Powell Jobs, widow of Apple co-founder Steve Jobs and founder of the Emerson Collective. The initiative is funding 10 new public high school models, providing each school with support and $10 million over the next five years).
The RISE model, launching this fall, will encourage and foster learning outside of traditional time and space constraints. For example, not all learning experiences will take place in one central school building. Instead, students will learn in partner locations and will have flexible schedules to accommodate their interests and personal needs.
RISE High has taken an active role in developing community-based partners to support the learning. Partners include Belkin International, Children's Law Center of California, College for America, ExED, Pepperdine University Graduate School of Education and Psychology Doctoral Program in Learning Technologies, School on Wheels, Schools That Can, Southern New Hampshire University, and Wiseburn Unified School District. For more, see Personalization and Projects=Deeper Learning at Da Vinci.
Southern New Hampshire University
Designed to serve working adults, Southern New Hamppshire University (SNHU) offers competency-based degree programs (not simply credit hours) to allow students to complete degrees.
There are no courses, no credit hours, and no grades. The tuition cost is $2,500 per year, all inclusive. Coursework is online and flexible, allowing students to learn at their own pace and time and in locations that work well for them. Students demonstrate mastery in 120 competencies across three areas: Content Knowledge, Foundational Skills, and Personal and Social Skills.
Learn more about how it works in this interview with Paul LeBlanc, President of SNHU.
Both Big Picture Learning and Da Vinci Schools are College for America partners. College for America also has a robust list of business partners, including Aetna, Comcast, and McDonald's.
Deeper Learning Network
Big Picture Learning (see above) is also one of the networks that is part of the Deeper Learning network of schools and organizations which also includes EL Education, High Tech High, Envision Education, New Tech Network and Buck Institute for Education, among others.
Schools emphasize deeper learning outcomes include mastery of core academic content, critical thinking and complex problem solving, collaboration, communication, learning how to learn, and development of academic mindsets.
Many schools within the Deeper Learning network utilize competency-based learning as a way to assess student progress and demonstrations of learning. Assessments, for example, may take the form of exhibitions, student-led conferences, performance-based assessments, and portfolios.
The following videos feature students discussing public presentations of their learning.
The team behind Deeper Learning, including the folks at High Tech High, a charter school network in California (the school was featured in the popular documentary film, Most Likely to Succeed), have also started collecting evidence and artifacts of what learning looks like at #ShareYourLearning on social media and on their website. Learn more at ShareYourLearning.org.
Mastery Transcript Consortium
Competency-based learning is finding roots in the independent school world, too. The Mastery Transcript Consortium, founded by Hawken Head of School Scott Looney, began this past March and now has well over 100 member schools. GOA is proud to be both a member and professional learning partner of the MTC, which is dedicated to reimagining the high school transcript to better represent and inspire deeper student learning.
During the 2017-18 school year, MTC with bring together site directors — academic leaders from member schools charged with leading the integration of a mastery transcript on campus —  to contribute to the growing body of knowledge around competency-based learning at independent schools. In addition, the MTC will continue its work on the design of a technology platform that supports member schools and beyond. Read more about the work of the MTC.
Additional Resources
New Hampshire Department of Education State Model Competencies
Students at the Center Hub Competency-Based Education Toolkit
reDesign Mastery Learning Guides
Adopting Competency-Based Learning: 4 First Steps for Teachers and Schools
Competency Works blog and resources
Global Online Academy (GOA) reimagines learning to enable students and teachers to thrive in a globally networked society. Professional learning opportunities are open to any educator. To sign up or to learn more, see our Professional Learning Opportunities for Educators or email hello@GlobalOnlineAcademy.org with the subject title "Professional Learning." Follow us on Twitter @GOALearning. To stay up to date on GOA learning opportunities, sign up for our newsletter here.