What Is Competency-Based Learning For?
What is the purpose of school?
Both research and practice have taught us that deeper learning results from students finding value and joy in rigorous, relevant learning experiences. Students should view school as a place where they can realize their visions for themselves, a place populated by people who care about them and who can help them succeed in achieving their goals.
Competency-based learning (CBL) asks schools to align their work to clearly articulated skills that are essential to college, career, and life. A shared commitment to these skills among students and educators drives decisions about the design of the school experience, including what, when, where, and how students learn. For many schools, this can mean rethinking systems, cultures, and pedagogy.
This is challenging, complex work. In our ongoing work to transition our Student Program to competency-based learning, GOA has identified six core competencies for students and five core competencies for our faculty. Our teachers are collaborating with students to design learning experiences aligned to those competencies. We've just launched a new CBL Toolkit designed to empower teams of educators to launch CBL in their own schools and classrooms.
What is the purpose of this work? Why does competency-based learning matter to us? Why should it matter to you? At GOA, we believe CBL offers a pathway to achieving three essential goals of modern learning: agency, equity, and transfer.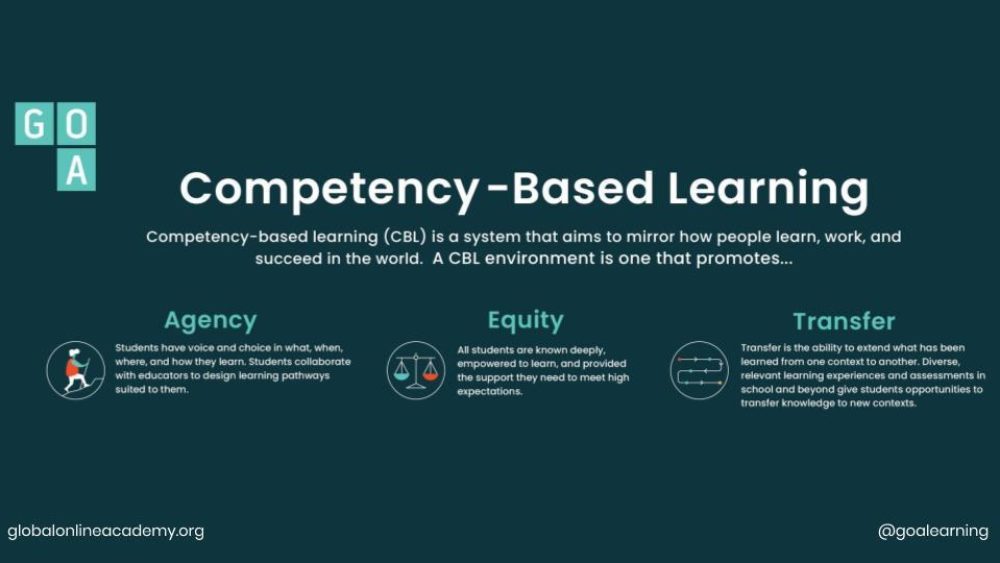 Agency
Research in cognitive science has taught us that students learn in a deep, lasting way when they feel ownership and a sense of success in doing complex tasks. In CBL experiences, students make important decisions as part of the learning process, meaning they have voice and choice in what, when, where, and how they learn. In a culture of student agency, students play essential, public roles in both academic and nonacademic contexts. Students routinely present high-quality work in public forums and can clearly articulate the impact of that work on their learning. Students collaborate with educators and/or advisors to design learning pathways suited to who they are and what they need to learn. Students are self-advocates who can articulate visions for their success and design plans for making their visions a reality. The role of adults is mentorship and coaching: we guide students in developing the skills they need to drive their learning.
Equity
CBL fights systemic inequities in education by meeting all students where they are. All students are known deeply, empowered to learn, and provided the support they need to meet high expectations. CBL school cultures nurture a sense of belonging and positive self-concept by prioritizing psychological safety for all students and educators. Academic programs are focused on individualized learning plans, time and space for reassessment, recognition and celebration of students' unique experiences and backgrounds, and development of cultural competency in all students and educators. CBL's focus on making school a positive experience for all leads to a culture of care with deep student support systems, disciplinary practices that focus on restorative justice, and development of diverse teams of educators.
Transfer
Transfer is the ability to extend what has been learned in one context into other contexts. Like agency, it is an essential component of the rigor that leads to deeper learning. Focusing on transfer can significantly impact the design of academic programs, courses, and assessments. Students in CBL experiences regularly apply knowledge gained in academic contexts to the issues facing their communities, their lives and families, and the world. CBL schools are thinking differently about time and space in order to support transfer. They build flexibility into schedule, calendar, and physical space to allow for more diverse, complex applications of learning. They take a networked approach, engaging community partners, expert mentors, and other learning organizations to broaden and diversify students' opportunities to transfer their knowledge into new contexts. CBL schools emphasize, celebrate, and support student work that aligns with targeted competencies and represents core values.
CBL is Purpose-Driven
Ultimately, we want schools to be places that foster agency, equity, and transfer. As a global learning organization, we see and hear about so many exciting new initiatives at schools: innovative pedagogy, culturally responsive curriculum, real-world learning, modern spaces and technologies, social emotional learning, and more. We see CBL as a way for schools to organize and align these priorities in a single system defined by the competencies and learning outcomes they want students to achieve. By connecting work in school to the skills students will need in the world beyond it, schools give students the chance to do work that matters to them and to experience authentic challenge.
How do you design for agency, equity, and transfer in your classroom or school? What role does competency-based learning play in advancing student learning outcomes? We'd love to hear from you. Email us at hello@globalonlineacademy.org and find us @GOALearning on Twitter.
This post is adapted from the handbook in our Competency-Based Learning (CBL) Toolkit.