Six Ways School Teams Can Reflect on Pandemic Learning
As the academic year winds to a close, school teams will want to consider reflection as a way to conclude the year, offering protocols or frameworks to reflect on what has been accomplished and to share enduring learnings from over a year in pandemic learning. This year, perhaps more than any other in most teachers' careers, brought shifts that have potential long term impact, requiring teachers to respond flexibly and continuously upskill, all while managing unknowns at school and at home.
We are sharing ideas that you can put into place as you close the year. These ideas are based on our experience working with schools this year in our professional learning courses and synchronous workshops. These reflection activities help us elevate what practices we want to continue and practices we seek to shift. And they help us consider how we want to begin anew at the start of the next school year. Here are six ways school teams can reflect, together, on pandemic learning.
Create time to self-reflect and share
Consider beginning with reflection by providing time for your team to self-reflect. Ask participants to identify a visual for the following three prompts:
In early 2020, I was here…

Today I am here…

At the start of the next school year, I want to be…
At GOA, we completed this activity as a team using emojis but you can have people do a visual drawing, use photos from their phones, or even use gifs. Although this is a lighthearted exercise, the purpose is to get everyone sharing and to see what common themes might be elevated across your team. This could be done in pairs, in small teams, or as a larger group. We used a group Padlet to post our responses.


Affirm what we admire in colleagues
Consider taking time during a staff meeting to ask the following prompt: think of a colleague or colleagues (in your own department or someone else from the school) who navigated this past year in ways you admire.
What traits did they demonstrate that you admired?

How did you see those traits in action?
Take a few silent minutes to list and think and then share. Then, ask participants to take a moment to scan the list. Discuss: What themes and priorities emerge?
Ask, "What will we start? Stop? Continue?"
Many educators have used a Start/Stop/Continue protocol at some point in their classrooms. The protocol we offer goes a step further, and asks people to jot down ideas before committing to Stops, Starts, and Continues.
Here are some questions you could ask educators on your team to prime their thinking BEFORE leading a Start/Stop/Continue exercise.
What have you tried this year that you hadn't tried before? (consider: community, relationships, assessment, grading, experiences, tools, etc)

What is something that's working? What new tools can you use and what new skills do you now have?

What is something you're proud of?
Create a permission slip
We've all been asked to do a lot in response to pandemic learning. Teachers have tried new tools and approaches, and one reflective approach is to encourage colleagues to give themselves permission. Using this slidedeck of templates, invite teams to create and share their permission slips in community. Ask these questions in a meeting:
What do our permission slips say about our team's priorities?

How might we support one another in abiding by our permission slips?

What is left out?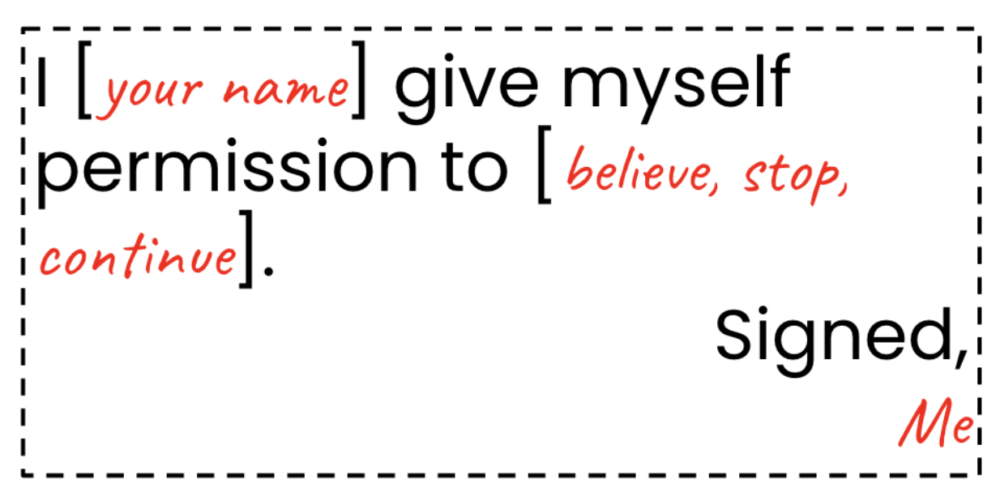 Interview a colleague
Interview a colleague on their pandemic experience. Use this as an opportunity to make space for elevating colleagues' growth and successes. Share out takeaways from those interviews in teams:
What do we notice?

What do we wonder?

How might our takeaways serve as starting points for launching our next year with purpose?
Engage in a team discussion
Invite reflection via a shared experience. Frame a reflective team discussion using a protocol or thinking routine such as the Compass Points Thinking Routine and the Modified 4As Protocol. We offer a few suggested articles for discussion here:
What has the pandemic has shown us about schools? (Watch, 5 min) Dr. Bettina Love shares reflections on teaching and learning post-pandemic and what is now possible. The full webinar (90 min) can be viewed here.
3 Reasons I'm Hopeful About the Future of Education — in 2021 and Beyond (Read, 7 min) In this short Edsurge article, Kelly Keane highlights hopeful takeaways from the pandemic.
Schools after COVID-19: From a teaching culture to a learning culture (Read, 8 min) Jeff Spencer offers priorities emerging from the pandemic with a lens to the role of technology.
Tricia Ebarvia's Twitter Thread (Explore) Tricia Ebarvia posed two questions on Twitter, "What is something that your school or district has done in response to pandemic teaching that you would like to see carry over into post-pandemic schooling? And what is something you have learned as a result of this pandemic that you want schools to do differently?" Over one hundred responses that followed offer inspiration for takeaways.
Rules or Agency? What's in Your Remote Learning Plan? (Read, 8 min) Jennifer Davis Poon offers considerations for mindsets supporting sustainable systems for student agency.
Moving Beyond "Managing a Crisis": Leading Schools into a Post-COVID World (Watch, 40 min) GOA hosts a panel presentation featuring three school leaders who share reflections on their schools' experiences and on their approaches going forward.

As we conclude the year, GOA is offering two new facilitated workshops for school teams to reflect on pandemic learning and to define and design post-pandemic learning: Start/Stop/Continue: Reflecting on Pandemic Learning and Nuts and Bolts: Designing Post-Pandemic Learning. Check out our Workshops and fill out the form if you are interested in having the GOA team facilitate a workshop for your school team.
How are your teams capturing their pandemic reflections? What protocols are guiding your conversations and your takeaways? If you use any of these ideas or have others, tweet us @GOALearning or use the #GOALearning hashtag.