What Do Students Expect From Online Learning? We Asked Them.
In late 2019 and early 2020, at the beginning stages of the COVID-19 pandemic, GOA began enrolling for its summer 2020 term. Around the same time, schools across the world shut down and shifted to online learning. Suddenly, almost every student at every school became familiar with online learning.
Then, over the following months, summer enrollments at GOA started to heat up. Our summer program enrollment exploded over 500% year over year. With this growth we were curious… Given the pandemic, given the recent experience with online learning, given the summer season, what were these students' expectations for online learning? As part of our summer program orientation, we decided to ask them. Eight hundred students responded.
As many schools look to begin this school year in online or hybrid formats, we felt that it was important to share the results as a way to elevate voices that are too often missing in the reopening discussion: those of students.
So, what do they hope to see when approaching an online course?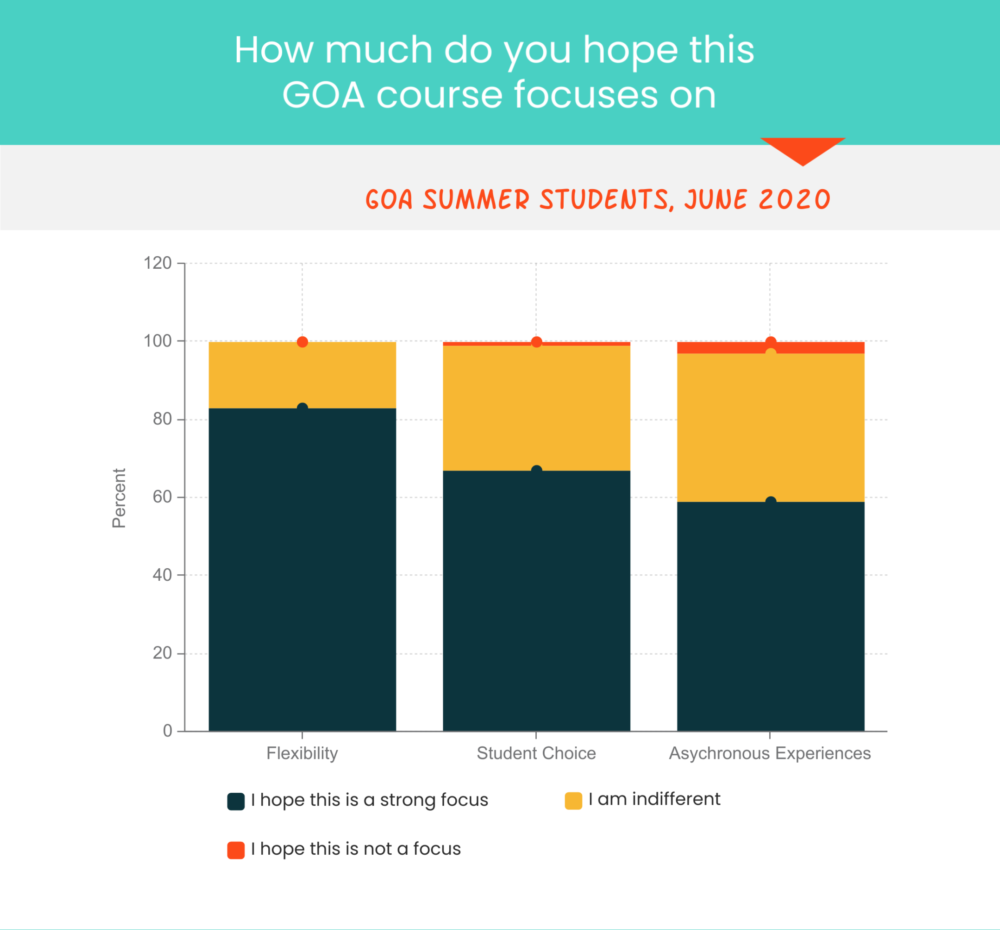 1. Flexibility
82.54% of GOA's summer program students hoped that "flexibility" would be a strong focus of the GOA course. Only 0.38% said they hoped it wasn't a focus and the remainder were indifferent.
2. Student Choice
67.09% of students hoped that "student choice" would be a strong focus of the GOA course. Only 0.50% said they hoped it wasn't a focus and the remainder were indifferent.
3. Asynchronous Experiences
58.92% of students hoped that "asynchronous experiences" would be a strong focus of the GOA course. Only 2.89% said they hoped it wasn't a focus and the remainder were indifferent.
We also asked students about global connections, synchronous experiences, and making friends. Students' interest in each of these was strong but less definitive than the three areas mentioned above.
4. Connection

We prioritize relationships at GOA, so we also asked about student expectations in this regard. Specifically, we asked students about their expectations of feeling "connected" to their peers and their teacher during this online class. We purposefully used the word "expect" in our prompt because we were more concerned about understanding students' mindsets coming into the course. We could have asked students about past experiences with online learning, but we believed the forward-looking approach of focusing on expectations would help us best serve students.
In each case, an overwhelming majority of students expected to feel connected to both their peers (83.17%) and teachers (93.47%).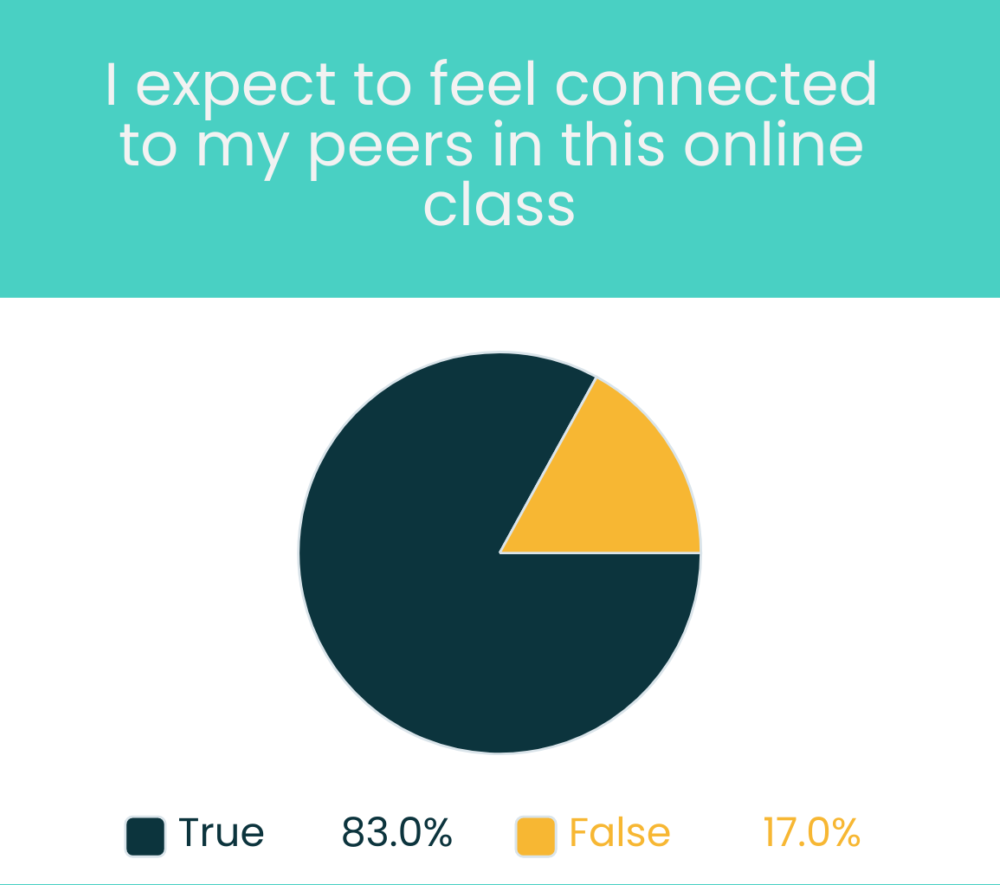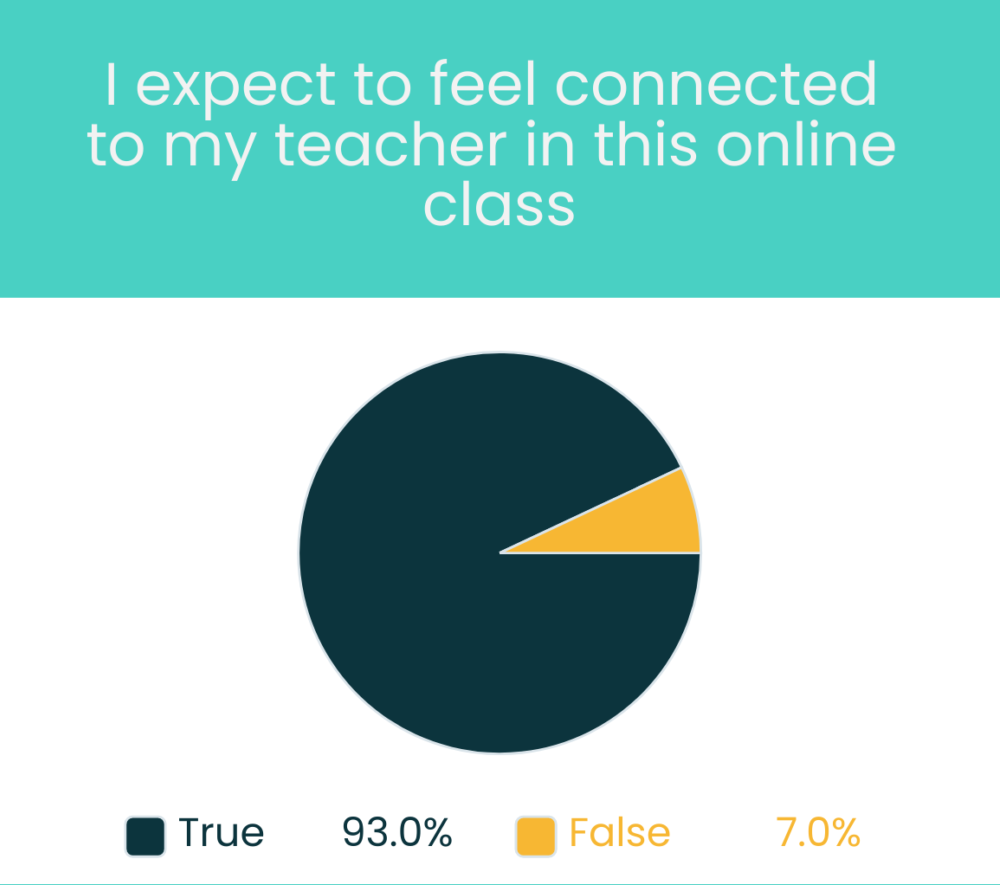 This data is not a scientific study of how students view online courses. It does, however, capture their sentiment at a critical moment in time, an unprecedented time when almost all of them are experiencing online learning in some form.
Student data and feedback like this play a critical role in the design and evolution of GOA's programs. We survey students twice a semester to better leverage student voice and improve instructional design. We recently wrote about our findings from this data as it relates to relationships in online classrooms. Informally, our teachers are trained to regularly implement reflective check-ins to support the elevation of student voice and feedback in their online class.
We value student voice and will use this data to train teachers, influence our instructional design, and better empathize with students. We hope that this data can contribute to how you approach your online/hybrid learning this year. Even better? Poll your students themselves and share what you find with us on Twitter. We'd love to hear.
GOA's Student Program offers high-quality, passion-based online courses to high school and middle school students. Our summer courses are open to all students, and our school year courses are open to our member schools. To inquire about becoming a member school, click here. For more resources on designing online learning experiences, visit our COVID-19 hub.