What Research Does—and Does Not—Tell Us About Online Learning
"How do I know I'm doing this right?"
Since the COVID-19 pandemic drove so many of us to online and hybrid learning, educators ask me this question probably more than any other. It's an important question. It's also a request for reassurance. For months, educators and school leaders have been designing online and hybrid learning experiences under difficult conditions, without the time, support, and experience they usually associate with good planning. They want to do right by students and their families, and they are seeking guidance. Often, the guidance they want is research on effective online learning.
Below, I've gathered some of the research-based ideas and resources that drive GOA's work and that we've been sharing with schools. One important caveat: while research has played a critical role in GOA's understanding of and approach to high-quality online learning, it is not the sole resource we draw from. In general, educators have to use a critical eye when analyzing and incorporating research into practice. While there are many ideas and strategies that can be recommended by research, they should be just one tool of many that we use in understanding our work, including ongoing analysis of data and feedback from students and teachers.
What Research Doesn't Tell Us About Online Learning
There is not a large amount of research done on online learning in preK-12 environments. One reason is that, pre-COVID, online learning simply wasn't that common in schools, especially in formats where the efficacy of online learning could be compared to that of in-person learning. Most of the research has been done in higher education, where online learning is far more commonly used as an instructional tool. Further, the research we do have on the efficacy of online learning has not reached a consensus that online learning is "better" or "worse" than in-person learning. A search for a "silver bullet" in the research will be a fruitless one.
It's also critical that we acknowledge the unprecedented context in which we now live. A global pandemic has forced schools to move online quickly, with minimal preparation for teachers, students, and families in how to teach and learn online effectively. Protests for racial justice, environmental crises, and an historic U.S. presidential election add to the complexity in which education is happening right now. We should be skeptical of any attempts to make sweeping, "research-based" statements about how to navigate the current moment. As cognitive psychologist Daniel Willingham argues, the best we can do is use research to make educated guesses about what will work at this unique time, then learn from what we implement.
What Research Does Tell Us About Online Learning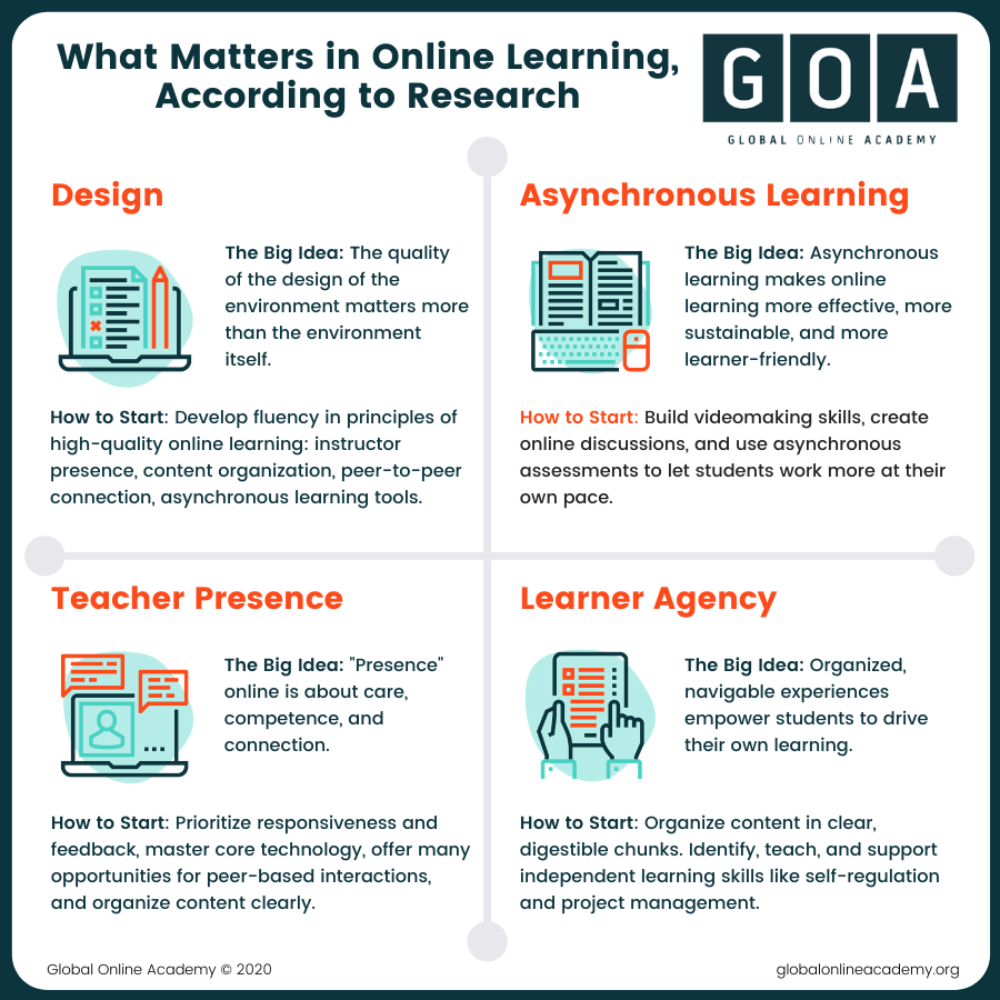 What useful insights can we glean from existing research on online learning?
What Research Tells Us About Learning
Because research on online learning is limited, we must expand our exploration to where there IS a robust body of research: in understanding how people learn. Four key ideas to get started:
There are also many engaging, accessible book-length options like Culturally Responsive Teaching and the Brain, Make It Stick, and Why Don't Students Like School?.
When we incorporate research on learning into our understanding of online learning, we find ourselves on firmer, more evidence-based ground. Research tells us that learning happens in well-designed environments in which students do cognitively complex work that has meaning and purpose, supported by a teacher who is fluent in relevant content and technology. In order to learn deeply, all students must experience a sense of belonging and agency, and all students must have access to necessary resources. Schools that are implementing online or hybrid learning should be assessing the effectiveness of their tactics against these research-based ideas.
Time is a precious commodity in schools. When it comes to research, it's probably more productive to stop seeking validation from existing research and instead commit to rigorous action research, studying the effectiveness of our work as it happens with the goal of ongoing reflection and improvement. This forward-looking, community-based approach is a better fit for navigating the uncertainty of this moment.
To learn more about and to practice research-based strategies for high-quality online learning, join one of GOA's educator courses or sign your team up for one of our facilitated workshops. For more free resources on online learning during COVID-19, visit this landing page.