How Do We Make Feedback Impactful and Sustainable? Ask Me Anything Live Event Recap
On September 27, 2022, GOA held an online panel discussion as part of the Ask Me Anything live event series. Facilitated by Sara Tahir, Associate Director of Professional Learning at GOA, the event featured an educator panel that discussed making feedback more impactful and sustainable to support student learning.
Joining Sara on the panel included Bowman Dickson (math teacher at St. Albans School and co-author of "Feedback in Practice"), Alexis Wiggins (curriculum coordinator at The John Cooper School and author of The Best Class You Never Taught), and Katelyn Williams (GOA faculty and middle school counselor at Greensboro Day School).
Watch the full event recording here or continue reading for an event summary with short video highlights.

Sara opened the discussion by reminding everyone that GOA's educator competencies were launched last year as a professional learning framework that represents the essential skills educators need to successfully support student learning outcomes, and that this event will dive deeper into the Assess for Learning competency by focusing in on the practice of feedback.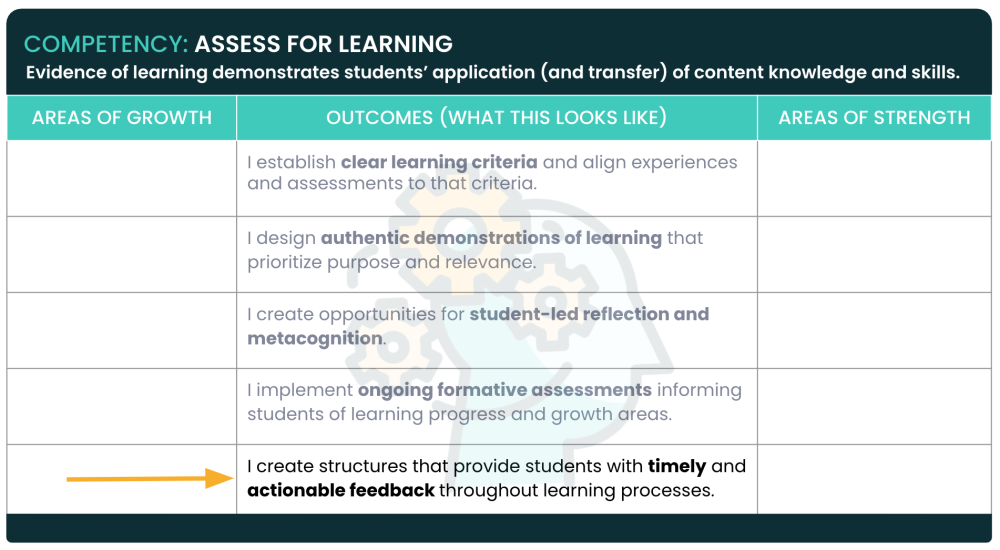 The conversation commenced with the panelists sharing their experiences and insights on feedback practices. The panelists covered the following questions:

What are the feedback moves that make an impact?

How do we know that the feedback we're providing is effective?

What are some strategies we can use to ensure that students are processing and applying the feedback they receive?

How can we manage what, at times, feels like an insurmountable feedback load?
Throughout the discussion, the panelists provided specific strategies and examples for individual teachers who are looking to make shifts in their feedback process.

Infor­ma­tion that can trans­form stu­dents' learn­ing expe­ri­ence, Kate­lyn Williams
Some­times more is less when it comes to feed­back, Bow­man Dickson
Using port­fo­lios to track growth and self reflect, Alex­is Wiggins
Watch the full event recording here.

For more, see:
Interested in professional learning opportunities to grow your feedback practice? Check out these offerings from GOA:
Design a Feedback Ecosystem (Workshop) | This is a 60-minute Zoom workshop designed to fit in your school's schedule, this synchronous experience facilitated by a GOA coach supports your school-based team in understanding the what, why, and how of making feedback impactful and sustainable.

Redesign Rubrics (October 31 - November 1) | This is a two-day, asynchronous course with highly curated resources, examples, and action steps for redesigning how you create and use rubrics. You'll leave with a student-centered plan for designing and using rubrics to empower students to understand learning criteria, to reflect, to give and receive feedback, and to self-assess. Free for members.

Redesign Discussions (November 14-15) | This is a two-day, asynchronous course with highly curated resources, examples, and action steps for redesigning how you create and facilitate discussions. You'll leave with a student-centered protocol for your next discussion that empowers students to join, lead, engage, and reflect. Free for members.
GOA serves students, teachers, and leaders and is comprised of member schools from around the world, including independent, international, charter, and public schools. Learn more about Becoming a Member. Our professional learning opportunities are open to any educator or school team. Follow us on LinkedIn and Twitter. To stay up to date on GOA learning opportunities, sign up for our newsletter.