Students Lead Projects to Improve the GOA Experience
GOA is incredibly proud of its very first GOA Student Advisory Council cohort. These 26 student leaders from eight US states and five countries helped to improve GOA by completing team projects aligned with our organizational structure – Student Program, Professional Learning, Design Lab, Equity, and Operations. Check out each team's findings below and the impact they made at GOA with their recommendations.

Student Program
The student program team members were trained on how to lead student focus groups. Over two weeks, each team member held an online focus group with their peers to better understand the GOA student experience. Through these focus groups, GOA learned about the aspects of the student experience that were not captured in the online survey provided at the end of each term. From the concrete ways that teachers created connections to the difficulties of navigating time zones in group projects, our council members created a space and time for our learners to share in-depth feedback. As a result, GOA has already adopted several recommendations from the council members, including a returning student orientation and additional support around collaborating with peers in varying time zones.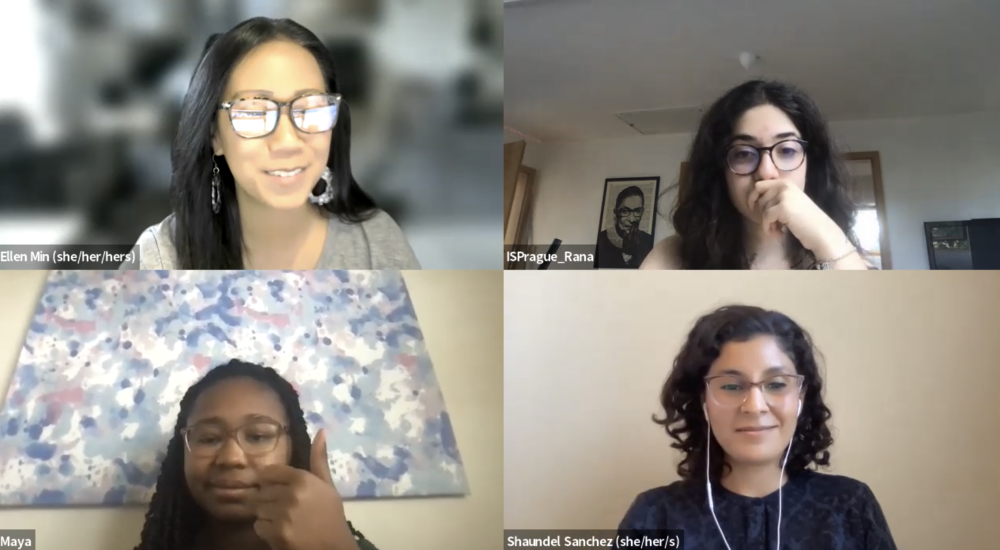 Maya of Savannah Country Day School stated "Participating in focus groups allowed me to meet some new people that I could relate to on multiple levels! It was really fun to help GOA become the best program it can be, while working with some really cool people at the same time!"
Professional Learning
The Professional Learning student team stepped out of their student shoes and into the shoes of our global faculty. Through teacher empathy interviews and an assessment of resources created for teachers, our student leaders were able to understand the teacher experience better.

Alyssa of Kingswood Oxford stated, "It was fascinating to learn about GOA from the perspective of a teacher, and overall what teachers would want from GOA. It was an amazing opportunity to be able to work and collaborate with people from all over the world, and I am so glad that I got to make an impact on GOA. I hope that with the work we have done with teachers, they have become more passionate about their work, and feel more supported while doing so!"
Design Lab
The Design Lab student team became user experience (UX) designers. After running focus groups and reviewing GOA courses, the council members came up with recommendations on how teachers can improve student well-being in their courses.
John of Germantown Friends School, "As a member, I have contributed to the growth of GOA through interviewing peers, looking through the curriculum of classes with lenses of UX design, and more. Overall, it has been a great and beneficial experience to my personal growth and I really hope that I will be able to participate again."
Equity
The equity team completed a deep dive into equity in the global context before putting on an equity lens to examine GOA programs. Through a Start, Stop, Continue protocol, students recommended ways to promote greater access and opportunity for all who join the GOA learning community.

Shreya of the American School of Bombay shared, "As a part of the equity committee, I have learned how equity in a global context refers to being involved in conversations regardless of where one is located."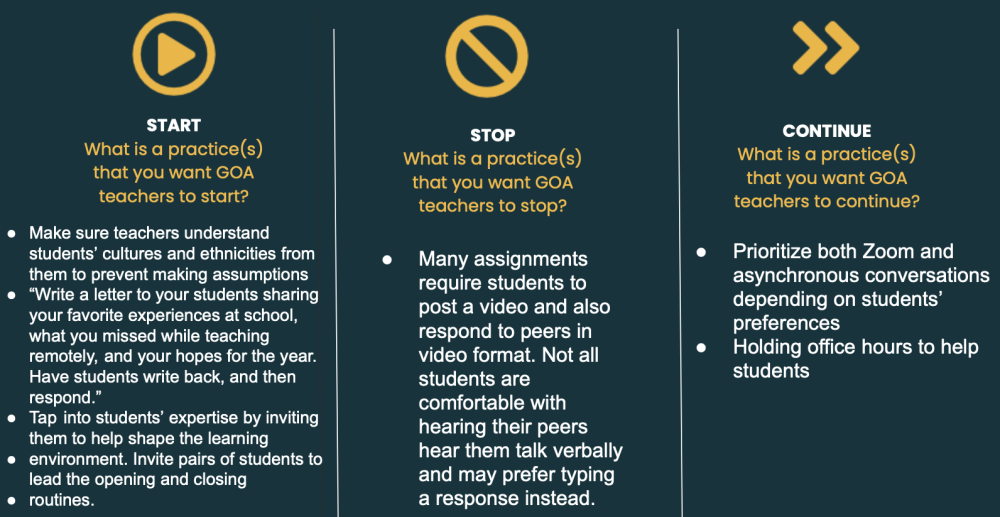 Operations
GOA students may not be aware of the behind-the-scenes operations that keep our programs running smoothly. The operations team looked at how GOA creates the systems needed to enroll learners in our courses successfully. The student registration portal was getting a much-needed revision, and GOA was so grateful to have the operations team test, review, and provide UX feedback.
Lucas of Catlin Gabel School said, "As part of the Operations team this year, I learned about UX design by evaluating GOA's student registration portal. I gained a new competency by reviewing a website with the goal of improving the user experience. While working through the process of updating student demographic information, I identified two areas for improvement: adding or changing "race" would be more intuitive by implementing a drop-down menu, and "other" should be listed in the pronoun section or more pronouns added...Working on my project, I learned the real world lessons of improving the user experience online, documenting my recommendations, and providing feedback to teammates."
Looking Ahead
After a successful first cohort of the GOA Student Advisory Council, we are thrilled to continue this student leadership program. All enrolled GOA students will receive an email in September with an application to join our November or April cohorts. Our global student leaders will continue to make lasting contributions to GOA through their voice and insights, and we hope our council members will add to their global network and gain new, transferable skills for their continued learning outside of GOA.

For more, see:
This post is part of our Student Spotlight series, where we feature stories from students who take GOA courses. Are you a current or former GOA student who would like to be interviewed for a Student Spotlight article? Or, are you an educator who has a recommendation for a student for us to feature? Email us at hello@globalonlineacademy.org with the subject title "Student Spotlight."
GOA serves students, teachers, and leaders and is comprised of member schools from around the world, including independent, international, charter, and public schools. Learn more about Becoming a Member. Our professional learning opportunities are open to any educator or school team. Follow us on LinkedIn and Twitter. To stay up to date on GOA learning opportunities, sign up for our newsletter.