Celebrate Students! How to Participate in the Catalyst Conference
Global Online Academy's sixth annual Catalyst Project & Conference (April 22-26, 2021) is its largest event yet, welcoming over 550 students from 96 schools around the world. This year, we're thrilled to be bringing together students taking courses at GOA and students taking courses at GOA member schools Head-Royce School, American School in Japan, The Downtown School, Savannah Country Day School, Providence Day School, Cranbrook Schools, and American International School Chennai.
The conference is free and open to the public. Please bookmark and share the conference website: goaconference.org. We ask conference attendees to show their support for students by engaging with their exhibitions. Below, we offer some background and some tips for participating in the conference.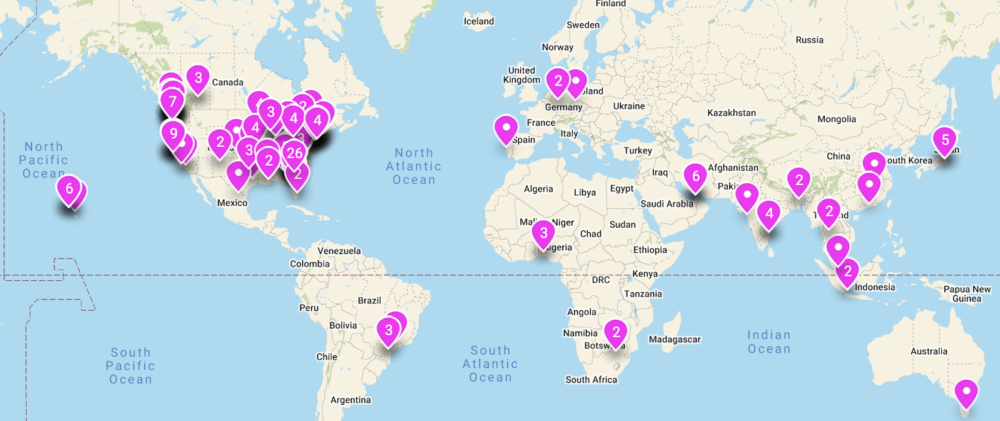 The Catalyst Conference Celebrates Student-Driven Research
For the last several weeks, student presenters have been working on a research project that starts with a student-designed question relating to skills and topics covered in their courses. The project design varies across courses, but the theme that ties all these projects together is that all students are aiming to create a real-world impact with their learning.
The conference is an exhibition of these students' work. Students are asked to synthesize the research from their project and insert themselves in the narrative by crafting a response that strives to have a real-world impact on a target community of their choosing—a local or school-based community, an affinity group, or a professional community. Student responses are captured on a public webpage that is part of the conference. This model uses an exhibition of learning as an opportunity for students to demonstrate transfer: their ability to extend what has been learned in one context and apply it to another.
This year, for the first time, GOA offered a flex course to support the design and execution of this presentation portion of the project. The idea is that students pursue research projects in their individual courses and context and then join a learning community of student presenters who are all preparing from the conference. The flex course delivers the essential support and instructions for crafting a presentation page, but more notably, it provides a consistent pre-conference opportunity for students to share their in-progress work and get feedback from peers who aren't in their class and perhaps aren't pursuing the same project. It's a new dimension of the role of an audience in student work and give students an additional opportunity to practice competencies related to their courses.

A Focus on Sparking Change

A critical component of the Catalyst Conference, as is suggested in its name, is the element of real-world change. Student's presentations encourage conference visitors to engage with their work, offer feedback and comments, and sometimes even join them in furthering a proposal or awareness-raising campaign.
Students presenting at the conference come from a wide range of courses. This year's participating GOA courses are: Abnormal Psychology, Architecture, Bioethics, Climate Change and Global Inequality, Digital Photography, Entrepreneurship in a Global Context, Game Theory, Japanese: Language through Culture III, Medical Problem Solving II, and Positive Psychology. GOA member schools enrolled students from the following courses on their campuses: US History: Problem Solving Past and Present (Head-Royce), Mathematical and Computational Thinking II (Downtown School), AP Spanish (Downtown School), Psychology of Social Change (Cranbrook Schools), ASIJ AP Seminar (American School in Japan), Science in Action (American International School Chennai), Global Issues: Sub-Saharan Africa (Providence Day School), and Contemporary Global Issues (Savannah Country Day School).
Our keynote speakers are experienced advocates. This year, we're welcoming LaTricea Adams, the CEO & President of Black Millennials for Flint, who will speak about environmental justice. Student speakers will also join us. Tess Blake, who took a GOA Gender and Society course while a student at GOA member school West Point Grey Academy, participated in the 2018 Catalyst Conference. In the time since her Catalyst project concluded, she has extended her efforts in an ongoing public campaign called Moving Forward to raise awareness and work with public transit officials to create a safer transit experience for everyone. Laila Ibrahim and Amy Monroy, at the Metropolitan Regional Career and Technical Center in Providence (commonly referred to as Met High School) engaged in a year-long action research project in partnership with KnowledgeWorks where they pursued the research question, "How do the racial and ethic background of students and teacher affect student-teacher relationships within the classroom?"

How to Participate in the Catalyst Conference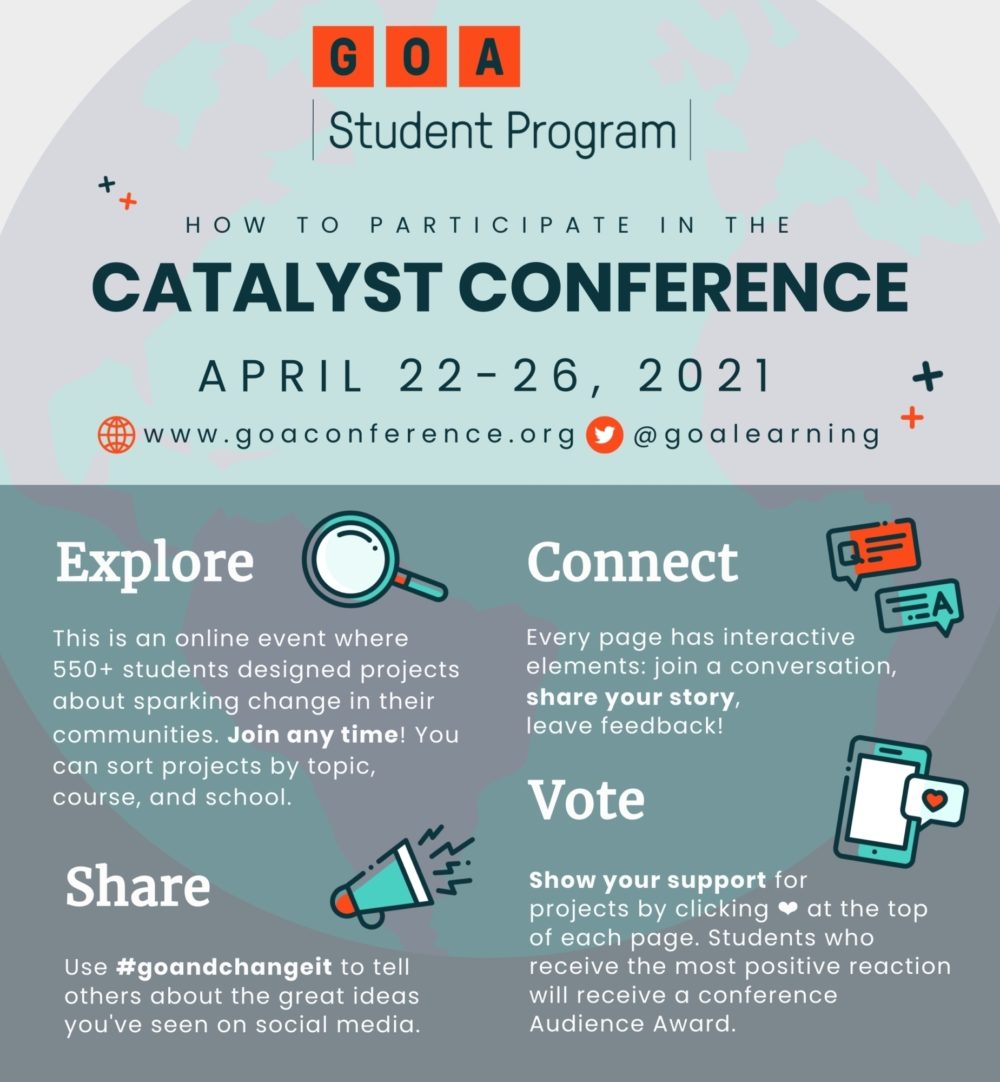 The conference is free and open to the public, no registration necessary. Student projects and keynote addresses will be available 24 hours a day from April 22 to April 26, 2021. GOA offers four ways to participate:
Explore: Visit projects on the conference website. You can sort projects by topic, school, course, and more.
Connect: Every page has an interactive element. Participate in polls, leave comments, share stories. These interactions show students you're engaging with their work.

Share: Invite your school community to participate! Share the conference website link as well as the above infographic. When you see a project that inspires you, share a link to it on social media with the hashtag #goandchangeit.

Vote: Every page has a "like" feature. This is an easy way to send some positive feedback. Projects with the most response will receive a conference Audience Award.

We encourage teachers to carve out time for their students to visit the conference in class or in place of homework and return to class to discuss what they learned, what stuck with them, or even how a project like this could work in their own class.

Projects are reviewed by teachers, conference visitors, students, and GOA staff, and all presentations are eligible to earn notable commendations based on audience response, alignment with conference goals, and project requirements.

We look forward to seeing you at the conference! To learn more about how GOA empowers students to engage with the world beyond school, read these articles:
The GOA Student Program offers passion-based online classes to high school and middle school students. Our summer courses are open to all students. Member schools have full access to our student course catalog as well as a suite of other benefits. Learn more about becoming a member school.