Connection is Key: 3 Reasons Why Prioritizing Connection Supports High-Quality Online Course Design
"The job of an online teacher is the job of an offline teacher is the job of a teacher. Connect to people and help them to feel connected to you and to the dimension of the world you are leading them to experience. Connect your students to one another in a way that enables them not only to learn content from one another, but also to catch life experiences from one another—to shape one another in the way that only peers can. It's that simple … and it's that complex." Reshan Richards & Stephen J. Valentine for Edsurge
Since 2011, GOA has delivered high-quality, passion-based online courses to thousands of high school students through our student program. Through our Center for Professional Learning, we have trained over 30,000 educators to design and deliver online courses that are engaging and equitable, and which allow for students to be active participants in their own learning. In GOA's 2025 Vision statement, published this past summer, we define high-quality online learning as relevant, human-centered, and engaging experiences that ignite passions. Our approach to designing online courses has certainly evolved over time, but as Director of Operations Lucas Ames wrote in a post from 2020, "After ten years of teaching online and thousands of student surveys, at GOA we believe designing for relationships is the strongest cornerstone on which you can rest your online program."
GOA's focus on human-centered, relationship-based course design also permeates our Educator Competencies, a framework for educators that outlines what teachers should know and be able to do to support students, regardless of whether they teach in-person or online. Building a highly-connected learning experience is important for a number of reasons. First, it is through connections - from student to teacher and from student to student - that belonging is cultivated and collaborative communities are built. Second, by clearly communicating learning goals and expectations, students are able to actively participate in the learning process; what we refer to as foster student-led learning in our educator competencies. Lastly, connection is key to assessment. When teachers have built trusting relationships with their students, they are able to build a culture of feedback and equitably and effectively assess student learning.
Below we highlight three reasons why connection is key when designing for learning.

1. Connect to Cultivate Belonging and Build Collaborative Communities
When students feel known and heard, they bring their best selves to their classroom community. Director of Professional Learning Bonnie Lathram wrote about Cultivating Belonging in the first of our series of articles on GOA's educator competencies. She shared that an essential component of belonging is intentional design for human connection. This can take the form of regular check-ins with students, morning routines, or reflection prompts.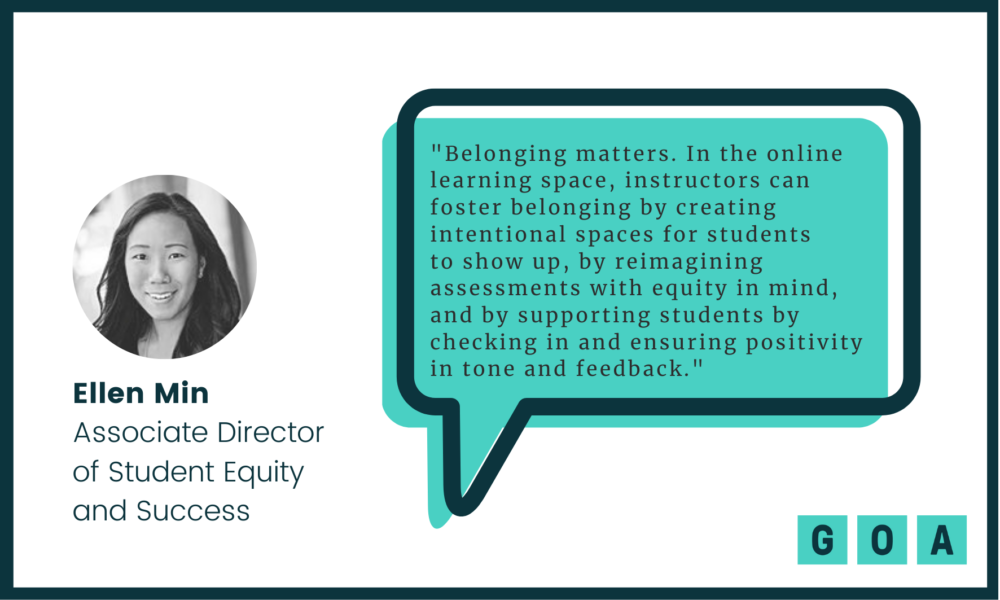 Connection is not only key to belonging. It is also critical to developing collaborative communities, another competency that GOA has identified for educators. Associate Director of Professional Learning Becky Green wrote, "At GOA, we're defining collaboration as students engaging in meaningful and transferable processes together--processes that impact learning and that promote cultures of trust, care, and high expectations. The question we're asking is, how can we empower students to support one another in meaningful processes and thus in gaining essential collaboration skills?"
2. Connect to Foster Student-Led Learning
In GOA's Designing for Online Learning course, a free resource for educators, we stress that in any learning environment, learners who understand the goals they are working toward, the support systems available to them, and the work they need to complete are equipped to thrive.
Clear, routine, and personal communication not only makes learning more effective but also builds confidence and connection. It shows learners how to meet their goals, and it shows them that another person cares and will support them through this experience.
Co-Design­ing Rubrics with Stu­dents — Andrea Reese, Teacher at Hol­land Hall
Ask Me Any­thing: How Do We Fos­ter Stu­dent-Led Learning?
In the video clip above from a recent live event with educators from Holland Hall, teacher Andrea Reese talks about connecting at the beginning of each semester with her students to have a discussion on the grading rubric. This opening conversation led to each class having a tailored rubric that students agreed on and understood clearly. By co-creating how they would be graded from the very beginning of the semester, students understood and were invested in meeting the goals they were working towards. This idea can be applied in both online and in-person environments.
3. Connect to Assess for Learning
Strong connections between all members of a classroom community are integral to building a culture of feedback. When open communication and constructive feedback is prioritized, students engage deeper with the course content, reflect on their own learning, and apply feedback to deepen their learning.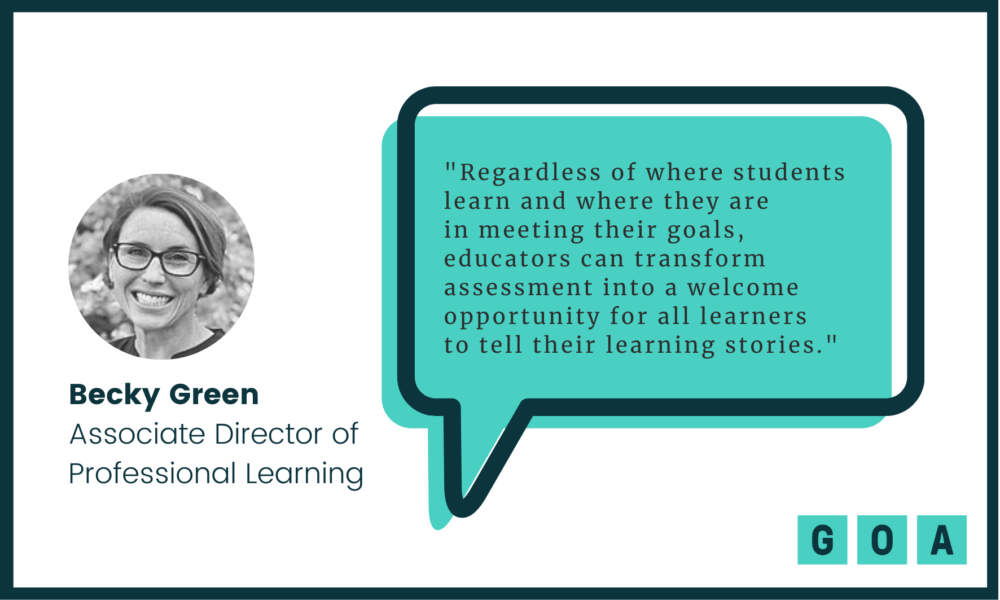 In a post from 2021 on student-centered assessment strategies, Becky Green shared, "Regardless of where students learn and where they are in meeting their goals, educators can transform assessment into a welcome opportunity for all learners to tell their learning stories."
Below are six GOA posts that dive deeper into belonging, co-designed learning, and assessment: