14 Ways Technology Supports a Culture of Feedback
Feedback is best when it's immediate, timely, and related to students' goals. Good feedback provides students with information, motivation, and structure to learn deeply. As Grant Wiggins argues in Seven Keys to Effective Feedback, if we spent less time teaching and more time giving feedback and supporting students in applying it, students would learn more.
At GOA, we often talk about feedback as an ecosystem. As Eric Hudson wrote, "In a feedback ecosystem, learning experiences include different forms of feedback, each used at a time and in a context where it can be effective for student learning. Decisions about when, where, and how to use these strategies should aim to empower students to drive their own learning, and each other's."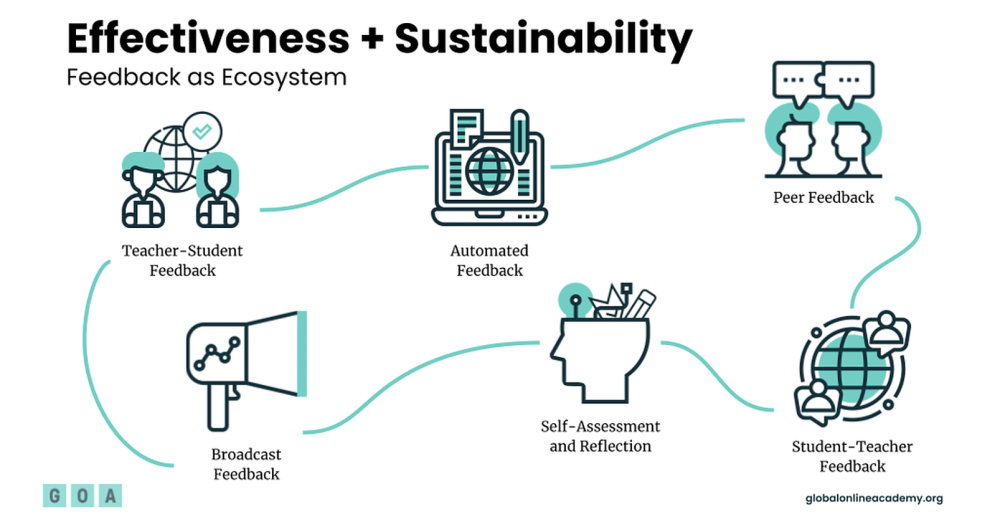 Moreover, with the rise of the use of artificial intelligence (AI) tools such as ChatGPT and Google Bard, there are additional questions for us to consider when it comes to using technology to support a culture of feedback: How might AI tools act as a resource to support a student who is stuck in the writing process, with no access to a teacher, tutor, or other feedback source? How might AI tools help students understand feedback from their teachers? How might AI tools help teachers create feedback that is clear? How might AI tools potentially save teachers the time it takes to provide meaningful feedback? In this article, we present 14 ways technology can support a culture of feedback.
1) Collaborate on writing assignments.
A middle school Language Arts teacher asks students to use Google Drive for an in-class writing activity. Students open their own Google Docs, share them with the teacher, and set to work responding to a prompt. The teacher opens each student's document in separate browser tabs and is able to monitor and provide feedback on student work in real time. In addition, students share documents with each other for peer feedback (which the teacher can also monitor and coach). As she observes student work, the teacher identifies themes and examples for the entire class and consolidates that feedback on a single "master feedback document," which she shares with the entire class.
2) Engage families.
In an effort to engage families and home communities in supporting student work, a second grade teacher uses video discussion tools like Flip or VideoAsk that allow him to share student work or questions as prompts for short video responses from families, neighbors, and friends. Students can later watch and discuss these videos with their teacher in school.
3) Connect with mentors.
Towards the end of a field research project in biology class, a science teacher identifies professional researchers and academics who will volunteer to listen to and provide feedback on her students' data and analysis. Using video chat tools with screen sharing capabilities such as Zoom, the students share pre-prepared slidedecks or other visual aids with these outside experts and take their questions and feedback.
4) Use your voice.
A world languages teacher wants her students to practice their listening and comprehension skills while processing and acting on her feedback. Using a tool like Kaizena, she leaves audio comments on student written work. Using her mobile device, she also uses voice memos, WhatsApp, or Voxer to send short audio messages that include specific action items for each student to work on in preparation for oral exercises in the next class.
5) Cultivate collaboration in small groups.
A high school English teacher wants to bring his writing workshop discussions into new environments and modes, so he creates a Slack domain for his class that allows his students to share work and discuss it in small groups or as a whole class via Slack's various channels and chat tools. At GOA, we also use Twist and Google Jamboard. To ensure feedback is high quality, the teacher adapts a tuning protocol and "pins" it for in one of the three tools listed above.
6) Leverage automated feedback.
Rather than use his time to correct multiple choice quizzes, a history teacher decides to leverage automated feedback via tools like Quizlet and Kahoot to give students not just the chance to do concrete work at any time that will get immediate feedback, but also the chance to make multiple attempts, ensuring the content "sticks." Additional tools for automated feedback include ChatGPT and Khan Academy's new AI tool, Khanmigo. These tools are also playful and gamified, making them engaging for students and teachers.
7) Personalize feedback.
A sixth grade teacher wants her feedback to feel more personal and engaging to her students. She asks students to submit work in digital format, and, using screencasting tools like Explain Everything or Loom, she pulls the work up on her computer screen and records herself giving feedback in real time, then sends those videos back to students rather than handing back marked-up papers.
8) Incorporate visuals.
Determined that her students should not only understand statistics as a field, but also appreciate its relevance to the world outside of school, a statistics teacher asks her students to apply their learning to current events and real-world problems like sports, politics, and social justice issues. Students synthesize their ideas into usable and user-friendly articles, posts, and visualizations (using tools like Gapminder, Canva, and Venngage) for blogs or social media. They explicitly seek feedback from their followers and from experts they may find via these online communities.
9) Create instant videos.
A soccer coach uses a mobile app like Hudl or Coach's Eye to record her players during practice drills. She and the players can watch and respond to the videos immediately, making adjustments in real time. These apps also allow the coach and players to share videos both within and outside the team, watch playback in slow motion, isolate short clips for targeted feedback, and use telestration to annotate videos.
10) Create online spaces for peer feedback.
Eager to incorporate more peer feedback into his ceramics class, an art teacher uses a multimedia tool like Voicethread to allow students to post photos of their work online that can be viewed and commented on by peers, either by video or audio. This asynchronous format allows students to reflect on and provide feedback on their peers' work at their own pace, perhaps even during class while others are working on projects.
11) Give students control of pace.
In his highly differentiated classroom, a third grade teacher begins to explore the use of artificial intelligence and adaptive learning technology like Knewton or Smart Sparrow. The teacher is able to sequence exercises and assessments in new ways, allowing students to tackle new tasks according to how they performed on previous ones. The teacher then uses analytics of students' performance to work individually with students who might need support or new challenges.
12) Flip the classroom.
A middle school math teacher enriches her flipped classroom practice by using EdPuzzle or Nearpod to embed short quizzes, surveys, and short answer questions into her instructional videos. Her students are able to test their own mastery of the content, make several attempts by rewatching the video, and provide the teacher valuable insight via the analytics that capture and synthesize student work.
13) Make it multimedia.
To encourage a learning environment built on transparent feedback, a social studies teacher asks students to create a Padlet where they post images or links to their work (annotated maps, infographics, essays, etc.). Both teacher and peers then follow up by adding their own short feedback posts to the Padlet, aggregating the discussion in a usable, shareable grid. Students have the option to share feedback in a variety of ways, including text, images, or media files.
14) Ask YOUR students how YOU are doing.
Perhaps one of the most meaningful ways to create a classroom that encourages formative feedback is to ask for feedback, and model a culture of feedback. Eager to collect more meaningful feedback from her students, a ninth grade science teacher embeds her slidedecks in interactive tools like Pear Deck in order to assess students' understanding and ask their opinions in real time. In addition, she leverages digital exit tickets like those in Socrative to gather and synthesize student feedback and self-assessment in a usable, archivable way.

For more, see: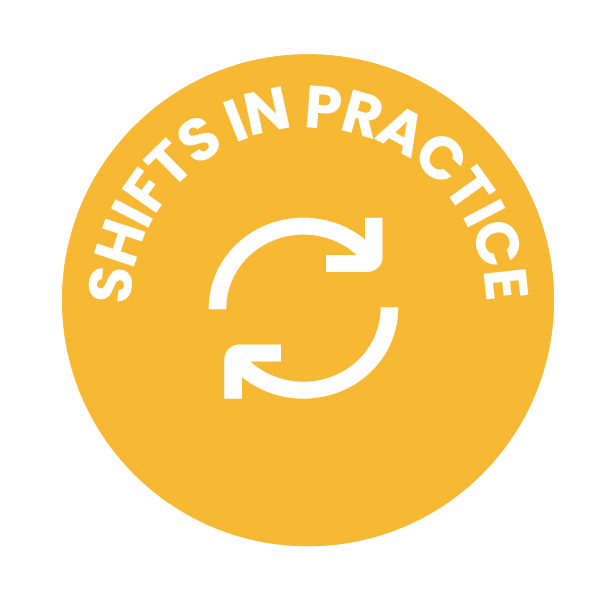 This post is part of our Shifts in Practice series, which features educator voices from GOA's network and seeks to share practical strategies that create shifts in educator practice. Are you an educator interested in submitting an article for potential publication on our Insights blog? If so, please read Contribute Your Voice to Share Shifts in Practice and follow the directions. We look forward to featuring your voice, insights, and ideas.
GOA serves students, teachers, and leaders and is comprised of member schools from around the world, including independent, international, charter, and public schools. Learn more about Becoming a Member. Our professional learning opportunities are open to any educator or school team. Follow us on LinkedIn and Twitter. To stay up to date on GOA learning opportunities, sign up for our newsletter.