3 Key Ways to Support Students in their GOA Online Course
August and September in many parts of the world spark the start of familiar back-to-school preparations: students learn new schedules, meet their teachers, participate in orientation exercises, maybe pick up a new backpack... or just dust off and clean out whatever treasures were hastily left in school bags in June. Teachers, of course, engage in similar routines - setting up their classrooms, attending faculty meetings, connecting with colleagues old and new, and so on. But what does it look like to prepare students for learning and set them up for success in the online setting? At GOA, this starts with the school site director (SD), the school-appointed faculty member charged with overseeing student enrollment and support on campus.

Each year, before the start of Semester 1, GOA facilitates an asynchronous training designed to prepare school SDs for supporting a successful student experience. Training has three primary goals: to build empathy for the student experience, to connect with and learn from other SDs, and to foster and exchange key information between GOA and member schools. That last part is key. The information GOA gathers through SD discussions and surveys directly informs best practices and future training, especially regarding strategies for supporting student learning.

1. Establish Offline Routines for Online Learning
GOA advises schools to promote courses to students as part of their complete course schedule for any given semester, and not position them as an add-on. In part, this recommendation comes from years of student survey data demonstrating that the more aligned a GOA experience is with an on-campus school experience, the more likely students are to feel the learning experience is an extension of the school. In other words, when possible, schools should map GOA course enrollment, student support systems and practices, schedule practices, and support systems to existing school practices.
Site director Wendy Daniel, from Kent Denver School, echoed a popular theme when she recommended that SDs "Make face-to-face contact at the beginning of the semester a priority." Jim Bologna, of Windward School, emphasized the importance of making that face time a habit when he wrote, "schedule time to meet/touch base with the students at various points throughout the semester." The site director survey revealed that another strategy used by the majority of GOA schools is to reflect GOA courses on a student's schedule, and many have taken that a step further by providing an on-campus space for students to meet to do their GOA course work.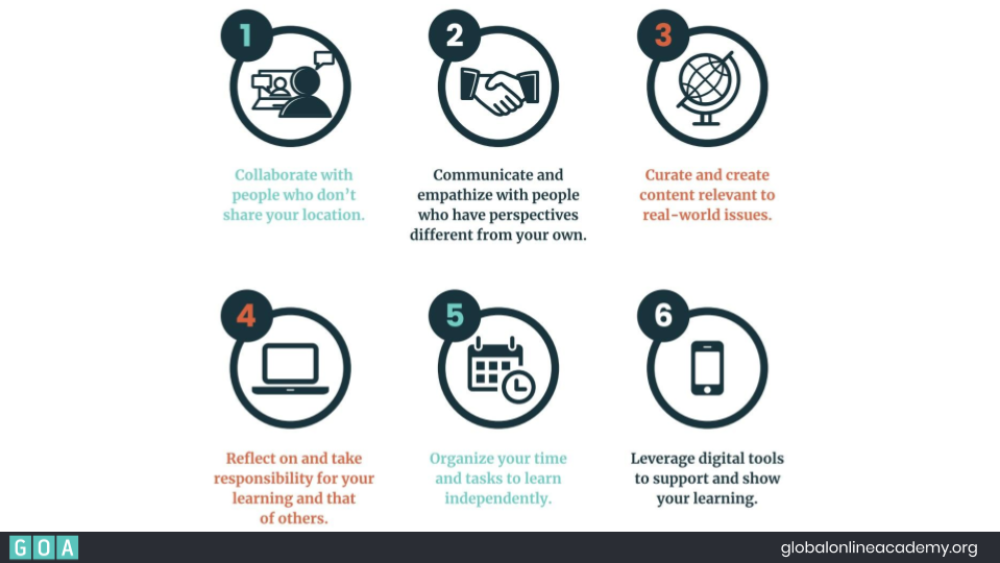 2. Map Student Support Systems to School Support
GOA is committed to building connected, communicative, supportive learning experiences online. Each year we review and hone our support communication practices to ensure schools, teachers, guardians, and site directors have the data and contacts needed to provide students with exceptional student support. GOA students and site directors receive weekly email reports of student engagement data to help them stay on track (we also provide this service to schools through GOA's Data Action Reporting Tool, DART). Anne Bingham of University Prep in Seattle, WA encouraged other SDs to "make it a habit to share the Wednesday GOA report findings with each student and advisor mentioned. It keeps GOA learning in the forefront and sustains accountability." This year, in response to feedback like Anne's, GOA revised the student support communication plan - a system of criteria and practices intended to communicate student support issues with all relevant stakeholders - to include a student advocate role. The advocates are campus-based faculty members, like an advisor or a grade-level dean, who are in student-facing roles and are well-positioned to provide just-in-time student support.
Offering student support goes beyond having the data. GOA encourages site directors to schedule regular check-ins with their students to ensure they are feeling comfortable with the pace and expectations of their GOA course. GOA staff and faculty spend a great deal of time thinking about student wellness, and the on-campus support network of SDs and student advocates are essential components.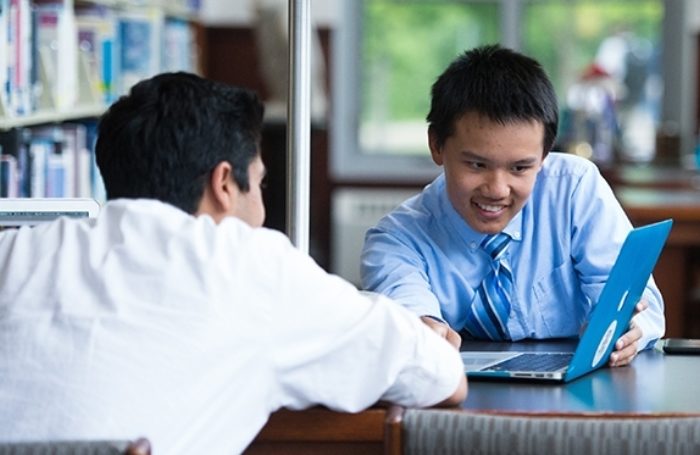 3. Use the Experts you have on Campus: Students!
You have online learning experts on campus, use them! Bring former GOA students into the conversation at every opportunity - whether it's about raising awareness of course offerings, what to expect once they register, or tips and tricks for being a successful online learner at GOA. Site directors who organize efforts to bring veteran GOA students into the room with new GOA students at the beginning of the semester rave about the impact.
Amy Merrell, who serves as the Latin School of Chicago site director and teaches a course for GOA, recommended that SDs "partner with students who have already taken GOA courses to help students new to GOA." Potomac School's Tory Virchow endorsed this strategy and shared the logistics of her approach, "let students teach students! Connecting new GOA students to former ones--especially if you do it over a meal before the semester begins and then again at mid-semester--is a fantastic way to accomplish this. When I step back, my students learn so much more!" Site director Jessica Stewart, from The Meadows School, agreed and added "Meet with students as a collective and invite students that have taken GOA classes before. Students are always fantastic when they share their experiences. This is also beneficial for those who didn't realize someone else they know in-person is taking the same class. They like to hear from one another and it's always great feedback for me as a Site Director."

The theme that connects all of these Site Director tips: make online learning a visible part of the in-person school experience. Communicating to students and to your community that GOA courses are an integral part of the day-to-day life of your school not only increases awareness and engagement with what GOA offers, but also shows that the learning that happens at GOA matters. The support these site directors offer GOA students plays a critical role in helping them develop durable, transferable skills in the courses, and it also helps students show the school community how online learning can be an empowering way to learn.


When you join GOA, you leverage the power of a global network of forward-thinking schools, where collective resources amplify impact for your students, your teachers, and your institution. Learn More.