Supporting Your Student with Online Learning? Here Are Five Things You Need to Know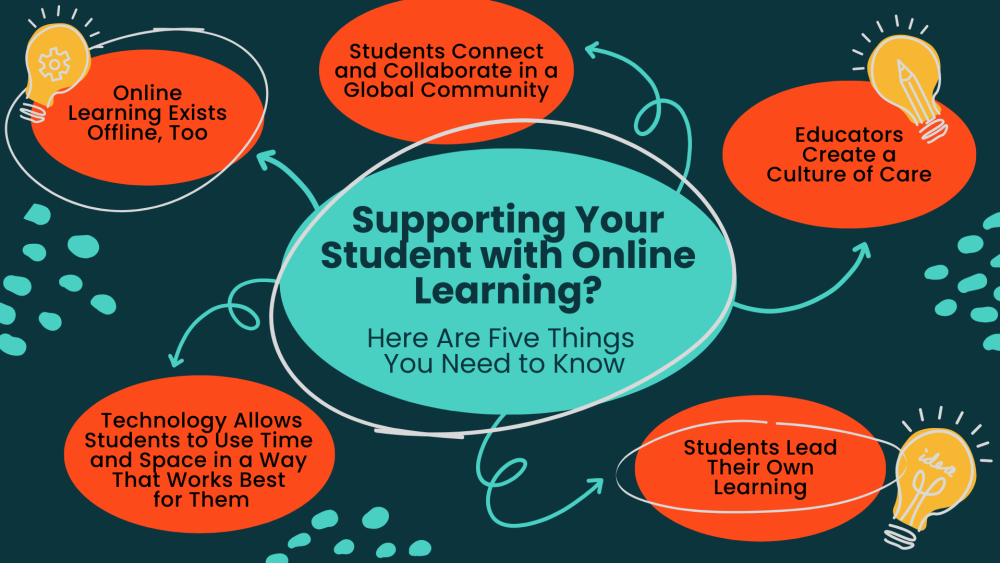 What can my student expect from taking an online course? How do I know if my student will be successful? Will my student be engaged and connected with the course and other students? How much time should my student anticipate being online? These are just a few of the questions going through families' minds as they look into taking any online course. In an era of many online learning choices, it can be challenging for parents, guardians, and caregivers to know what options will work well for their students.
Whether your student ends up taking an online course with Global Online Academy (GOA) or not, we hope this article will help support you in making these important decisions. We also hope this guide will help you become more familiar with the what, why, and how of online learning and our approach to online learning.
GOA has reimagined learning for 11 years, empowering thousands of high school students through our evidence- and research-backed approach to teaching. Our interest-based courses provide a digital space for intellectually curious students to collaborate, engage, and learn deeply on a global scale. And we know our approach works based on our experience, student surveys, and evidence of learning.
Now, here are five big ideas parents, guardians, and caregivers should consider when exploring online options for their middle school or high school student interested in taking an online course:

Students Connect and Collaborate in a Global Community
One important thing to consider when evaluating online learning choices for students is whether or not students have the opportunity to regularly and genuinely interact with their teacher and peers. Some online courses are entirely self-paced or there may even be hundreds of students in the class. It's important to do your research and find out the ways in which the students and teacher will interact to create an online community.
GOA's online learning courses provide students with a wide range of interest-based courses. Students are in small classes led by a teacher and are connected with students from around the world who are interested in those same topics. And because courses are designed for human connection through collaborative group work and projects and to promote equity, students feel a sense of belonging that affirms and empowers them as a learner and as a person.
By making and nurturing these global connections, students are introduced to new perspectives and taught how to work together with people from different backgrounds (and time zones!). Veteran GOA faculty member Janet Izzo says that GOA courses provide students with the opportunity to grow their worldview, which prepares students for diverse college and career experiences.
2022 Punahou School graduate, Zoey Duan, who will be attending Yale University this fall, took Neuropsychology through GOA during high school. "It was great to be able to interact with a global community," she says. "I was able to talk to [other students] and [we] shared our own perspectives on this very interdisciplinary field and also work together on projects that we ourselves had to initiate."
Col­lab­o­rat­ing with Stu­dents from Around the World
Zoey Duan, For­mer GOA stu­dent & 2022 grad­u­ate of Puna­hou School
Students Lead Their Own Learning
Online learning can take many forms, but we've learned that traditional tests and exams don't work well in online learning. Online learning can, however, provide a unique opportunity to create spaces where students can take the lead in their own learning and use their voice to make choices in when and how they learn.
GOA's Associate Director of Professional Learning Becky Green says, "Students know themselves as learners, know their interests, and know how to strategically pursue their own learning pathways." Starting from the very beginning of the course, students and teachers engage in ongoing conversations about expectations and goals, actionable feedback, and skill development.
These conversations foster students' ownership over their own learning, investment in meeting the goals they are working toward, and a deeper understanding of course material that can be applied both in the course and beyond. Students are also able to cultivate self-confidence as well as lifelong critical thinking and analytical skills.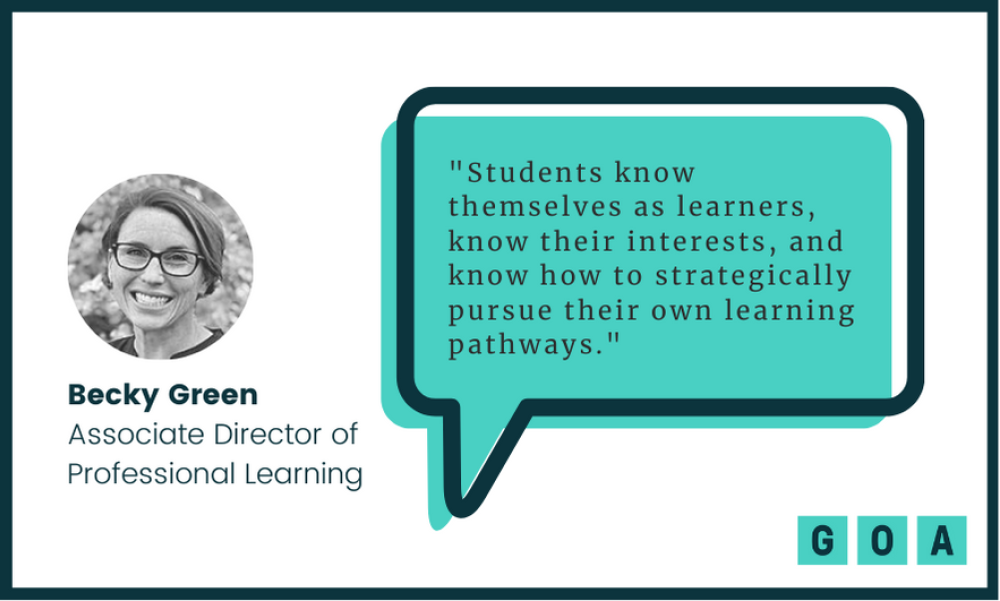 Technology Allows Students to Use Time and Space in a Way That Works Best for Them
Many online courses favor learning either entirely synchronous, where students are online at the same time as other students (think: Zoom school), or asynchronous, where students work on course material on their own schedule. However, research suggests that a combination of the two is essential for high-quality online learning, and technology allows teachers to do just that.
Every student is different, and the blending of synchronous and asynchronous learning experiences available in online courses creates a path for each student to engage in their own way. GOA students connect with teachers and students from across the globe through live video chats, providing each other with instant feedback and conversation. Text and pre-recorded audio/video messages through course management and chat tools like Twist provide students with time for more reflection to compose and express their thoughts.
"We can be connected even if we don't share the same physical space," GOA Chief Program Officer Eric Hudson says. "[Technology can also] support learning beyond the classroom: students can pursue independent projects, do fieldwork, participate in internships, or engage in community-based work."

Online Learning Exists Offline, Too
One question that parents, guardians, and caregivers often have relates to the amount of time a student is online. Spoiler alert: Many young people are already online a whole lot. The average American teenager spends nine hours a day online — and this doesn't include time for homework — leading to genuine concerns about this amount of screen time. However, just because a student is taking an online course doesn't mean they have to remain in the digital classroom. Many engaging courses create connections between students and community members who can further build on course material, introduce students to real-world learning opportunities, and provide additional feedback based on individual experience.
One prime example of students engaging outside of the classroom is the GOA Catalyst Exhibition. Participants design their own end-of-semester projects and many go out into their communities to do research, interview, and learn about a topic of personal interest. Each project begins with tackling a real-world question: How does mental health affect school performance and vice versa? Why did we put a large city in a small environment? Can art therapy improve depression and dementia in elders? You can take a look at these projects here.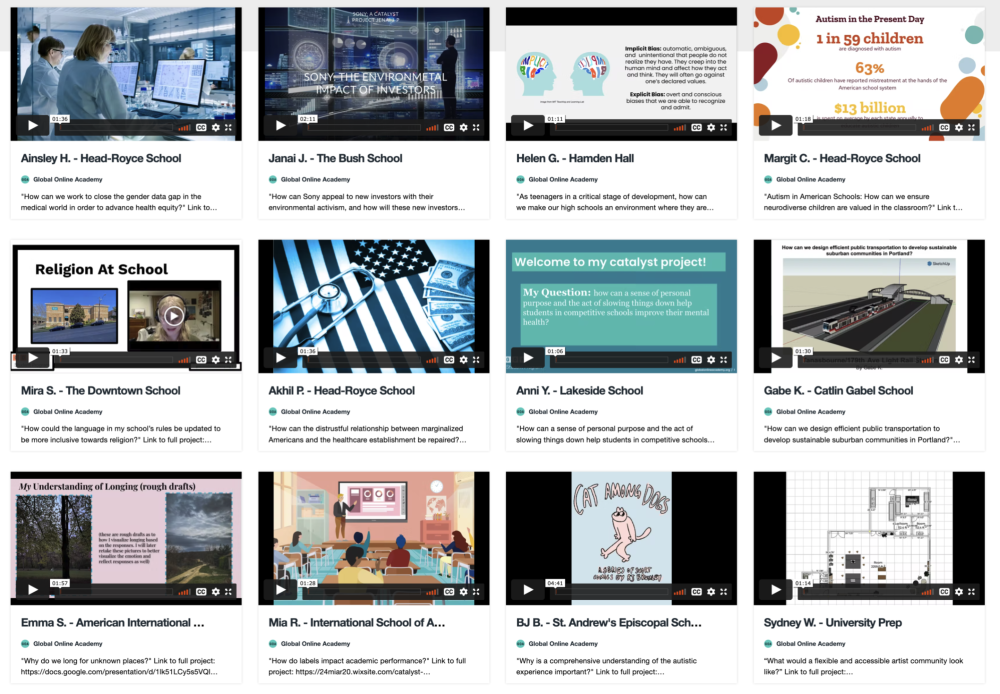 Educators Create a Culture of Care
We know all learning is relational. Whether in an online or a brick-and-mortar classroom, the teacher-student relationship plays a pivotal role in the academic success of a student. Our courses are designed to break down that traditional barrier between teacher and student. "I just loved the way that [the course] brought everybody together," former GOA student Ziah says. "It was teacher and student working together to learn something new."
Online learning provides a safe place for students to engage in courageous conversations, take risks, and get things wrong. It is essential for teachers to facilitate a classroom culture where students can find joy in learning, and it's no different in an online classroom.

This post is part of our Family Toolkit. The purpose of the Toolkit is to inform families about the what, why, and how of online learning and to support families in navigating online learning with their students. GOA serves students, teachers, and leaders and is comprised of member schools from around the world, including independent, international, charter, and public schools. Learn more about becoming a member school. Our professional learning opportunities are open to any educator or school team. Follow us on LinkedIn and Twitter. To stay up to date on GOA learning opportunities, sign up for our newsletter.