Mission In Action: How King's Academy Serves Students Through Partnership with GOA
Establishing a Shared Mission
In 2011, ten founding member schools launched a collective partnership to provide intellectually rigorous, relationship-based online courses that supported their mission for students. Ten years later, that mission alignment is not only critical to the success of GOA's programs for students and educators, but it is also what connects our growing consortium of mission-driven member schools to one another and allows GOA to realize its own mission - to reimagine learning to empower students and educators to thrive in a globally-networked society.
GOA founding member school King's Academy understands how providing students with the opportunity to explore passion-based online courses with other intellectually curious member school students from around the globe serves its mission. Located in Madaba-Manja, Jordan, King's Academy is a coeducational boarding and day school for students in grades 7-12. Their mission, in part, is that students "will learn to be independent, creative and responsible thinkers within an ethical community that encourages young men and women of diverse backgrounds and beliefs to excel, to cherish one another and to prepare for leadership." Head of School Peter Nilsson reflects on the impact of this alignment, sharing that "the best partnerships amplify the efforts of all partners involved, and we're grateful for how GOA helps our students connect with the world, and helps the world connect with us."
Delivering on their Mission in Partnership with GOA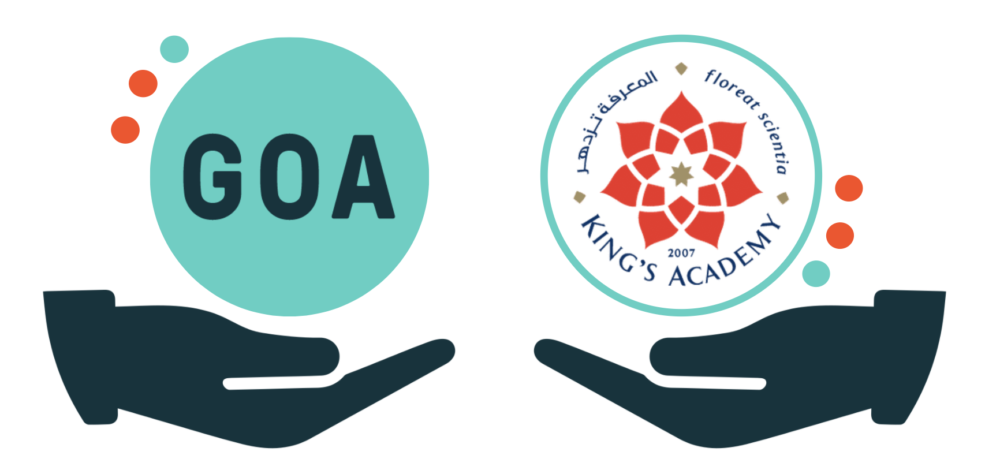 At the core of King's Academy's mission are 5 Guiding Principles that they believe are critical to student development - Respect, Love of Learning, Responsibility, An Integrated Life, and Global Citizenship. King's Academy's leadership team and faculty consider these principles to be "universal values" and central to the programs, learning experiences, and opportunities they provide their students. GOA is no exception. With continued growth in student course enrollments annually, GOA has become an option for students to extend their learning and dive into a topic they're interested in both during the academic year and summer term. During the 2020-21 school year, King's Academy enrolled over 70 students in GOA courses, with the majority of enrollments taking place over the summer. CS I: Computational Thinking, Number Theory, Race & Society, Abnormal Psychology, and Digital Photography are just a handful of the 26 different GOA courses that King's Academy students explored this year. Rola Jaber, GOA site director at King's Academy, explains that enrollment in a GOA course demonstrates a student's willingness to add to their academic schedule to extend their learning. "This by itself highlights how our students live and apply one of our Guiding Principles - Love of Learning," she explains.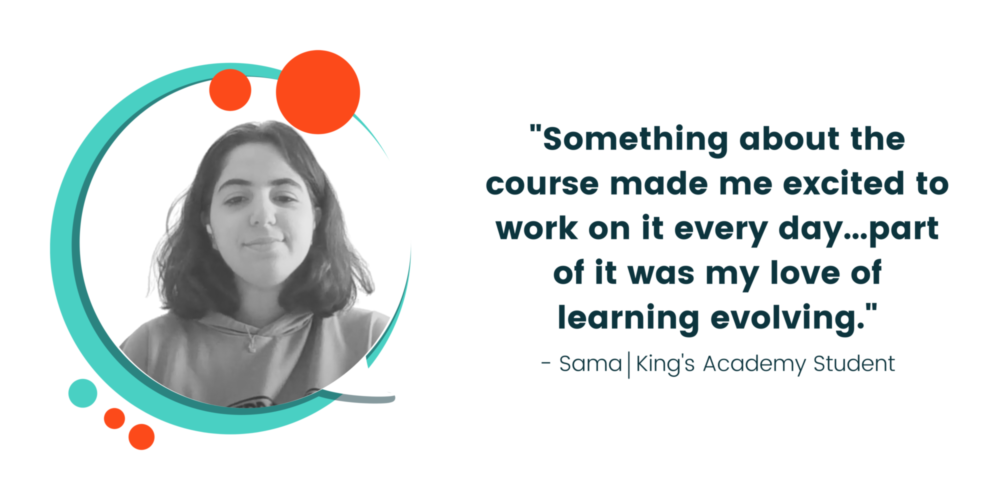 King's Academy student Sama has taken both Genocide & Human Rights and Introduction to Legal Thinking in back-to-back summer terms. Sama explains, "During my freshman year, I became more and more interested in wars, history, law, and politics," which was the catalyst for her enrollment in Genocide & Human Rights when summer volunteering plans fell through due to the pandemic. "It turned out to be very informative and an overall amazing experience. I learned a lot from it that I used during the school year in some of my classes," Sama shares. Sama also recognizes that the opportunity to enroll in GOA courses ties in directly with King's Academy's Guiding Principles. "Something about the course made me excited to work on it every day...part of it was my love of learning evolving." Her decision to then take Introduction to Legal Thinking this summer took her interests one step further towards preparation for college. She shares, "I am in love with the law and am considering pursuing it as a career." Similarly, driven by his interest in medicine and his desire to apply to medical school, King's Academy student Saif enrolled in Medical Problem Solving I this summer. "Naturally, I wanted something to do during the summer that will really nurture my love for the field and teach me the skills that would be helpful for future studies." He adds, "When I talked to my college counselor, she suggested GOA."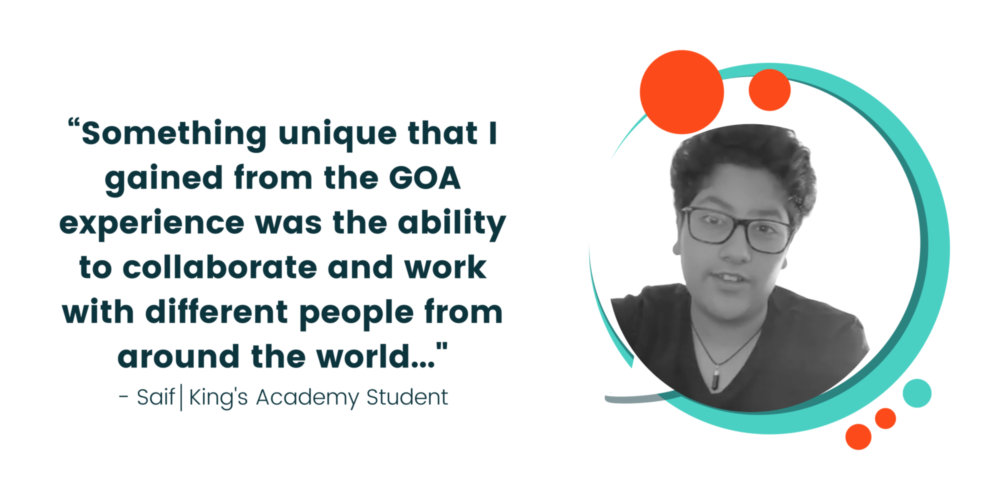 GOA as a global learning opportunity for students also speaks to the value King's Academy places on global citizenship. Saif shares, "Something unique that I gained from the GOA experience was the ability to collaborate and work with different people from around the world...which allowed me to have access to a diverse and wide range of ideas and problem solving techniques." Sharing perspectives through communication and collaboration are central to the relationship-based learning that takes place in every GOA course. Sama shares that she feels her "GOA courses also embodied global citizenship," adding, "I was a Jordanian student within a very large global community of students that were represented in my class…[with] people from the United States, Germany, Hungary, Hong Kong, United Arab Emirates, Singapore, and Jordan." Providing students with the opportunity to join a global community of learners and connect over a common interest is inherently mission-aligned for King's Academy. "It informs our mission to drive change towards a shared future of peace and opportunity, and it compels us to engage deeply in our increasingly networked society," Peter Nilsson states. "Global Online Academy is a key partner in this work."

This post is part of our Missions in Action series, which profiles how GOA member schools align GOA's student and professional learning programs to meet their school's mission. GOA member school students have full access to our online courses and member school educators can take our professional learning courses for free. Inquire about membership. Are you a GOA member? Want us to profile your school? Email us at hello@globalonlineacademy.org.