What Are We Taking With Us? Enduring Strategies for Teachers
More than ever, we need to share and hear educators' stories. There is inspiration and action to be gained from the ways teachers are navigating change and challenge. Last May GOA launched a workshop elevating those stories for communities. We ask, "What new skills do you have? What are you proud of?" The lists are mighty. Teachers have learned, tried, and upskilled in response to needs brought about by the pandemic in exceptional ways.

Those admirable lists also mean that going forward we want to prioritize what we've gained that is sustainable no matter what change comes our way-no matter where students are learning. As a result, a new question we're asking is, "What are you going to continue?" Knowing how much teachers have already innovated, we're interested in stories of enduring strategies that empower teachers to design for equity and to support students no matter what the world throws at us. What enduring strategies are we taking with us?
Framed around GOA's educator competencies, we're grateful to highlight strategies shared by teachers. How might these five approaches adapt to your context and inspire your own enduring shifts?

Strategy for Cultivating Belonging: Plan quick conferences for lasting connection
Tara Ferrell, an elementary teacher at the American School of Bombay, is prioritizing the student-teacher relationship. In online learning, she met regularly one-on-one with students in mini-conferences. Now that they have transitioned back in-person learning, she's continuing those conversations, scheduling time to hear weekly from every student about their learning and their wellness. In those fast conferences, students are heard and known and offered time and space for support across both social-emotional and academic needs.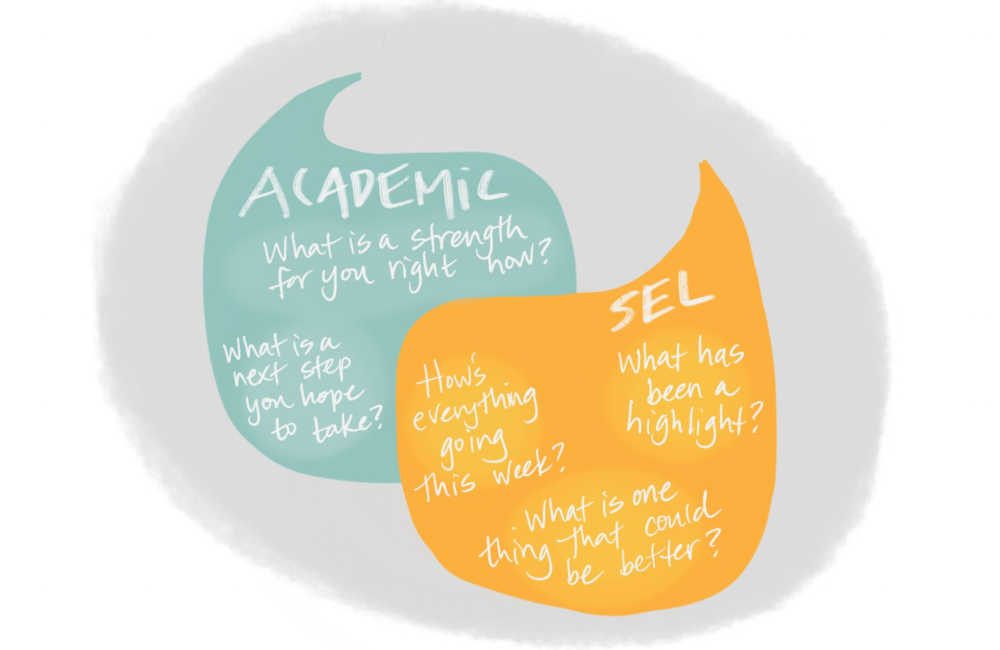 Read more about creating a culture of trust and cultivating belonging here. How are you connecting one-on-one with each student?
Strategy for Student-Centered Assessment: Invite students to tell their learning stories
Anne Love, teacher at Concordia International School Shanghai is designing for students to participate in the grading process. She invites students to craft a letter each semester explaining the grade they believe they should receive aligned to the course competencies. In addition, like Tara Ferrell advocates, students conference with her one-on-one providing evidence and engaging in conversations on learning. Anne shares, "I have found this method of grading to be powerful and authentic. These one-on-one conversations are a highlight of the semester, and I am always impressed by the evidence and growth that students articulate. Shifting the conversation from grades to learning has changed the culture of the class. Students take risks and are more aware of their learning and that is exciting!"

How might students have more of a voice in telling their learning stories in your school?

Strategy for Building Collaborative Communities: Build student-led choices for student-centered connections
Kathleen Ralf, GOA Genocide and Human Rights teacher and upper school humanities teacher at Frankfurt International School blends an approach to student agency with strategies for student collaboration. She connects each of her history units to two to three main concepts. Then, she creates playlists of topics for students to choose from within a historical period each week. Following exploration of those choices, students gather in small group conferences to check-in on their different explorations, share learnings, and collaborate on shared understandings of the content and how it relates to the main concepts. Kathleen shares, "Students love the 'choose your own adventure' feel to this kind of learning. They get to choose what interests them within the historical content, and they are all deepening their understanding of history through their connections made to the same concepts."
Kathleen's structure for collaboration is inspired by Learning That Transfers by Julie Stern. In addition, Harvard's Project Zero offers Thinking Routines like "Connect, Extend, Challenge" for framing small group conversations. How might you design for all students to partner in learning?
Strategy for Student-Led Learning: Create pathways for students to self-direct time and process
Reanna Ursin, GOA Prisons and Criminal Justice Systems teacher and English teacher at The Westminster Schools structures time in new ways, often blurring the distinction between classwork and homework and building in automatic grace periods for major assignments. She shares a task and assignment plan overview and students navigate learning experiences along their own timelines, meeting in small groups to discuss progress and ideas throughout. Combined with a deadline grace period, the flexibility and autonomy has increased students' use of resources such as office hours and the Writing Center. The result is more engagement in the learning and more time for Reanna to connect with students one-on-one for personalized support during class.

How might flexible deadlines and assignment plan overviews support your students in leading their own learning?

Strategy for Rethinking Time and Space: Let students lead their learning with video
Sonya terBorg, MYP design teacher from Nanjing International School uses Loom for screencasting to support her students in navigating their own learning and following their own pathways. Sharing instructions in short videos supports students in taking agency for next steps. They have a video resource for what comes next along a timeline that doesn't have to be in lockstep with other students. Sonya shares an added, humanizing benefit to Loom's features, "I really like the combo of screen sharing and a human face to the engagement."
How might you incorporate video in small ways that offer big impacts on students directing their own next steps on their own timelines?

We know that all educators have their own enduring strategies to share, and it is a powerful practice making those shifts visible. We welcome hearing and sharing your story and invite you to contribute what you're learning and trying here. We also encourage you to make space in your school communities for conversations on what you're taking with you. How can we continue to elevate the wisdom of educators?
GOA offers two workshops for school communities to share their learning and to reflect together. Start-Stop-Continue: Reflecting on Pandemic Learning and Nuts and Bolts: Designing for What's Next offer facilitated frameworks for elevating educator stories and for leveraging them for ongoing student learning and wellness. Complete the form on this page and a member of GOA's Center for Professional Learning team will be in touch soon.