Greenhill School Senior Spotlight: Laya Venkat
This article was originally published in The Evergreen, Volume 58, Issue 2 on November 9, 2022.
Senior Laya Venkat has always described herself as an activist. So, when the Supreme Court case Dobbs v. Jackson, Mississippi was leaked - and she realized Roe v. Wade would no longer be the law of the land - she felt extremely worried.
"Knowing that I have certain privileges, I was worried for those who don't have the same resources," Venkat said.
Quickly, Venkat decided to look into what this reversal would actually mean for the wellbeing and safety of those who might need an abortion.
"Abortion is a stressful circumstance," Venkat said. "Not much is known about the mental effects of getting one. And now that abortion access is severely limited, those adverse psychological outcomes are exacerbated."
This question has led Venkat through two academic journeys over this past summer.
The first is through her Global Online Academy course, Abnormal Psychology. The second is through a student-driven summer research program called Pioneer Academics, in which Venkat was paired with a college professor to spend 10 weeks surveying a research topic. Venkat ended the program by writing a 60-page paper.
Global Online Academy courses are led by a teacher from an independent school that partners with the program. Greenhill is one of them.
Venkat's passion for psychology is not new. Before taking Abnormal Psychology this summer, she previously enrolled in Positive Psychology and Intro to Psychology through GOA.
"I just wanted to take as many psychology courses as I can, since I'm really interested in that subject and we don't have any of those courses physically at our school," Venkat said.
Global Online Academy psychology courses over the summer offer a particular opportunity to create and submit individual projects to a conference, dubbed the GOA Catalyst Exhibition.
"It's kind of the final project of every course and students have to reflect on the course in some way," Venkat said. "There are awards that someone can get like the audience choice award, GOA citation award, etc.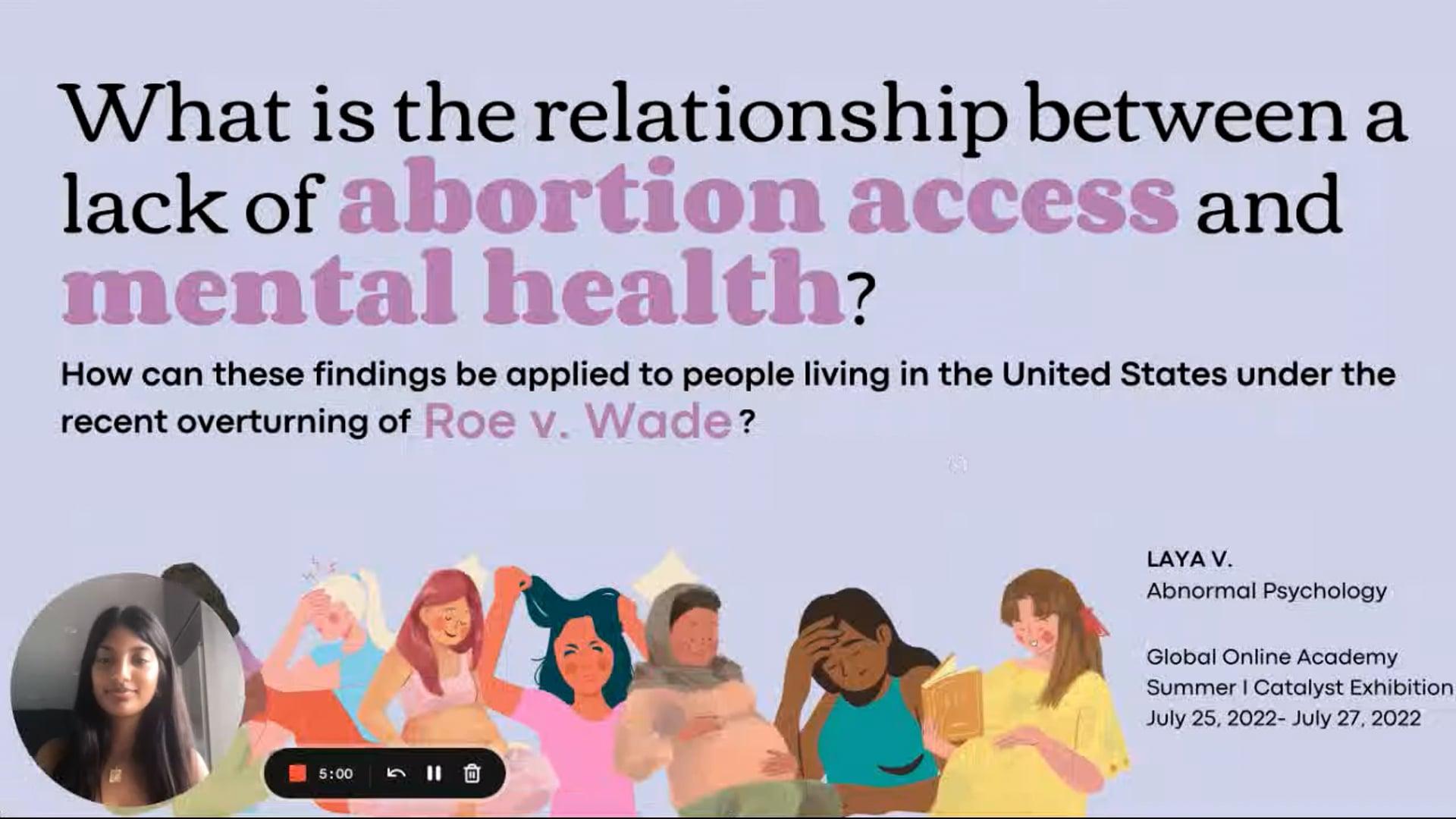 There are over 400 students that submit from all around the world."
Venkat's passion for activism translated into her final version of her capstone, which was titled: "What is the relationship between a lack of abortion and mental health? How can these findings be applied to people living in the United States under the recent overturning of Roe v. Wade?"
Venkat's project was selected as exemplary and published in the Catalyst Exhibition alongside only nine other students.
"I was excited to learn my research would be featured publicly," Venkat said. "I think it is important that people recognize the link between abortion and detriments to mental health."
The Pioneer Research Program is an online academic research program that allows rising seniors to research a topic of their choice ranging from disciplines in STEM, Social Sciences and Humanities. Students may also receive college credit after the ten weeks of the program are complete.
"[Venkat] started by responding to a very current event, an event that is really important to her in terms of the bigger picture and also thinking about her experience as a woman living in Texas," said Venkat's guiding professor in the program. The professor asked to remain anonymous, due to the requirements of the program.
Venkat first applied with interests in psychology and sociology, and then was placed in positive psychology with a professor who has specialization in that subject.
"I've always found those subjects interesting, and I care a lot about mental health and social justice, so I like to see how concepts of human behavior apply in the real world," Venkat said.
Positive psychology is a subfield of psychology that is focused on promoting individual well-being. Venkat spent the first half of the program learning alongside other student-scholars about the current research available on this topic.
"I am a clinical psychologist, and my field's emphasis really is on classifying, understanding, describing and treating mental illness and focusing on if people are experiencing symptoms or problems helping make those problems go away," said Venkat's professor. "I worked with Laya to think about her ideas and the things that she was interested in learning more about, how they could be studied from the perspective of positive psychology and developing a study that would test an intervention that addressed a topic that she thought was interesting and important."
Venkat and her professor then decided to research the concept of Hope Therapy, a loosely defined intervention designed to promote optimism, problem solving and how to think about future challenges.
"Based on what we know about the mental health consequences of being denied unwanted abortions, we can predict that there's going to be an increase in mental health needs. The mental health outcomes for these people tend to be worse," the professor said.

The title of Venkat's 60-page paper is "How Hope Therapy Influences Wellbeing in Adult Women Denied Abortion in Texas."
"[Venkat] took her plans in the direction of saying, "What if we went and found people in Texas who are seeking an abortion who are now not able to get one and give them this Hope Therapy?," said the professor. "Could we try to mitigate the distress that otherwise we would predict that they would get by being forced to carry this pregnancy to term?"
In terms of methodology, Venkat primarily utilized a longitudinal study called The Turnaway Study for her research. The study found that abortion denial may be correlated to harmful psychological outcomes in women.
"I concluded that being denied an abortion causes adverse psychological outcomes such as lower life satisfaction, lower self-esteem, higher levels of anxiety and higher levels of depression," Venkat said. "I also concluded that there needs to be more mental health awareness and resources for people in that situation, which drove my continuation of interest in my Pioneer paper."
Venkat would need many more resources to fully conduct the study, but even so, her professor says that its clarity and impacts could easily make it valuable to other academics in the future.
"I ended with a call to action because I hoped to persuade people that mental health resources for women who are denied abortions are important," Venkat said. "I didn't want abortion to be super political; I simply want people to care about mental health. So, with the education gained from viewing my presentation, I hoped that a call to action was viable for viewers."
Venkat also believes her research brings light to disparities in socioeconomic status. For instance, some Texan women are traveling to Colorado to receive an abortion, but those without the financial resources to do so may suffer.
"With the limitations in the law, this number of people is inevitably going to rise, and more people will have to undergo these sorts of traumatic events," Venkat said. "I believe awareness and tangible solutions are the best we can do as supporters of bodily autonomy to help."

Ivy Stitt is Editor-in-Chief of The Evergreen's Print staff at the Greenhill School in Texas.

For more, see: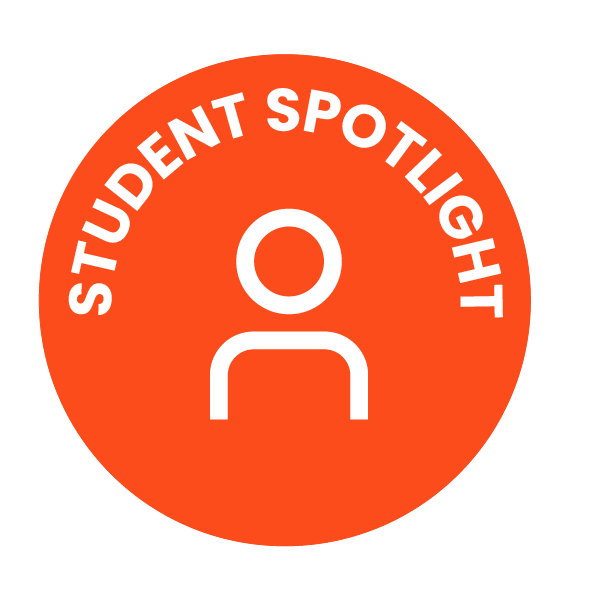 This post is part of our Student Spotlight series, where we feature stories from students who take GOA courses. Are you a current or former GOA student who would like to be interviewed for a Student Spotlight article? Or, are you an educator who has a recommendation for a student for us to feature? Email us at hello@globalonlineacademy.org with the subject title "Student Spotlight."
GOA serves students, teachers, and leaders and is comprised of member schools from around the world, including independent, international, charter, and public schools. Learn more about Becoming a Member. Our professional learning opportunities are open to any educator or school team. Follow us on LinkedIn and Twitter. To stay up to date on GOA learning opportunities, sign up for our newsletter.