Student Spotlight: From Fiction Writing to Microeconomics - A Student's Journey with GOA Courses
Exploring Interests While Preparing for IB Diploma
Jasmine discovered GOA courses when the COVID-19 pandemic hit, and the courses quickly caught her attention. What attracted her to these courses was the opportunity to explore a variety of topics in-depth. "I saw the courses, and I thought, Wow! I'd really love to go into that a little more. I love to explore a little more about that topic," Jasmine said.
Through her GOA courses, she was able to gain a better understanding of what these subjects would be like to study in the IB diploma. She also acknowledged that these courses helped her develop essential writing, critical thinking, and research skills that she can use after high school. "I developed a lot of skills that I can now use and apply in the IB diploma, and after I graduate," Jasmine said.
Learning with Peers from Around the World
One of the most significant benefits of GOA courses for Jasmine was the opportunity to interact with peers and teachers from all over the world. She said, "It's really great because there's so many people from different backgrounds, and especially in a course like international relations or economics where you pay a lot of attention to current events…getting a lot of different perspectives on issues is incredibly important and super valuable." GOA courses provided a unique opportunity for Jasmine to learn about different cultures and perspectives. "It was incredibly insightful to hear everyone's perspective."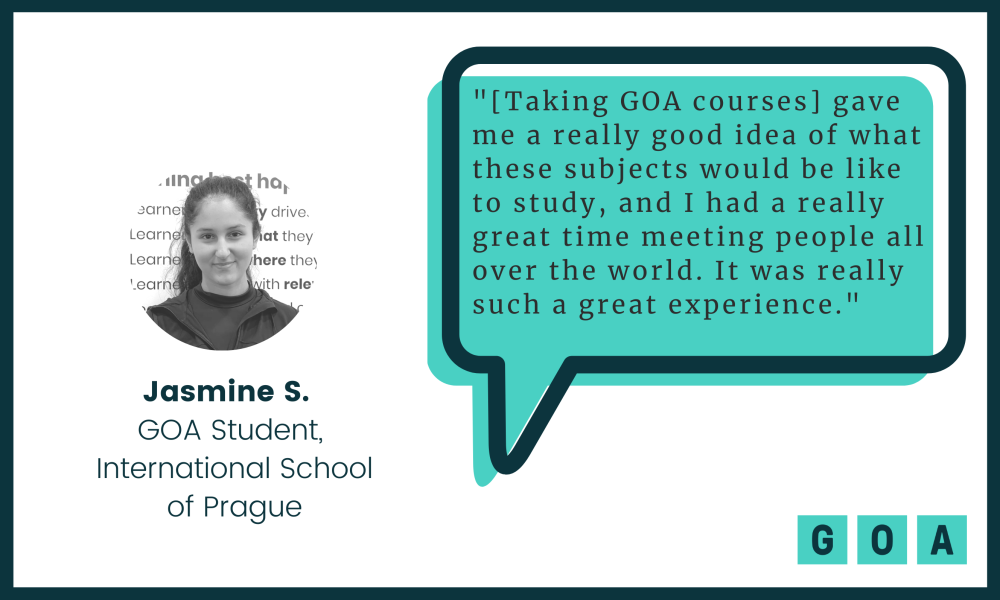 Appreciating Flexibility and Freedom
Jasmine appreciated the flexibility and freedom that GOA courses provide. As someone who describes herself as a perfectionist, she enjoyed working at her own pace and setting her own schedule. She said, "With an online course, there's a lot of flexibility. I loved having the freedom of just being able to go through the process on my own without the restrictions of the classroom. I [also] genuinely loved having that contrast between the in-class learning and online learning."
Jasmine's experience with GOA courses shows that online learning can be a valuable tool for high school students. GOA courses provided her with the flexibility to explore various topics in-depth and develop essential skills like critical thinking, research, and writing while also having the opportunity to interact with peers and teachers worldwide.
The International School of Prague (ISP), an international school serving students aged 3-19 years in Prague, Czech Republic, joined the GOA consortium in 2020.
For more, see:
This post is part of our Student Spotlight series, where we feature stories from students who take GOA courses. Are you a current or former GOA student who would like to be interviewed for a Student Spotlight article? Or, are you an educator who has a recommendation for a student for us to feature? Email us at hello@globalonlineacademy.org with the subject title "Student Spotlight."
GOA serves students, teachers, and leaders and is comprised of member schools from around the world, including independent, international, charter, and public schools. Learn more about Becoming a Member. Our professional learning opportunities are open to any educator or school team. Follow us on LinkedIn and Twitter. To stay up to date on GOA learning opportunities, sign up for our newsletter.