3 Ideas for Changing School & Competency-Based Learning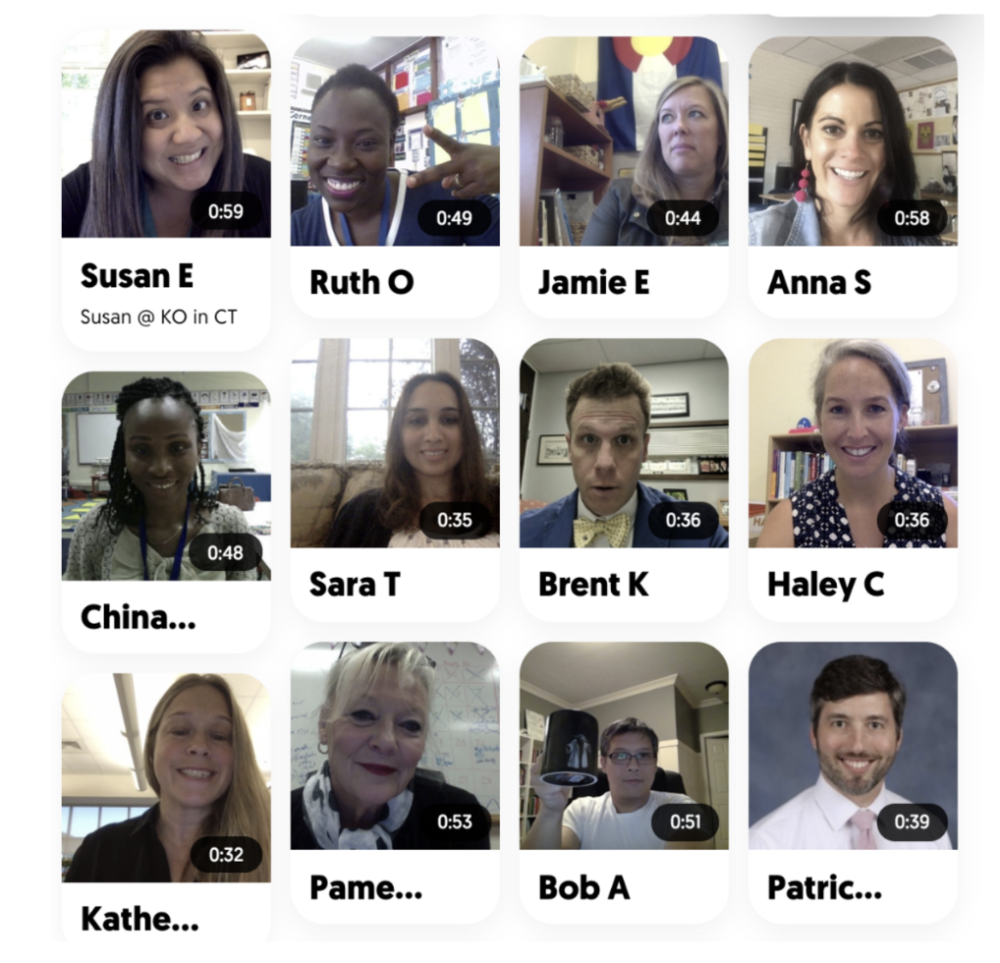 Redefine, Redesign & Rethink
We just completed a second iteration our most popular online professional learning course to date, Rethinking School. With more than 150 participants from 40 schools in 8 countries, the course inspired rich conversation and action about the elements that matter most within schools.
How GOA Has Designed an Effective Professional Learning Platform
This online class for educators is organized around five design elements: Assessment, Content, Place, Student's Role, and Time. (You can learn more by downloading our free publication, Five Design Elements for Rethinking School: A Toolkit for Educators).
Driving questions in the course include:
How might assessment design inform and foster student learning in new ways?
How might we rethink our approach to content by aiming for knowledge transfer and development of transdisciplinary skills?
How might places - virtual and real world - become vibrant resources to support student learning?
How might students drive their own learning to foster autonomy and agency?
How might students navigate learning experiences at their own pace? When are they best served in a group setting?
Below are three takeaways for educators, inspired by the ideas of hundreds of educators in the course. If you are driving change efforts at your school, you may gain new ideas and inspiration from the ideas and quotations below.
1. Define Key Competencies and Skills That Matter.
Schools are elevating competencies and skills to play a role that is as important, if not more important, than content in the design of student learning experiences. Educators recognize the need to be intentional about learning skills development.
Competency-based learning invites diverse, authentic assessments in which students solve relevant problems, explore ideas and questions with real-world audiences, and focus on ideas and projects that reflect student interests and relevance. The goal of these assessments is to build competencies that have relevance and application beyond a particular setting or project.
Some thoughts from participants on competencies and skills:
"I learned and liked [guest speaker] Ted Dintersmith's conclusion that schools need to define their own local competencies, values, and focus. I/we tend to look externally for guidance and answers, and this realization reminds me/us that we should have confidence in doing the work for ourselves." Anne Bingham, University Prep
"Students can be coached to higher levels of competency through timely and meaningful feedback (i.e. formative assessment), yet a system framed by school terms and summative assessments can put the brakes on learning." Ralph Huygens, West Point Grey Academy
"My school has just finished yearlong work on our version of a 'portrait of the graduate,' which we first called the learner profile but then ended up calling it our P.A.C.T. (peacemakers, advocates, creators, thinkers). It took a while to create as we had all levels of students and teachers participate in the creating and even some of the editing." Paul Cronin, Headwaters School
"If the aim is increasing readiness to learn, then what are the core skills I need to cultivate to in students to foster that increased readiness? Then, what are the best ways to assess that increased readiness? Then, finally, what kind of content can most meaningfully facilitate those assessments?" Clayton Gahan, Louisville Collegiate School
"One area that I would like to focus on is creating a school environment where we question the 'sacred cows.' Coming from a school with a nearly 100-year history, there is a lot done simply because it has always been done. I would like to examine the sacred cows in the room that we feel have to be included and examine how they are best supporting learning for all students." Heidi Pierce, Graded - The American School of Sao Paulo
2. Design Learning Assessments for How People Learn.
Schools are focusing on performance-based tasks and more formative assessments, as well as increasing the role that feedback plays in driving learning. Rethinking learning assessment invites us to, as Grant Wiggins wrote many years ago, "Begin with the end in mind." What should students know and be able to do at the end of the course? The unit? The assignment? The project? What varied types of assessments will best measure student competencies?
"I like to design projects that prioritize an authentic — or real — audience's response over the grade. I hope that by designing assessments this way, students will come to understand that the grade is secondary at best, and it's really the skills, the learning, and the potential impact that are primary." Laura Gellin, Park Tutor School
"One approach might be to assess individual competencies/skills/content areas in each course and to use the robustness of modern SIS systems to allow parents to drill down into their students' progress digitally. We are no longer constrained to a single paper report card, but can instead provide parents (and students) with far more detail concerning students' learning." Peter Holowka, West Point Grey Academy
"Another challenge relates to changing parental and student ideas around assessment, that is the idea of assessment AS and FOR learning as compared to a more traditional view that the classroom always features assessment OF learning." Amanda Young, Shanghai American School
"Today I worked with my sophomores to consider ways to encourage and facilitate risk taking in class. It was a fantastic discussion that eventually centered on comparing/contrasting academic classes with sports teams. It was one of those times where they really came through and offer insight that I didn't expect. But, their next task is to devise a prototype for a 'system' by which we can support each other and hold each other accountable in class. Not sure where it will lead, but I'm pushing forward!" Jon Zeljo, Kent Denver School
3. Rethink the Role of the Student and the Teacher.
Research underscores how when learners drive their own competency-based learning, there's greater engagement, increased intrinsic motivation, higher expectations, impressive self evaluation of work, and genuine problem solving. Schools are increasingly encouraging students' ownership over their own work. In some schools, students define and create their own projects, lead expeditions, plan and create internship opportunities, or launch their own entrepreneurial ventures. As the students plan and lead their learning, the role of the teacher transforms into one of guide and partner.
"In one of my classes this week, I had a student accidentally call me 'Coach' instead of 'Mrs. Koonce.' So I responded to him, 'I'm like a coach, I'll take that!'" Marlina Koonce, Park Tutor School
"I really enjoyed hearing from [guest speaker] Sue Belcher (Head of School at The Downtown School: A Lakeside School)... I think there are certainly ways to transfer a new school idea to older schools or more traditional schools. I love their ability to try new things without fear. School leaders/teachers must be free to try new things because, as Sue said, if you wait until everything is perfect, then it will be outdated when you finally get around to implementing it. Every school can be open to trying to new things and that shows students how to try new things. When we become a learning community, students see that we can experiment and fail and that is ok." Vaughn Vick, Christ Church Episcopal School
At the end of the course, Sam Harris at Charles Wright Academy offered: "My brain is buzzing a bit with all the possibilities presented. What is sticking with me right now is the statement about not letting perfection get in the way of progress."
Didn't Make It to Our Course? Want to Explore Further?
Check out our latest publication, Five Elements for Rethinking School: A Toolkit for Educators. The publication is a summary of resources and ideas from the course, complete with extension activities and discussion questions you can use with your colleagues.
We are offering another one week professional learning course, Rethinking Assessment, which launches October 14. Always free for GOA members. Sign up with your school team today.